Are you ready to join the ranks of Chapter 54's volunteer Young Eagles pilots? Can you help with the ground crew at a future Young Eagles Day sponsored by Chapter 54? It is chapter members like you who inspire the next generation of aviators, and will help keep aviation thriving for generations to come!
We need more volunteers -- both pilots and ground personnel. Fortunately, becoming a volunteer pilot or crew is simple.
To help, you must:
Be a current EAA member
Ensure you meet all of the pilot requirements and follow the guidelines listed below
The Young Eagles pilot requirements are basic, but MUST be followed.
Be a current EAA® member and hold an appropriate airman's certificate (sport pilot or greater).
Possess a current medical certificate (if applicable).
Be current to carry passengers in the aircraft you plan to use.
Have a current flight review.
Complete the Young Eagles registration form before the flight, including parent or legal guardian signature, and pilot signature.
Conduct flights in an aircraft that is in airworthy condition.
Have aircraft passenger liability insurance for the aircraft used (owned, rented, or borrowed) with $100,000 per seat coverage.
Adhere to all applicable Federal Air Regulations (FARs).
Complete both the online training and basic background check as a part of EAA's Youth Protection Policy. For more information visit EAA.org/YouthProtection.
Whether serving as a pilot or a volunteer on the ground, you must follow the EAA youth policy guidelines by taking the online course and submitting to a background check.


Here's the fastest way to do that.
1. Sign in to your EAA.org account (or create one)
2. Select "My Account" on the top navigation bar.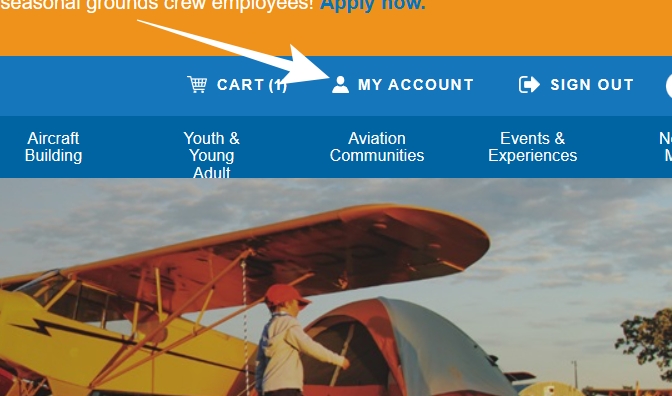 3. The page will load your account information. Scroll down to "training information" and click on "go to training."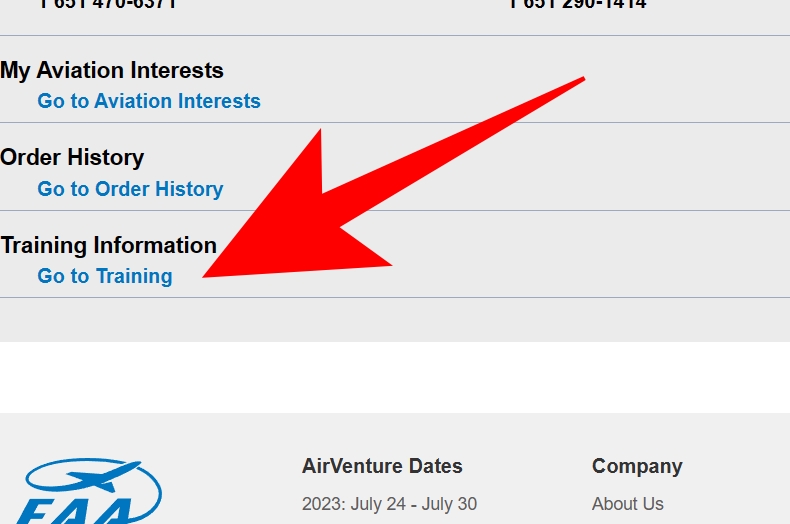 4. You should see a short list of courses and on the right side, select "Go to Course" next to "Youth Protection Training." When you complete that, it will send you to the details necessary for a full background check.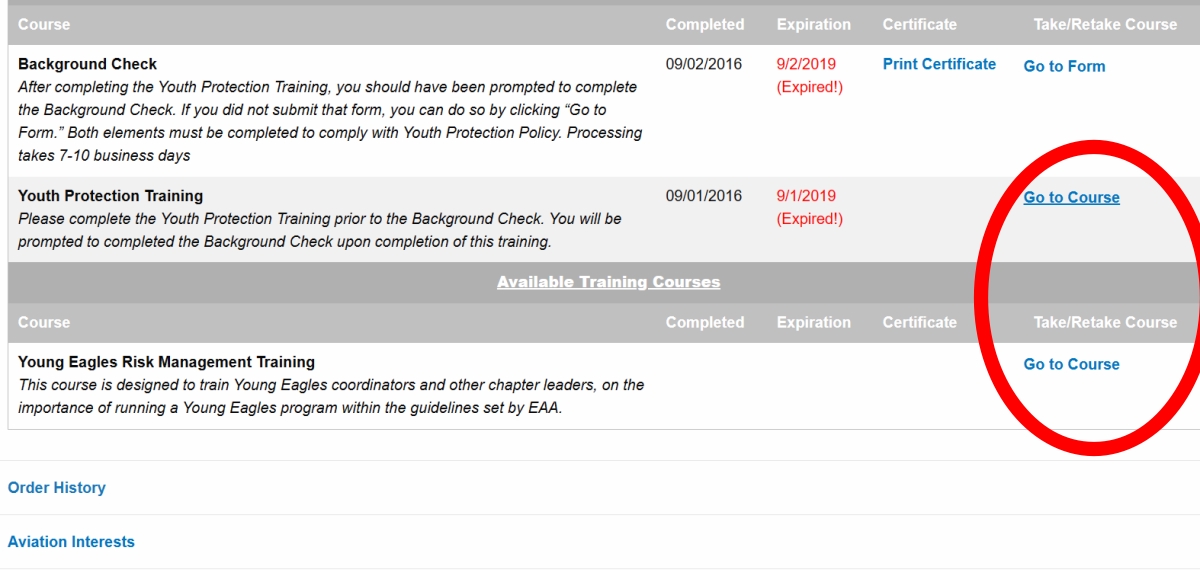 The online training and background check review will typically take about 20-25 minutes. After information is submitted for the background check, we expect verification to take no more than 10 business days.
Upon successful completion of the online training and review, and the background check, each volunteer will receive an e-mail confirming he or she has successfully met the basic requirements of the Youth Protection Program and a printable wallet-sized card.
For complete information about EAA's Youth Protection Policy and Program, please review the Policy and the program FAQs on this website.