From its beginnings in the late '50s, Chapter 54 of the Experimental Aircraft Association has served aviation enthusiasts, aircraft builders, and pilots in the East Metro of Minnesota's Twin Cities.

We meet monthly at the Chapter House at Lake Elmo Airport (21D) to share ideas, exchange information, encourage safety, serve the local aviation community and have a lot of fun doing so. Please come to our next meeting or event as our guest. Feel free to browse and borrow hundreds of aviation-related publications.

In the meantime, please explore our Web site for details about the many programs we offer. Select the dropdown menu to the left to learn our history, find out how young people can get a free flight, and the latest chapter news. You can also find flight planning and airplane-watching tools.

Photo above: Member Paul Rankin presents his program, "Things I've Seen from the Air" during the May 8, 2023 meeting. Paul has been flying for 55 years.




NEXT CHAPTER 54 GATHERING

Bring your family, bring your friends.

Summer has arrived!

It's time for the annual EAA 54 annual picnic and cook-out!

Come relax on the EAA 54 deck or in the clubhouse on Monday, June 12 at 6:00 p.m. Enjoy a menu of burgers, brats, salads, baked beans, veggie tray, cookies and pop.




Please note: This is a BYOB event so bring a favorite beverage from home to round out your meal.

Suggested donation: $7.00/person

Last year's silent auction was very successful, so we'll do it again. Do you have aircraft parts or equipment you'd like to donate to the chapter? Bring your saleable items and we'll have a table to sell your donations (parts, headsets, handheld radios, kneeboards etc). Proceeds go to our scholarship fund. Thanks to Mitch Zahler for coordinating this year's auction. Thanks also to Bill Schanks for all his work in coordinating the picnic. We appreciate Mitch and Bill's time and effort on this.

Hope to see many of you at this fun summer event when we share good food and conversation with EAA friends and members.

Mark your calendars - Monday, June 12 at 6:00 p.m. - See you there!




Limited Aircraft Registry Services Now Online
(May 21) The FAA Registry is now offering limited online aircraft registration services at cares.faa.gov. Individual aircraft owners can complete self-guided aircraft registration applications, upload legal and supplemental documents, receive auto-generated notifications, request aircraft registration N- numbers, use modernized online payment options, receive instant notification of payment, and digitally sign Aircraft Registration Applications. Online services will be continuously improved and expanded to include corporations, LLCs, partnerships, and non-citizen trusts.
Ray Scholarship recipient solos

(May 12)- A major milestone for our first-ever Ray Scholarship recipient. Matthew Lynes soloed on Friday May 12. Under the program, a series of deadlines follows Lynes' progress. His first solo was anticipated by the end of July, so he's far ahead of expectations. A written pilot examination should happen by the end of October and a checkride by a year from now. The final 20% of scholarship funds will be sent after he passed the written exam.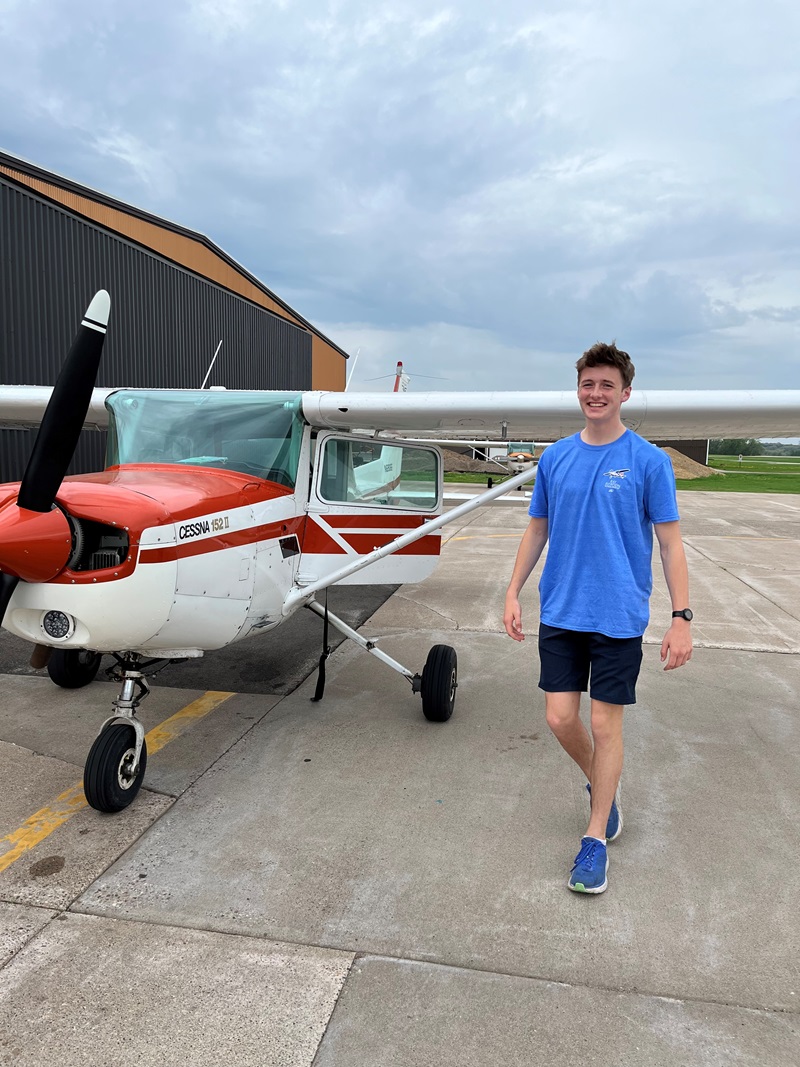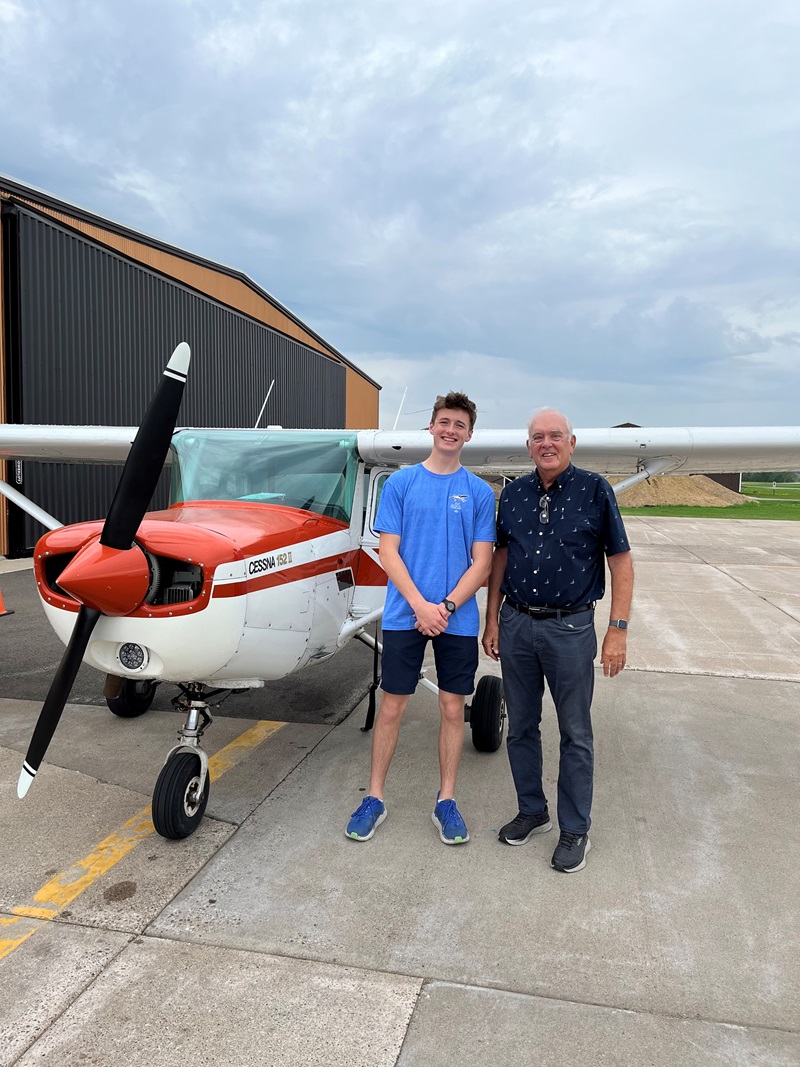 EAA AirVenture Oshkosh 2023 Notice Includes Important Procedure Updates
There are several important FAA-approved changes in the EAA AirVenture Oshkosh 2023 Notice, featuring arrival and departure procedures for EAA's 70th fly-in convention on July 24-30 at Wittman Regional Airport in Oshkosh.
Read more›
Member Survey Reviewed
At its meeting on May 1, members of Chapter 54's Board of Directors reviewed a breakout of a national survey of EAA members. The breakout included only responses from members of Chapter 54. It's important to note that only 23 members took the survey so there is the danger of reading too much into a small sample size, and there were conflicts with a previous chapter-only survey. Specifically, this came on the question of whether members are interested in building airplanes, the historical underpinning of EAA. In the member-only survey, little interest was expressed in such an endeavor while the breakout of the national survey showed the topic to be of substantial interest. In the national survey showing 55% "significant interest," only 18 members responded.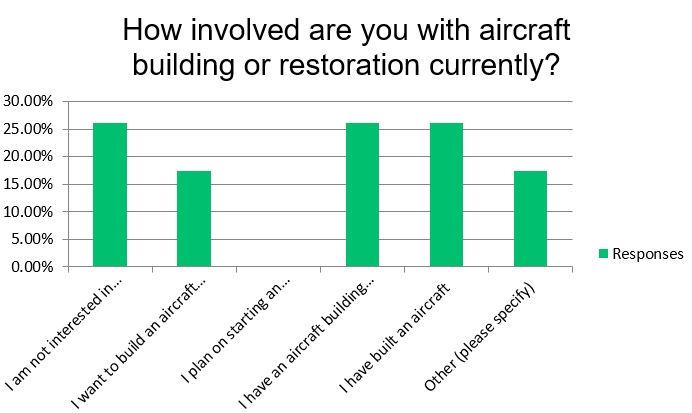 Chapter Video
This month:
• How to get in free at museums
• Merch at AirVenture
• Chapter events at Oshkosh
• The all-you-can-eat pancake breakfast
(
Read more chapter news
)
What's New on this site?
Latest Chapter video updated (5/28)