Next Chapter 54 Gathering
Join us Monday, April 10, 2023, 7:30 p.m. for a fascinating presentation featuring Kerry McCauley. Kerry is a ferry pilot and author of Ferry Pilot - Nine Lives Over the North Atlantic. He served in the MN National Guard and is a professional skydiver with over 20,000 jumps. Kerry will have copies of his book for sale and will be glad to sign one for you after the program.
The meeting will be held at the EAA 54 clubhouse. Please note: we have returned to in-person meetings only. Zoom is discontinued.
We warmly welcome all members and guests to join us April 10, 2023, 7:30 p.m. Refreshments will be served. Hope to see many of you there!

From its beginnings in the late '50s, Chapter 54 of the Experimental Aircraft Association has served aviation enthusiasts, aircraft builders, and pilots in the East Metro of Minnesota's Twin Cities.

We meet monthly at the Chapter House at Lake Elmo Airport (21D) to share ideas, exchange information, encourage safety, serve the local aviation community and have a lot of fun doing so. Please come to our next meeting or event as our guest.
In the meantime, please explore our Web site for details about the many programs we offer. Select the dropdown menu to the left to learn our history, find out how young people can get a free flight, and the latest chapter news. You can also find flight planning and airplane-watching tools.
Cory Carlson on building a Sonerei
At EAA Chapter 54's meeting on Monday March 13, Cory Carlson shared his presentation on "Scratch Building a Sonerai - 50% done, 90% to go". There are airplane builders and then, thanks to the newest kit designs, there are airplane "assemblers." Cory is a builder. He makes all the parts out of supplied material. Sonerai are sleek and versatile homebuilt aircraft.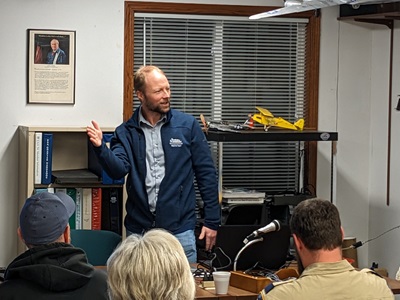 The Sonerai was Hall of Fame inductee John Monnett's first design at Sonex. The plans provided are printed on 11" x 17" paper and the original hand-drawn plans created in the 1970's and 1980's. The Sonerai features folding wings. The wing spars are secured via taper pins in the cockpit, and once removed the wing is folded flat along-side of the fuselage. Built-in provisions secure the folded wing panels to the aft fuselage. A built-in spar support tube allows the wing fold process to be accomplished by one person. The folding wing design can fit into a garage or share a T-hangar with your flying buddies. It can also be towed by the tailwheel on its main gear
Cory is a systems engineer working for a medical device maker. Prior to that, he worked for 15 years in the avionics industry involved mainly with autopilots. Cory lives in Stillwater, is an active pilot, usually renting from Lake Elmo Aero. He also owns and flies a Falcon 4 hang glider.

Latest Chapter News
If you're flying behind a Continental engine, you're going to want to pay attention to the reworked airworthiness directive. A problem with the crankshaft has grounded an estimated 1,632 aircraft since it was issued on February 23. The engines are used in a variety of aircraft including Cirrus SR series and Beech Barons and Bonanzas.
Now the AD has been expanded. On March 13, the FAA issued AD 2023-04-08, the FAA determined that IO-470-A, -C, -F, and -LO; and TSIO-360-F and -FB model engines are also affected by the unsafe condition and should be added to the applicability. Additionally, the FAA determined that the limitations in the special flight permit paragraph, specifying "no metal contamination in the oil filter", did not account for trace metal particles that may be found in newer engines due to break-in of the engine. (Read more)
What's New on this site?
April 2023 Chapter Video added (3/30)
Updated Meet the Leadership Team page (3/25)