EAA CHAPTER 898 JULY 7 MEETING REMINDER
Yes , it's that time of the month again to focus on our upcoming BQ/ meeting. The café style venue for this month will include a "propeller length" social distancing dinner prepared by members of our chapter. Last month's meeting was a grand event with a pleasant outdoor table arrangement. It was really a fun evening! If you are able, please bring your own table and colorful table cloth so that we can take some fun pictures for our website.
Last month a number of our members indicated an interest in taking a flight before the dinner/meeting. This sounded like a great idea, so Gene Bunt made arrangements with EAA National Headquarters to provide insurance for all of our activities, including flying, for the entire year.
In order to make this flying activity happen at 4pm Tuesday afternoon--- PLEASE CALL OR SEND A MESSAGE TO GENE BUNT 732-606-6506, OR CONTACT ME 732-330-3458. We have several pilots available, and we will contact others if we have a higher demand for the flights. Please understand the cockpits of our airplanes are small, so social distancing will not be possible unless you prefer to be seated at a window----on the outside wing!!!!! Also, the pilots may feel they need to fly without a mask. However you are welcome and encouraged to wear yours during the flight.
Our Raffle prizes for the scholarship program will be announced at the beginning of the evening. Your Board of Directors, met last week to discuss our meetings/activities. As a result of that meeting we will be announcing a new series of workshop activities in which many of you may wish to participate.
Come to our meeting Tuesday July 7th (4pm for flying, 6pm for a delicious dinner) so that you can enjoy that evening's program and help plan exciting programs and activities for future meetings.
SEE YOU AT HANGAR 27, BOB NEWMAN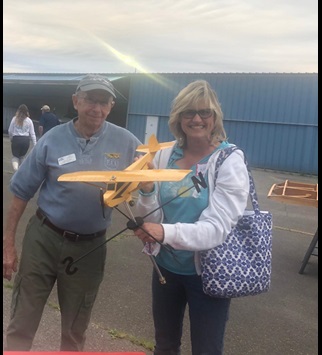 We raffled off a Piper Cub at the last meeting. Come and see what is bing raffled this month.
Another area which needs your focus is our Scholarship Program for young, aspirating aviators. We have received several outstanding applications for Chapter 898 scholarships this year. We would like to give at least three $500 scholarships again this year. Last evening one of our members, Ed Hamilton, generously gave us a check for part of this program. I realize these are difficult times, however, if you could contribute additional support, this year, it would be greatly appreciated. Please send your donation to Bob Palamara, Treasurer. ( 231 Quail Lane North, Lanoka Harbor. NJ 08734)
Bob Newman, President Chapter 898, rcnewman6@verizon.net
Whether you fly, build, restore or simply enjoy airplanes and aviation, you are welcome to attend our events and join our Chapter.
We are a group of aviation enthusiasts, aircraft builders, and pilots who get together with like minded people to share ideas, exchange information, encourage safety, serve the local aviation community and have a lot of fun doing so. Please come to our next meeting or event as our guest.