MEETING REMINDER EAA CHAPTER 898 SEPTEMBER 1
The heat and humidity of these summer months is nearing an end, as well as this our last planned Barbeque meeting for this year. We have had a great time gathering together each month to enjoy the fellowship offered by our love of flying which is shared through our membership in our EAA Chapter. Of course it has been a very different experience this year with the epidemic and our need "to mask up" and keep our social distancing. However, through it all we have managed to meet, fly, and continue building and learning more about aviation.
By now you have probably read Arlene's email (minutes of last meeting) and know that one of the young Eagles, flown at the August 11th BBQ has tested positive for Covid 19. Fortunately those present at our outdoor meeting kept social distancing and wore masks. In order to help assure your safety at our next BBQ meeting, we will not be offering airplane rides to Young Eagles.
Now for this, our last planned BBQ meeting of this season. We will be meeting at Hangar 27 at 6 PM as usual. Sherriff Masternardi, along with members of his department, will be present for dinner and a "show and tell" program focusing on the use of drones in law enforcement. Please plan to attend. This should be a really fun program closing out our summer venue.
See you on September 1 with a covered dish or dessert and masks for another exciting evening!!! Bob Newman, President, EAA Chapter 898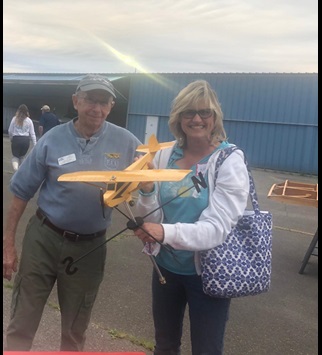 Come and see what is being raffled this month.
Another area which needs your focus is our Scholarship Program for young, aspirating aviators. We have received several outstanding applications for Chapter 898 scholarships this year. We would like to give at least three $500 scholarships again this year. Last evening one of our members, Ed Hamilton, generously gave us a check for part of this program. I realize these are difficult times, however, if you could contribute additional support, this year, it would be greatly appreciated. Please send your donation to Bob Palamara, Treasurer. ( 231 Quail Lane North, Lanoka Harbor. NJ 08734)
Bob Newman, President Chapter 898, rcnewman6@verizon.net
Whether you fly, build, restore or simply enjoy airplanes and aviation, you are welcome to attend our events and join our Chapter.
We are a group of aviation enthusiasts, aircraft builders, and pilots who get together with like minded people to share ideas, exchange information, encourage safety, serve the local aviation community and have a lot of fun doing so. Please come to our next meeting or event as our guest.