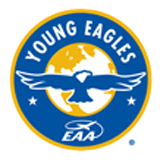 Founded in 1992, the Young Eagles program is dedicated to giving youth ages 8–17, an opportunity to go flying in a general aviation airplane. These flights are offered free of charge and are made possible through the generosity of EAA member volunteers.
It's the only program of its kind, with the sole mission to introduce and inspire kids in the world of aviation.
Today, the Young Eagles program has flown over 2 million kids.
For more information from EAA headquarters about the Young Eagles program, visit www.youngeagles.org
Our Chapter schedules these flights the 2nd Saturday of the month from May to October, starting around 8:30am and wrapping up around 11am. To date, our Chapter has given over 4500+ young eagles rides.
This program is intended to give kids their first airplane ride with a one-on-one experience with the pilot and introduce them to aviation in a positive way. Of course, the weather will have to cooperate on these designated Saturdays. Rain, low clouds, or strong winds will cause flying for the day to be cancelled.
Pre-register for your flight at YoungEaglesDay.org, where you can see all Young Eagle events in the Twin Cities area, and chapters that might be closer to you. We encourage you to sign up early as there is a limit to the number of flights we can accommodate, and cancel if you are not able to make it. On the day of flight, come to the Chapter clubhouse at the Lake Elmo Airport between 8:30 and 10:00am. Enter at Gate B (the first gate after 30th Street when driving north). The clubhouse will be on your right.
After your flight.... check out Young Eagles What's Next
Here are some photos from our 2022 Young Eagles Days at Lake Elmo Airport.
October 8, 2022 (15 images):
Young Eagles Day on September 17, 2022 (46 photos):
July 9, 2022 (29 images):
May 14, 2022 (26 images):