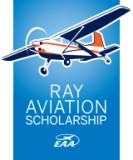 Through the generous support of the Ray Foundation, EAA provides up to $10,000 to deserving youths for their flight training expenses, totaling nearly $1,200,000 in scholarships annually.
The program is supported by more than 100 EAA chapters and supports close to 120 scholars.
Each year, Chapter One supports one scholar, between the ages of 16 and 19, by funding and mentoring him or her earn their pilot certificate.
Candidates must meet the following criteria:
Minimum of age 15 for glider training

Age 16-19 for powered flight training

Possession of a student pilot certificate

Possession of FAA medical certificate (private pilot students)

Be able to begin their flight training within 60 days of receiving the award
Additional consideration will be given to candidates who are former Young Eagles, EAA student members, and actively participating in the EAA Flight Plan, specifically the Sporty's Learn to Fly Course.
Once selected by the chapter, the candidate will also be screened by EAA through an application process. If approved by EAA, the scholarship recipient will have to comply with the following requirements:
Partake in two hours of chapter volunteer service per month, such as:

Young Eagles rally volunteering.

Volunteer at pancake breakfast/fly-ins

Chapter build project support

Chapter gathering participation

Chapter social media and website maintenance

Submit regular progress reports during monthly check-ins

Reach designated flight training milestones, as outlined by EAA's training timeline.
For more information on the Ray Aviation and other EAA Scholarships, click here.
To apply for the Ray Aviation Scholarship, contact:
Scholarship Coordinator
Name: Jim O'Brien
City: Riverside
Phone: 951-847-5600
EAA Chapter One Scholarship Milestone

Submitted by: David Cheney, Ray Aviation Scholarship Coordinator
EAA Chapter One celebrated a huge milestone on Saturday, November 21, 2020, when its' Ray Aviation Scholarship recipient, 18 year old Patricia Kackert, made her first solo flight as she works towards her Private Pilot Flight Certificate! Patricia and her flight instructor, Anthony Rizzo, have been following the Gleim syllabus for flight training, and she has accumulated approximately 22 hours of dual flight instruction; all in Cessna 172s.
Patricia, who is also currently pursuing a Bachelor of Science Degree in Nursing, and volunteers her 'spare time' to EAA Chapter One and the Civil Air Patrol, made three picture perfect solo landings on a beautiful southern California morning on runway 27 of the Riverside Airport (RAL) in Riverside, California. In attendance were James Obrien, Chapter President, Brian Duffield, Chapter Board Member, David Cheney, Ray Aviation Scholarship Coordinator and Chapter Board Member, Patricia's very supportive parents, Betsy and Stepdad Carl, and brother and sister, Joseph and Elizabeth.
Patricia has many aviation aspirations that she would like to work towards once she completes flight training, including flying F-16s for the Air Force and becoming an Emergency Medical Response (EMR) pilot. However, first and foremost on the list of Patricia's goals is giving back to the same aviation community that has given her the opportunity to pursue her passion for aviation. Patricia now volunteers as a safety escort for kids attending EAA Chapter One's Young Eagle events, and is always eager to share her flight experiences with them.
As a Private Pilot, she plans on mentoring girls and young women on the joys and opportunities in aviation, just as she had been mentored, and to give them the opportunity to take flight with her as a Young Eagle pilot. With her drive and passion for anything she tackles, there are no doubts in our minds that she will accomplish everything she sets out to achieve!
After her flight, Patricia was all smiles as she taxied the Cessna to the ramp and was greeted enthusiastically by all in attendance. She said the flight was exhilarating, challenging, and mostly so very rewarding to finally take the controls of an airplane with no one else on board and to take off and land all on her own! And although she will cherish every memory of that first solo flight, she said that one of the best moments was when she rolled out on the runway after her last landing, turned onto an adjoining taxiway, and was personally contacted on the tower frequency by the RAL Air Traffic Controllers to congratulate her on her achievement and a job well done! We also congratulate Patricia on her solo flight and look forward to watching her accomplish many more milestones as she pursues her passion for aviation!