US Tour November 1 to 3
Archive from the RAA -Manitoba - Winsock,
Nov 2019 Newsletter, Author - Bob Stewart
Our tour to Fargo ND on Friday November 1 began at the Fargo Aviation Museum. Butch, our tour guide showed us a great selection of WWII and Vietnam era aircraft.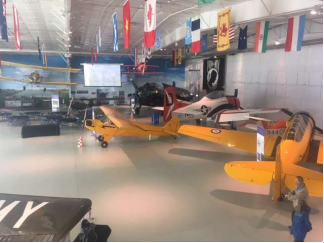 The Museum has added a new wing, almost doubling their viewing area. Several aircraft are show circuit aircraft and the owners have parked them in the museum for the winter. Unfortunately, "Duggie" the DC3 was outside last summer when a severe hail storm it and he suffered major hail damage that will take significant resources to fix. He's back inside now. The two wings are 20 feet apart and you have to go outside to connect to the two buildings. The Museum is taking on a significant fund raising program to build a new front entrance and connect the two buildings. This museum is well worth a visit.
Friday night the group went for dinner to the Paradiso Restaurant where the beer, margaritas, great food and lots of laughs were enjoyed by everyone.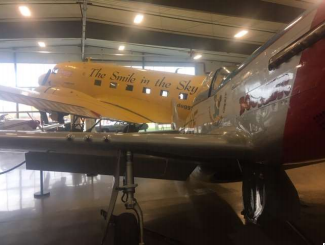 Saturday, the guys left for the hour long drive to the Detroit Lakes Airport. Heather and her father Tom (sorry I didn't get their last names) along with about 10 members of the airport were there to greet us and we spent the first hour renewing old friendships and just talking aviation. We learned that the Detroit Lakes Airport will be closed next summer for some major runway improvements. The airport authority has planned to increase the main runway from 4500' to 5200'. This will allow more jet traffic to use the airport. All the hangars at the airport are owned by the city and hangar space rented to pilots.
David taxied up the first aircraft that we saw. The plane is a highly modified J3 Cub and the workmanship is absolutely incredible. This beautiful yellow aircraft is powered by a Honda engine. When the FAA inspected the plane, the inspector asked David what he wanted it called. With a note of humor in his voice, he said Cubfusion and they accepted this name. It purred when Dave taxied it back to his hangar.
The next aircraft we saw was a beautifully restored 1946 Fairchild F24W aircraft with its Warner 165 hp radial engine. It even had auto style role down windows. Next we were over to Dorian's hangar to look at his Avid on floats. Dorian showed us pictures of the Seawind amphibious aircraft he built and recently sold and bought the Avid.
Next was over to Ted Klebke's hangar to see what was left of the Acco Sport II aircraft powered by a Mercury outboard engine. Earlier this summer he had an engine failure on downwind and crashed just short of the runway. He sold the damaged fuselage and kept the engine.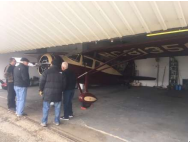 When we went to his shop/home he showed us that he is continuing his research to make the Mercury engine a viable choice for a homebuilt aircraft engine in the 150 to 200 hp range. Ted is waiting for back surgery but continues to fly his Challenger aircraft. When sitting on the ground the aircraft is nose high so Ted engineered a kick stand in the rear of the aircraft. This lowers the aircraft and allows him to easily get in. The kick stand is spring loaded so with a little jerk forward, the kickstand retracts.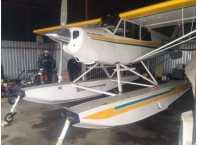 From here we went to Ted's home/shop. Like the RAA Final Assembly building, Ted has attached a workshop to his house and rents space out to those who want to finish their projects in a heated space. In the shop was a Piper PA22 that is being converted to a PA20. There was also a J3 Kitten that is being rebuilt. It had a 3-cylinder Geo Metro engine it. Ted fired up the engine and it sure had a bark to it. Ted also showed us his continuing research on a Mercury engine to make it a viable alternative as an aircraft engine.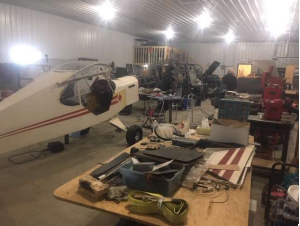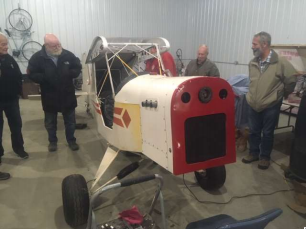 Several of the wives had prepared a pot luck lunch for the group and we enjoyed this spread out around Ted's dining room table and in his living room. It was a great day spent in Detroit Lakes and we were all a little disappointed when we had to leave.
The Detroit Lakes people sure showed us a good time. When we got back to Fargo our evening was spent doing the Harbor Freight, Fleet Farm and Menard's tours. Sunday was a leisurely drive back home.