Our latest News ....
---
September 05, 2020
IT'S HERE !!
Our "Piel Emeraude" project has arrived.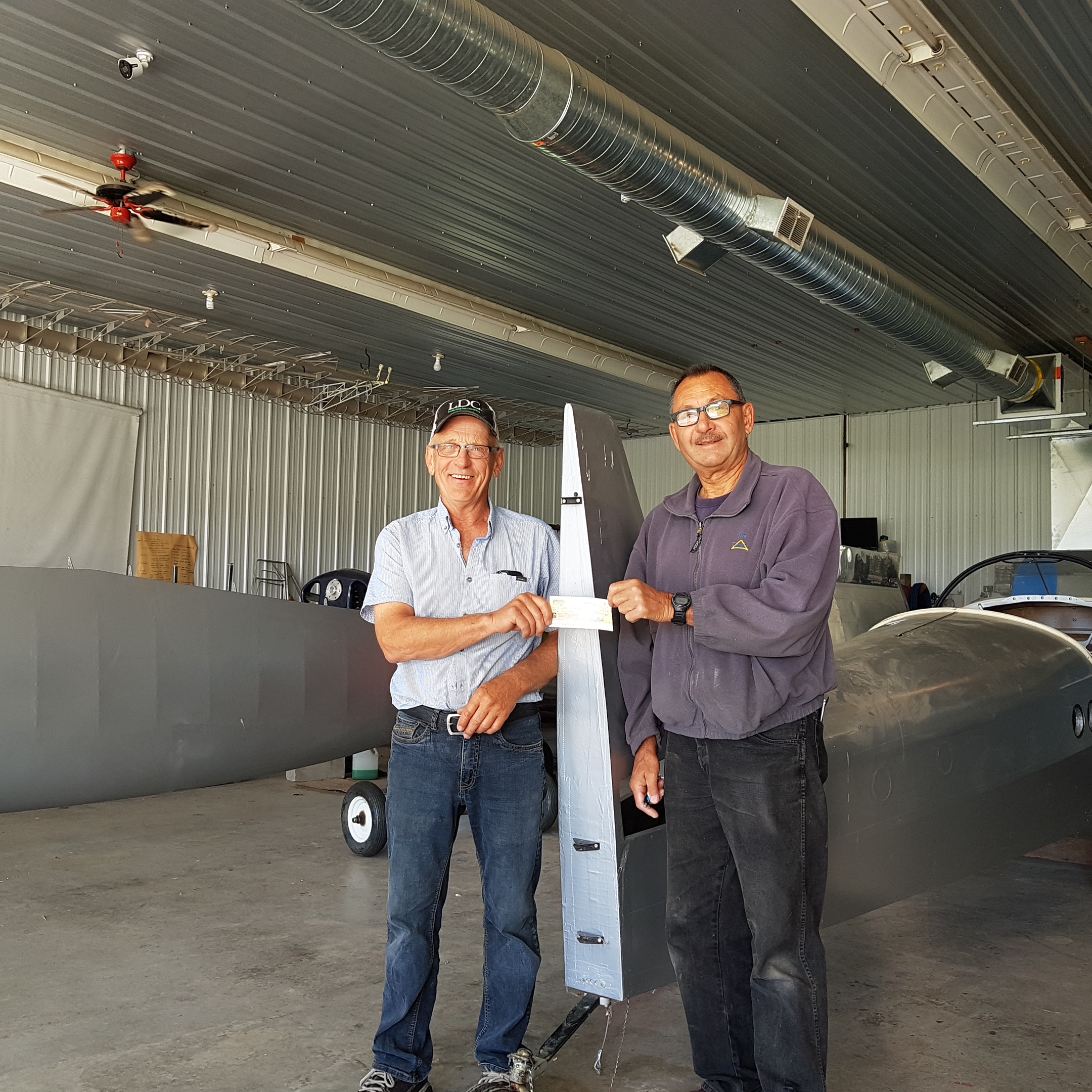 Stay tuned ...

---
June 25, 2020
One of our own, Sayge Tremblay is finding success !! (NB: Article copied from page 18, COPA Flight, July 2020 issue )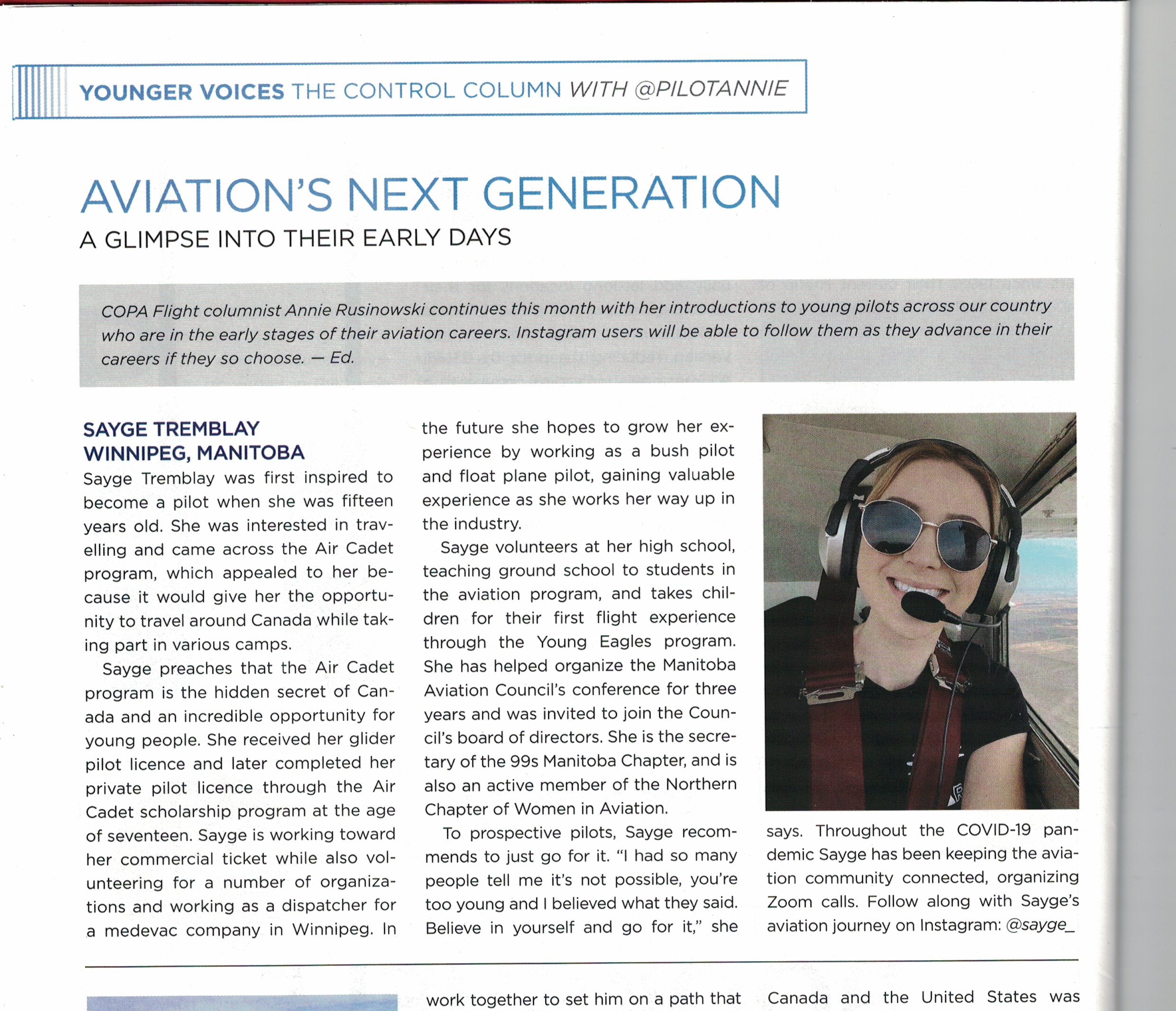 ---
June 11, 2020
The following Information was recently forwarded to us, to distribute to our members ....
Transport Canada has proposed new rules for operations of Remotely Piloted Aircraft Systems, RPAS, a.k.a. drones or Unmanned Aerial Systems, UAS. Transport Canada wants to greatly expand the current Visual Line of Sight (VLOS) and Beyond Visual Line of Sight (BVLOS) regulations for RPAS operations. Transport Canada's objective is to enable routine 'lower-risk' Beyond Visual Line-Of-Sight (BVLOS) for Remotely Piloted Aerial Systems (RPAS) and expanded Visual Line Of Sight (VLOS) operations in Canada without Transport Canada having to issue Special Flight Operations Certificates (SFOCs).

The full text can be downloaded from https://www.unmannedsystems.ca/npa-for-simplified-npa-issued-by-transport-canada/

Transport Canada is looking for 'feedback and insight from industry on the proposed performance-and risk-based approach.'

It is important that you comment! Transport needs to hear from all of us who operate in what Transport calls 'isolated areas.'

EAA's policy on safety in regards to RPAS is, and has always been:

-the importance of putting the burden of sense and avoid on the UAS operator
-no new equipage requirements or limitations on airspace access for manned aircraft are acceptable
-safety of manned aircraft must be the top priority.

Please share with your Chapter members and encourage them to provide feedback to Transport Canada. The deadline for comments is June 22. Comments are to be e-mailed to TC.RPASRegulations-ReglementsSATP.TC@tc.gc.ca

Your EAA Canadian Council will be providing an official response to Transport Canada.

Thanks,

Jeff Seaborn, EAA #793688, IAC #438260
Chair, EAA Canadian Council
EAA-The Spirit of Aviation
Phone: 403.669.0138
www.eaa.org

See you at EAA AirVenture Oshkosh—July 26-Aug 1, 2021


---
May 1st, 2020
Hello EAA Chapter 63 member,

As you are well aware the current COVID-19 situation is causing great disruptions to every possible activity. Unfortunately, Chapter 63 activities are no exception. Your Executive was planning the first general meeting of the 2020 year in April. This has now been put off until a later date. The IMC/VMC Club meetings are also on hold until further notice. As well, we had a Young Eagles Rally planned for May 9th and a "Flying Start" evening planned for later in May. All of these events are on hold until we have a better understanding of the impact of the COVID-19 situation in our area. The challenges we are all feeling will eventually pass, but we all have to be patient.

In the meantime I respectfully ask that you review your membership status with Chapter 63. The official renewal date is January 1st. If you have renewed, thank you very much for your ongoing support.

If you have not, it's never too late to do so. I will be sending out a separate email to those who have NOT renewed very shortly. If you do not receive that second email, you can assume your membership is up to date.

If you are not already a member of EAA 63 we hope that you can join our organization, support our efforts, and benefit from the results. As a sustaining member, your $20 annual membership will go a long way to support the costs that Chapter 63 incurs to maintain an EAA Chapter and the ongoing support for the all of these activities.

In an effort to better serve your Chapter needs, please click on the following link: Join | Renew Membership

The information you provide about yourself as a Chapter member will give us data that will allow your Executive to better respond to your aviation needs and interests as we move forward.

Membership payments can be made to Raquel Lincoln, EAA 63 Chapter Treasurer, via cheque, cash, or E-Payment. To arrange payments or review your membership status, please contact Raquel directly via:

Email: eaachapter63treasurer@gmail.com -or-
Telephone: 204-345-3750 -or-
Canada Post: 51 Bluemeadow Road, Winnipeg, Mb. R3Y 0J5

Thank you in advance for your continued support.

The Executive and general membership of Chapter 63 look forward to another exciting year of aviation related activities that everyone can participate in once the COVID-19 situation subsides.

Sincerely and stay safe in these challenging times,

Tom Stoyka
President, EAA Chapter 63
---
April 1, 2020
Young Eagles Flights - Lyncrest Airport. Flights are for youth ages 8 to 17 only. For more info about Young Eagles Flights visit https://www.eaa.org/eaa/youth/free-ye-flights. Contact youngeagles@lyncrest.org to schedule a flight. Due to Covid-19 we have postponed this event. We will provide an updated date once it is safe to do so.
---
Sept 12th, 2020
Young Eagles Flights - at Lyncrest Airport, Rain date Sep 13, 2020. Flights are for youth ages 8 to 17 only. For more info about Young Eagles Flights visit https://www.eaa.org/eaa/youth/free-ye-flights. Contact youngeagles@lyncrest.org to schedule a flight.