October 9, 2021, Chapter Gathering
We had really nice weather and a fantastic turnout for our Fall, 2021, Fly-In pancake breakfast. Also, Ryan Newman, our FAAST Team representative awarded the coveted Wright Brother's Master Pilot Award to Chapter member Dean Howard. View an album of photos here.
Our Next Young Eagles Rally
Saturday, October 23, 2021
9:00am to 11:00am
All youth ages 8–17 have an opportunity to go flying in a general aviation airplane. These flights are offered free of charge and are made possible through the generosity of EAA member volunteers. Bring your daughter, son, niece, nephew, grandchild, any youth ages 8-17 and we will introduce them, up close and personal, to aviation.
Participants will receive an introduction to a real airplane with the highlight of the event being a short flight in the local area. Participants will receive a certificate recognizing their completion of a Young Eagles experience, their first log book, a free Student Membership in the EAA, an opportunity to take the Sporty's online Learn to Fly Course, take a free first flight lesson, and apply for training scholarships.
Although pre-registration is not required, we encourage you to register your Young Eagle for the event here: Young Eagles
More information about the EAA's Young Eagle program can be found here: EAA's Young Eagles Home Page
View our photos pages for a glimpse of past Young Eagles Rallies.
For questions about the October 23, 2021 rally, please contact our Young Eagles Coordinators: Brian Smith at 210-695-0339, or Rebecca Southard at 507-210-0504.
To our members: we need you as pilots, and volunteers for several other important jobs.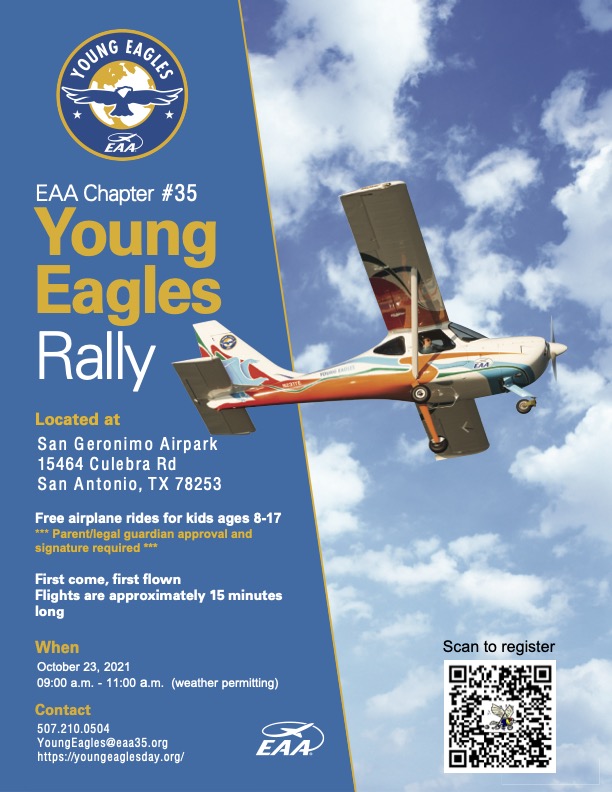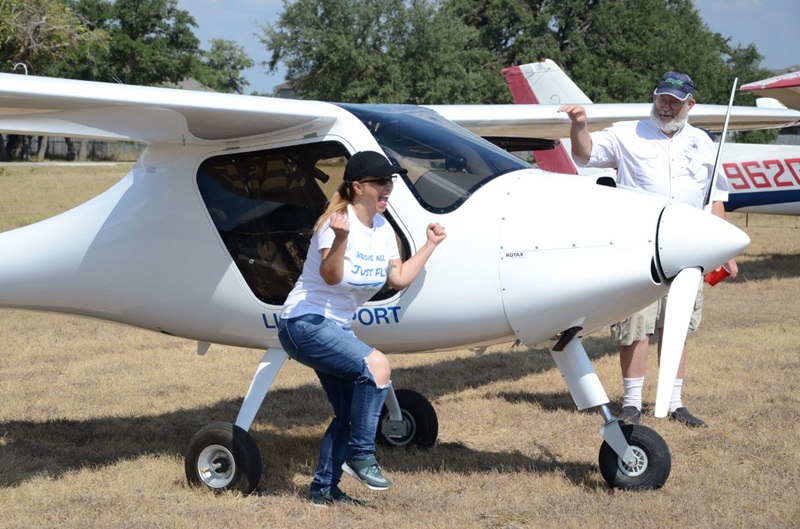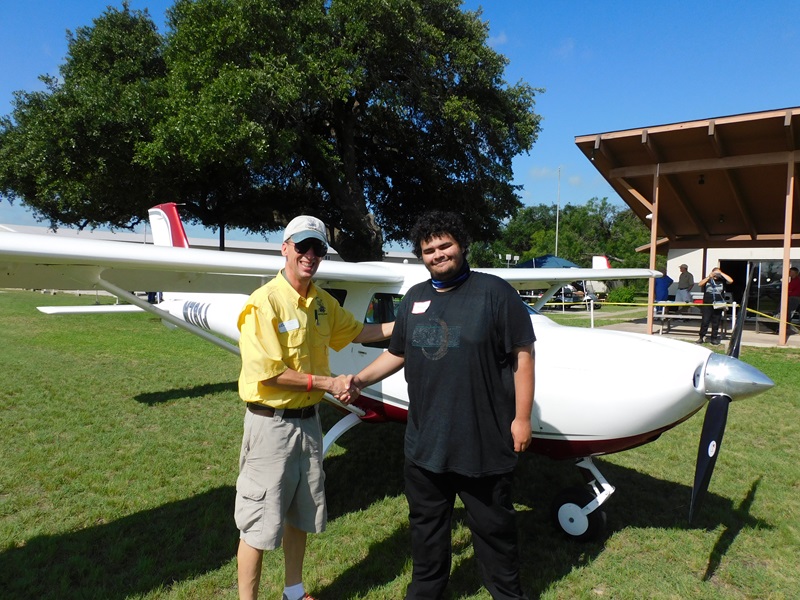 Young Eagles News
If you need proof of the potential of our Young Eagles program then look no further than eighteen year old Jacqueline Campos.

Jacqueline visited us at our August 14, 2021 Chapter Gathering to share with us the news that she recently earned her Private Pilot Certificate. That's right folks, at age eighteen Jacqueline is a legit FAA certified Private Pilot. But let's back up a little… on September 19, 2020, Jacqueline experienced a Young Eagles flight with Charlie Brame and over the next eleven months she graduated from the SAISD's Young Women's Leadership Academy high school program, she earned entrance to the University of Texas at Austin, and she was awarded a full scholarship by the U.S. Air Force to attend an eight week accelerated private pilot training course at Indiana Wesleyan University. She reminds me of another accomplished aviator, Jacqueline Cochran.

Congratulations to Jacqueline for graduating high school, for gaining admittance to The University of Texas, and for becoming a certificated Private Pilot. Also, a hearty well-done to Charlie Brame for what must have been a memorable Young Eagles flight.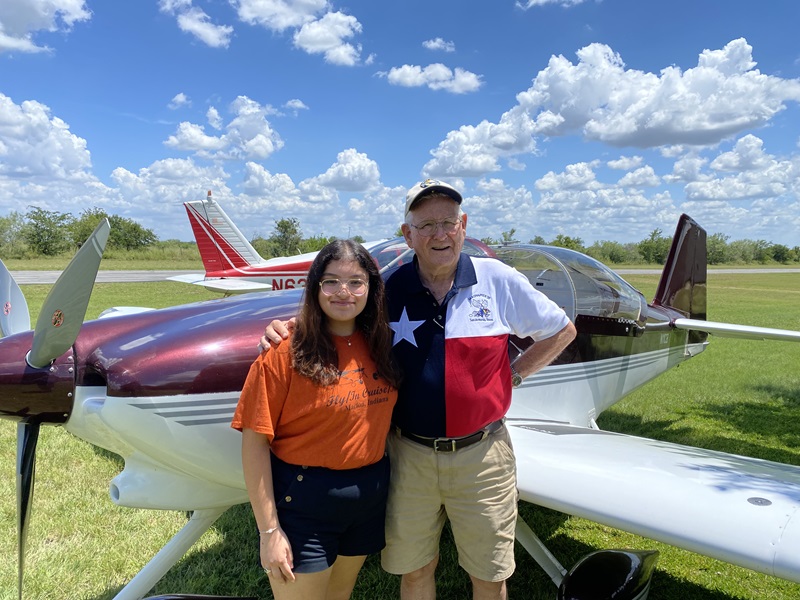 Jacqueline Campos, Private Pilot, with Charlie Brame - August 14, 2021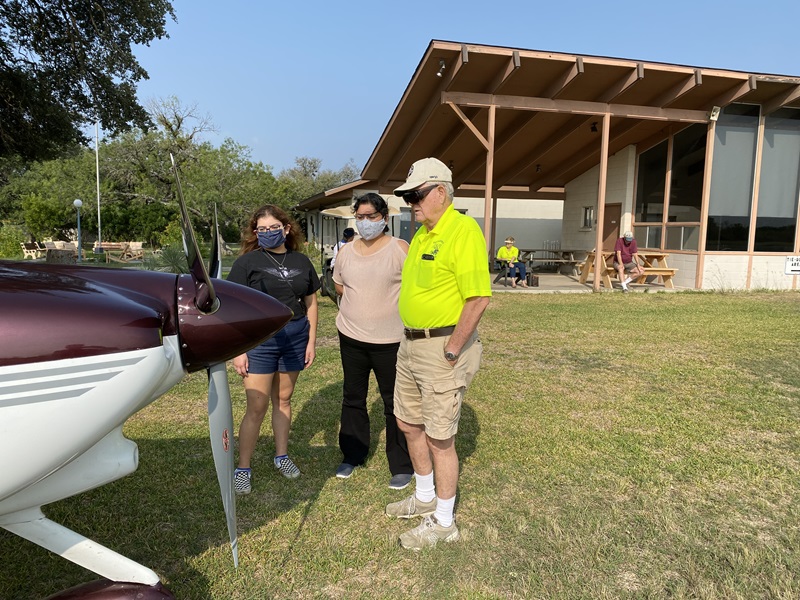 Jacqueline Campos, Young Eagle, with her mother and Young Eagle pilot Charlie Brame - September 19, 2020
August 14, 2021 Chapter Gathering
On August 14, 2021 we had a nice group of members and guests who gathered to hear about member's experiences at AirVenture 2021. Thanks to Jane Kellogg who described her participation in the B2OSH, a.k.a Bonanzas to Oshkosh arrival, and to Peggy Fisher who shared her and Chuck's experiences at the big show. Nice presentations, a yummy lunch, and pleasant fellowship.