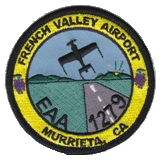 Whether you fly, build, restore or simply enjoy airplanes and aviation, you are welcome to attend our events and join our Chapter.
We are a group of aviation enthusiasts, aircraft builders, and pilots who get together with like minded people to share ideas, exchange information, encourage safety, serve the local aviation community and have a lot of fun doing so. Please come to our next meeting or event as our guest.
UPDATES:


7/23 - President's Update!

Dear Members,
Based on a desire to limit the spread of the COVID-19 virus, the governor has once again ordered the closure of many businesses and the cancellation of group gatherings. Therefore, we are forced to cancel our regularly scheduled chapter meeting for the month of July and possibly additional months - please check the calendar page for updated information.
It is apparent that it is going to be some time before we are able to return to normal group activities. Nevertheless, it is still possible for a limited number of pilots to meet at the airport and socialize by exercising recommended safety precautions.
I make it a habit to be at the Pietenpol hangar every Saturday morning. Anyone with a desire to visit can drop by for a cup of coffee and a chat.
I look forward to seeing you at the airport. In the meantime, stay safe.
Steve Williamson, pres.
EAA Chatper 1279
French Valley, CA