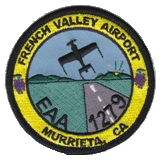 Whether you fly, build, restore or simply enjoy airplanes and aviation, you are welcome to attend our events and join our Chapter.
We are a group of aviation enthusiasts, aircraft builders, and pilots who get together with like minded people to share ideas, exchange information, encourage safety, serve the local aviation community and have a lot of fun doing so. Please come to our next meeting or event as our guest.
UPDATES:


Special Notice!

We have decided to hold the annual Chapter 1279 Barbeque this Saturday, June 27th at Steve Sparkman's hangar - see letter from our President for details below:
Dear Members,
As you know, because of the COVID-19 pandemic, we have been unable to hold our regularly scheduled EAA monthly meetings for several months now. We were also forced to cancel our Young Eagles rally which was scheduled for this past April. Now we are approaching that time of year when we typically hold our annual summer barbecue. The COVID-19 virus still posses a significant threat which we must protect ourselves against.
Unlike our monthly meetings where chairs are typically arranged "shoulder to shoulder," in a barbecue setting it is possible for us to space tables and chairs far enough apart to meet the social distancing protocols required for safety. Therefore, it is the feeling of the majority of the Board of Directors that we can go ahead and host our annual summer barbecue by following a few simple guidelines for safety purposes.
First, we will be using disposable materials exclusively (i.e. - paper linen for the tables, disposable paper plates, plastic utensils, etc.)
Secondly, we will provide only individually wrapped food items (individually sized chips, only bottled water or soda, etc.), NO side dishes allowed. Hamburgers and hot dogs will be cooked on site with condiments and garnishment served "on the side" by gloved servers.
Thirdly, social distancing protocols will be enforced (I.e. - conversations should be conducted with a separation distance of six feet, NO handshaking, etc.)
By following these simple protocols, we should be able to safely enjoy one of the chapter's most popular social events of the year.
It is important that we respect the serious nature of this worldwide pandemic. But it is also important to the longevity of our EAA Chapter that we maintain our relationship with each other and take advantage of every opportunity available to us to share our enthusiasm for aviation and the camaraderie that comes with our shared enthusiasm.
Please join us for a nice barbecue lunch on:
Saturday June 27, 2020
at Steve Sparkman's hangar at the French Valley Airport.
Please DO NOT bring anything. Just show up and enjoy the camaraderie.
I look forward to seeing you there.
Steve Williamson, pres.
EAA Chapter 1279
French Valley Airport