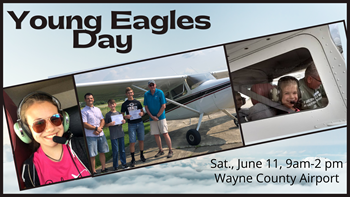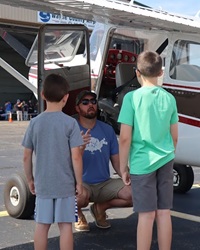 Young Eagles Day, "Take 2"
We had so much demand, that we scheduled a second Young Eagles Day for those who weren't able to fly in June. All the time slots for that day are also filled. If you are signed up, check here or our Facebook page if you have any weather concerns. We look forward to seeing you at the Wayne County Airport, Aug. 27th!
---
Young Eagles, 2022 Recap
Okay, maybe we're not quite ready to post a recap yet, but we know you want to see the pictures. So here is the link to see them, Young Eagles Photos. But keep checking back, as more folks send us more pictures, and we'll post them.
Thank you for joining us for Young Eagles Day. We love sharing our love of aviation with your children and families.
---
Young Eagles Day, June 11, 2022
**As of 0630, the weather looks good for another successful Young Eagles Day! If you have already reserved a time slot, we'll be waiting for you. If you haven't, we are full with a waiting list, but come on down to Wayne County Airport anyway for their Airport Day, and be watching this space for information on our next Young Eagles Day. #846YE2022
Founded in 1992, the Young Eagles program has dedicated more than 25 years to giving youth ages 8–17 their first free ride in an airplane. It's the only program of its kind, with the sole mission to introduce and inspire kids in the world of aviation.
Nationally, the Young Eagles program has flown more than 2.2 million kids with the help of EAA's network of volunteer pilots and ground volunteers, including the members of Chapter 846.
Each year we fly young people ages 8-17 at a local general aviation airport. Each child will attend a short ground school, followed by a free airplane ride with a qualified pilot. A parent or guardian must be present.
All EAA staff, volunteers and pilots who work with children under the age of 18 must fulfill EAA's Youth Protection Policy training. In addition, all pilots and certain categories of volunteers are required to complete online training and a background check every three years.
Before Young Eagles Day
On Young Eagles Day, June 11, 2022

Check here or our

Facebook

page for any weather related delays
Come to the Wayne County Airport, 6020 Honeytown Rd., Wooster, OH. an hour

before

your scheduled flight time.

All Young Eagles will receive:

A short ground school

Aircraft walk-around

Their flight

A certificate and logbook, signed by their pilot

Complimentary student membership to EAA until they reach 19

Their name will be entered into the world's largest logbook
Map to Wayne County Airport