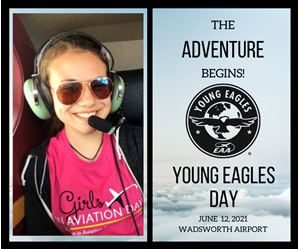 Founded in 1992, the Young Eagles program has dedicated more than 25 years to giving youth ages 8–17 their first free ride in an airplane. It's the only program of its kind, with the sole mission to introduce and inspire kids in the world of aviation.
Nationally, the Young Eagles program has flown more than 2.2 million kids with the help of EAA's network of volunteer pilots and ground volunteers, including the members of Chapter 846.
Each year we fly young people ages 8-17 at Wadsworth Airport. Each child will attend a short ground school, followed by a free airplane ride with a qualified pilot. A parent or guardian must be present.
Due to the pandemic, no decision has been made about holding this year's event. Please be watching here for additional information.
On Young Eagles Day
Check here for any weather related delays

Come down to Wadsworth Municipal Airport, located here. between 9 am - 1:30 pm.

The child must be between the ages of 8-17, and be accompanied by a parent or guardian.

That's it! All registration is done on site.

All Young Eagles will receive:

A short ground school

Aircraft walk-around

Their flight

A certificate and logbook, signed by their pilot

Complimentary student membership to EAA until they reach 19

Their name will be entered into the world's largest logbook