EAA Chapter 846, along with EAA National, has instituted a new Tool Crib Program for the benefit of Chapter members to build and maintain their aircraft. This document will explain how to get the most of that benefit while protecting the Chapter's interest in these valuable assets.
This program will not only include tools owned by/donated to the Chapter but will also include tools owned by members who are gracious enough to offer their tools to be used by other chapter members. Brad Wurst is the coordinator of the Tool Crib Program for EAA Chapter 846. Contact Brad at brewwurst@gmail.com for a full list of available tools.
Brad Wurst brewwurst@gmail.com
And for Somewhere to Store All those Tools. . .
MANY THANKS to our Tireless Construction Volunteers! The following volunteers "stepped up to the plate" to make our chapter hangar vision a reality. An addition onto our hangar will give us not only a deck from where to appreciate members' landings, but also the room below which will be used as storage space for our Tool Crib.
Below are the list of active deck volunteers to date:
David Gerdeman, Randy Brooks, David Manning, Brian Burke, Colm Burke, Moira Burke, Rob Trout, Dale Housley, Jay Waddell, Chris Oehlers, Ron Lutz, Paul Lutz, Paul Hancheck, Mark Moser, Steve Lehuta, Lee Preisse, Kevin Fink, Bob Sprang, George Salcewicz, Greg Cantrell, Brad Wurst, Jerry Wang, Brian Brede, Leah Sopko, Case McIntyre, Grey McIntyre, Nikki Oehlers, Gary Kohler, John A Watts, John M Watts, Gary Baker and Mary Baker.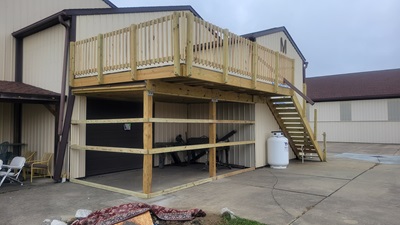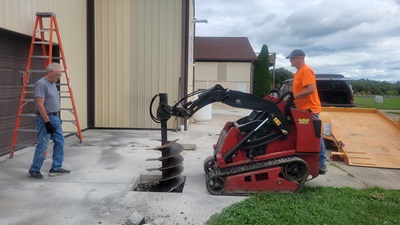 Starting the project, Dave German & Greg Cantrell
Mid Project
Completed project!