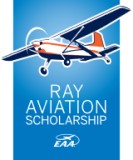 Through the generous support of the Ray Foundation, EAA provides up to $11,000 to deserving youth for their flight training expenses, totaling $1.8 million in scholarships annually.
"It's fantastic to have 33 of our currently 75 Ray scholars here in Oshkosh, I can't think of a better place than AirVenture for these kids to spend time around other aviation enthusiasts, chapter members, and just people within the industry to learn, get motivated, and go back to their home airport to finish up their flight training," said Chapter Field Representative, David Leiting, during AirVenture 2019.
Director of the Ray Aviation Scholars Program Chuck Ahearn said, "With women in aviation at a low percentage, accounting for 6 percent of the pilot community across the industry, EAA is proud to announce that 30 percent of the recipients are not only females, but extremely hard-working, talented, and well-deserving recipients." More information on James C. Ray and the Ray Scholarship can be found here.
---
2023 Ray Scholarship Recipient, Case McIntyre!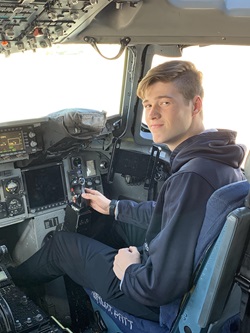 Chapter 846 would like to congratulate both of our 2023 Ray Scholarship candidates, Jack Pomfret and Case McIntyre, for their participation in this year's selection process. By popular vote, the members of Chapter 846 have selected Case McIntyre to receive this year's James Ray
Aviation Scholarship. Case plans to begin his Private Pilot training as soon as possible.
Both Case and Jack did a great job with their interviews and Chapter members enjoyed getting to know each of these accomplished young men, both of whom embody the spirit of the Ray Aviation Scholarship program. Both were deserving candidates. Although we could only award a single scholarship at this time, our Chapter will pursue additional scholarship opportunities through EAA and other means with the hopes of having a second scholarship to award later this year. Please join us in congratulating both of these young men on their accomplishments.
Case McIntyre
---
Ray Scholarship Update, Spring 2022
The EAA Ray Aviation Scholarship Program is thriving at Chapter 846! Once again in 2022 we were able to offer a $10,000 flight training scholarship on behalf of EAA to a deserving local youth. This year's recipient is Logan Cohara who has a passion for aviation that defines what it means to be a Ray Scholar. Logan has recently begun his flight training journey courtesy of his scholarship with a local flight training provider and is closing in on his first solo! In addition to having Logan as our 2022 Ray Scholar, our Chapter is still actively supporting our 2021 Ray Scholar, Abby Donofrio as she closes in on her Private Pilot Checkride. Abby has persevered through bad weather, COVID 19, instructor shortages and is closing in on her high school graduation ceremony. Abby will be attending Embry-Riddle Aeronautical University in the fall and was a keynote speaker at AirVenture 2021 as she shared her experience as a Ray Scholar with the aviation community. Both of our scholars represent the future of aviation in our communities and we have been proud to be part of their journey! Chapter 846 is currently pursuing another Ray Scholarship for 2022 depending on the availability of additional funding. It is our hope to be able to provide another flight training scholarship yet this year. Stay tuned!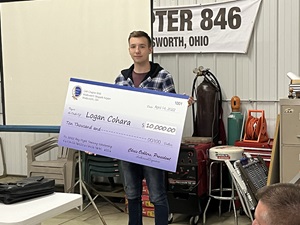 Logan Cohara
---
Ray Scholarship Update, Sept., 2021
Our Chapter has been sponsoring two Ray Aviation scholars this summer, Abby Donofrio and Matthew Recker. It has been a challenging time for both of them with busy schedules and unforeseen circumstances. Abby continues to make progress towards her FAA written exam and should be about ready to take the exam by the time you read this update. Once finished with her written exam, she will have cleared the last big hurdle of her training and work towards taking the flight test in the next few months. Abby also experienced a week full of exciting events at this year's AirVenture including representing the Ray Aviation Scholarship program at the Zulu LightSpeed press conference! This was Abby and her family's first AirVenture experience and we bet it won't be their last. Abby also recently had an article published in AviNation Magazine about her aviation journey and her experience as a Ray Scholar.
---
Ray Scholarship Update, April 2021
Ferenc Somogyi (2020 recipient) has begun his flight training and has about eight hours. His progress is going well and he will be increasing his frequency of flights to hopefully obtain his pilot certificate this summer.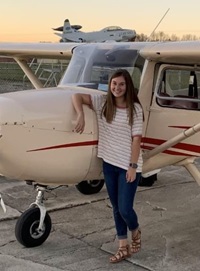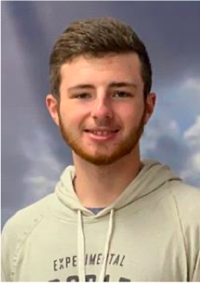 During the March Zoom meeting, Abby Donofrio and Matthew Recker were introduced to the chapter as applicants for the 2021 Ray Scholarship. Abby was selected as this year's recipient. She has already soloed and will be restarting her training this month. A week after our March meeting, EAA advised us that there was a possibility to take on a second Ray Scholarship at the 50/50 match level. An email vote was used to approve the acceptance of the scholarship and Matthew was approved to receive the scholarship. Matthew also has already soloed and will be restarting his flight training at Ashland Airport. Hopefully all three Ray Scholars will be able to attend the April meeting, so everyone will be able to meet them in person. Please recognize them for their achievements and offer any encouragement to them.
Ray Scholarship
Update, Feb. 2021
Our 2020 scholar Ferenc Somogyi has switched his training to AeroTrek Flight Academy in Wadsworth due to an instructor change and will be training with the team at Wadsworth going forward. For those of you who fly out of Wadsworth, keep an eye out for Ferenc as he begins his training journey there!
Even more good news arrived last week from EAA Headquarters as we found out that we have been awarded another 50/50 matching Ray Scholarship for 2021! Thanks go out to our membership who voted last month to use our recent donation from Charlie Cartledge towards another Ray Aviation Scholarship. This means that we will have two Ray Scholars this year as Ferenc finishes up and we select another deserving youth for this prestigious award. With that in mind, please start thinking about who you may want to nominate or consider for this year's scholarship. The requirements to be eligible are as follows: 16-19 years old, must possess an FAA medical and Student Pilot Certificate by the start of training and must be able to commit at least 2 hours per month towards Chapter activities. As before we are looking for individuals who may have already participated in Chapter activities, EAA Young Eagle rallys, etc. We will discuss our 2021 selection process and timeline at this month's Chapter meeting but I expect those to be similar to last year due to the ongoing restrictions and precautions.
---
Ray Scholarship 2020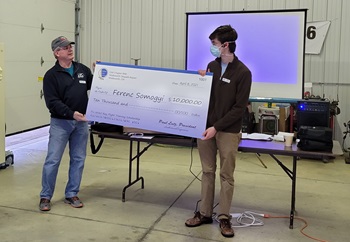 Where do we stand as a Chapter in this program for 2020? Last fall our Chapter decided to participate in the matching funds side of the scholarship program which was a new option for 2020. By selecting this option our Chapter was then guaranteed a scholarship for 2020. With this arrangement in place it was important that we chose the right, motivated individual to receive this scholarship and represent our Chapter in this program. This scholarship is for up to $10,000 towards flight training expenses in pursuit of a Private Pilot Certificate in either gliders or powered aircraft for a deserving individual.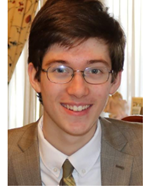 We are proud to announce their selection of Ferenc Somogyi as their 2020 Ray Aviation Scholarship recipient. In total five candidates were selected for final interviews which took place over two evenings utilizing online meeting software to allow Chapter members to participate in the interview process remotely. After a lengthy debate, Ferenc was chosen as the most deserving of the five finalists. The Ray Aviation Scholarship is a flight training scholarship worth up to $10,000 with EAA funding half of the award and Chapter 846 funding the remaining half.
Ferenc is currently finishing his junior year at St. Ignatius high school in Cleveland. He is active in the Civil Air Patrol where he currently serves as his squadron's Aerospace Education Non-Commissioned Officer. He has attended the Civil Air Patrol Powered Flight Academy where he received primary flight training and ground school instruction. He plans on a career in the aerospace industry and is exploring all of the opportunities available to him in this ever growing field. Ferenc's love of aviation, his passion for all things related to flight and his many accomplishments already achieved, will serve him well as the Chapter's Ray Aviation Scholar for the coming year.
Due to the current worldwide health crisis, Ferenc will delay the start of his flight training until a time when it is safe to begin. Ferenc and his parents Marianna and Lél, will be working with Chapter members in the coming weeks to select a flight training provider and develop a plan to allow him to begin his training as soon as possible. Training towards a Private Pilot Certificate is an enormous undertaking for any individual and takes a team effort. Ferenc will be a busy young man this coming year as he begins his senior year of high school, trains towards his Private Pilot rating and ultimately decides on his future plans. We will be working with him closely to ensure that he succeeds! We look forward to meeting Ferenc and his family in person in the coming weeks.
-Mike Guenthner, EAA Chapter 846 Ray Aviation Scholarship Coordinator