2024 Air Academy Scholarship Applications Now Available
Do you know a young person who loves aviation as much as you do? Let them know about the EAA Air Academy and our scholarship to attend!
Chapter 846 is offering a full scholarship to attend the annual EAA Air Academy in Oshkosh, WI, in July, 2024 to an area youth who has an interest in aviation. The EAA Air Academy is a fun-filled aviation camp experience for youth ages 16-18. Since 1984, experienced instructors and dedicated staff have shared their knowledge and lore of aviation through hands-on workshop, classroom, and outdoor experiences. The Chapter has been sending area youth to Oshkosh, WI, for many years to attend the Air Academy Camp.
The scholarship will cover the entire cost of the camp as charged by EAA, which includes room and board. The recipient of the scholarship will need to provide his/her own transportation to and from Oshkosh. More information about the Advanced Air Academy can be found here. The session 1 camp runs from July 16 thru 24, 2024. Do not apply on-line. The application can be found here. The completed application and letters of reference must be sent to Gary Baker, Scholarship Coordinator, eaachapter846@gmail.com by Jan. 31, 2024.
All interested applicants need to be between 16 and 18 years old at the time of the camp. The camp is scheduled to take place beginning Tuesday, July 16, ending Wednesday, July 24, 2024. The applicant needs to provide two reference letters and an essay attached to the application. The deadline for submission is Jan. 31, 2024.
Additional instructions and requirements are noted on the application form. This scholarship has a value of $1,650. Any questions can be directed to Gary Baker, ggbaker@zoominternet.net, 330-321-6274.
2023 Chapter 846 Air Academy Recipient, Douglas Tytko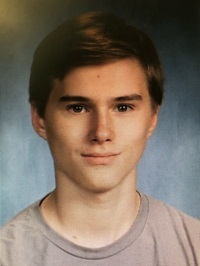 Douglas Tytko was awarded the Chapter 846 EAA Air Academy Camp scholarship during the February 2023 Gathering. The Advanced Air Academy Camp will be held July 18-26, 2023.
Congratulations Doug!
---