Pancake Breakfast & Fly-In, Saturday, May 16, 2020 - Postponed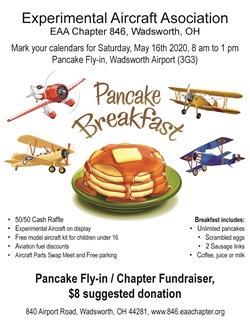 Unfortunately, due to the current health crisis, we have made the decision to postpone the Fly-in until fall. Be watching for revised date.
Young Eagles Day, 2020 - Postponed
Founded in 1992, the Young Eagles program has dedicated more than 25 years to giving youth ages 8–17 their first free ride in an airplane. It's the only program of its kind, with the sole mission to introduce and inspire kids in the world of aviation.
Nationally, the Young Eagles program has flown more than 2.2 million kids with the help of EAA's network of volunteer pilots and ground volunteers, including the members of Chapter 846. Each year we fly young people age 8-17 at Wadsworth Airport. Each child will attend a short ground school, followed by a free airplane ride with a qualified pilot. A parent or guardian must be present.
Please be watching here for a rescheduled date for Young Eagles Day.
AirVenture, Oshkosh, WI, July 20-26, 2020 - Cancelled
The World's Greatest Aviation Celebration! Annual EAA Fly-in and convention in Oshkosh, WI has been cancelled for 2020. If you would like to see what you're missing, check out a great overview video, narrated by Harrison Ford, Oshkosh: The Spirit of Aviation
2nd Annual Chapter Fly-Out/Camping, Aug. 14-16, 2020
Hosted by Freeman and Mary Jane Swank at beautiful Swank Farms Field, in Butler, Ohio. The weekend activities will include RC flying, John Deere Gator driving, swimming in the river, farm tours, camp fires and movies under the stars. Enjoy great flying and camaraderie with other Chapter members. The field has full shower and bathroom facilities.
2nd Annual Chili Fly-In, Oct. 17, 2020
Steve and Julie Zaleski will share their hangar with the Chapter at Mohican Airpark and agreed (were persuaded) to let us have the fly-in there. Members help set up the hangar and make crock pots of chili and side dishes to share.
Want to learn more? Check out our video created by talented chapter members, the Lutz family!