Annual Chapter Fly-In and Pancake Breakfast Fundraiser, Sat., Sept. 18, 2021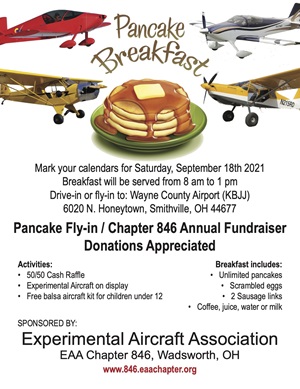 Join us for our Annual, (except for last year), Fly-In and Pancake Breakfast! This year's event will be held at the the Wayne County Airport, (KBJJ) if you are flying in and 6020 Honeytown Rd. if you're driving. You can enjoy a breakfast of scrambled eggs, sausage, and unlimited pancakes. Donations accepted.
There will be experimental aircraft on display, along with displays of remote controlled airplanes, a 50/50 raffle and balsa wood plane kits for the kids. Come to the airport for a delicious, pipping hot breakfast and a chance to see some unique aircraft!
Young Eagles Day, 2021 -Still Uncertain
Founded in 1992, the Young Eagles program has dedicated more than 25 years to giving youth ages 8–17 their first free ride in an airplane. It's the only program of its kind, with the sole mission to introduce and inspire kids in the world of aviation.
The chapter will not be holding a Young Eagles Day event on June 12, International Young Eagles Day. Pilots are always welcome to fly kids on an individual basis. Paperwork is available in the Chapter hangar or by contacting Gary Baker. It is possible that we might host a small event in late summer or early fall.
Nationally, the Young Eagles program has flown more than 2.2 million kids with the help of EAA's network of volunteer pilots and ground volunteers, including the members of Chapter 846. Each year we fly young people age 8-17 at Wadsworth Airport. Each child will attend a short ground school, followed by a free airplane ride with a qualified pilot. A parent or guardian must be present
Please be watching here for a rescheduled date for Young Eagles Day.
AirVenture, Oshkosh, WI, July 26- Aug. 1, 2021
For seven days from sunrise to well past sunset, your Oshkosh day is filled with thrilling displays of aerobatics, informative programs and hands-on workshops, diverse aircraft spanning all eras of flight, evening programs, and much, much more.
The chapter has reserved the Chapter Pavilion in Camp Scholler for our annual pizza party! This party will be held Thursday evening, July 29. More details will be coming in the next few months. Mark your calendars!
Fun for the whole family that you'll find only in Oshkosh is waiting for you at the World's Greatest Aviation Celebration!Check out a great overview video, narrated by Harrison Ford, Oshkosh: The Spirit of Aviation
2nd Annual Chili Fly-In, Oct. 17, 2020
Steve and Julie Zaleski will share their hangar with the Chapter at Mohican Airpark and agreed (were persuaded) to let us have the fly-in there. Members help set up the hangar and make crock pots of chili and side dishes to share.
Want to learn more? Check out our video created by talented chapter members, the Lutz family!