EAA Chapter 846
President: Chris Oehlers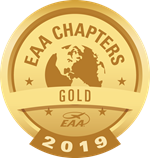 Contact: 419-304-0492 | eaachapter846@gmail.com
Meetings: Every 2nd Thursday 7:00 PM
Location:
Skypark Weltzien Airport (15G), Hangar M-1
3071 Greenwich Road
Wadsworth, OH 44281
Meetings are held at the Chapter's Ryerson Hangar located on the grounds of the Skypark Airport, hangar M-1 (see map below)
Programs: IMC Club, Young Eagles, Technical Counselors, Flight Advisor, Eagle Flights
---
EAA Chapter 846 Hangar M-1 Location-
Our chapter hangar is located via Greenwich Rd. and S Kane Rd., Wadsworth, OH. Turn north onto S Kane Rd, and at the end, turn right and enter via the back of the airport. Turn left at the fourth taxiway and go to the end. We are the last hangar (hangar door facing north) in taxi row four (4) on the right side. See the map below: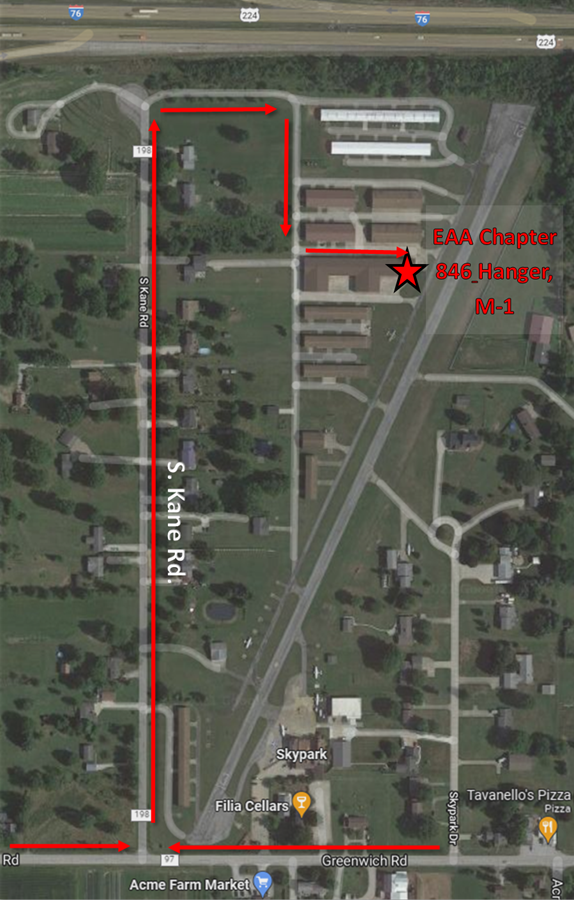 ---
Welcome to our Chapter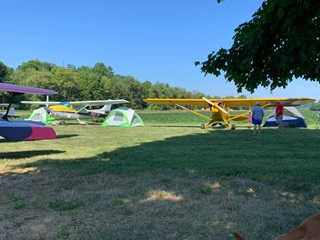 Whether you fly, build, restore or simply enjoy airplanes and aviation, you are welcome to attend our events and join our chapter. We are a group of aviation enthusiasts, aircraft builders, and pilots who get together with like-minded people to share ideas, exchange information, encourage safety, and serve the local aviation community. We support the next generation of pilots and airmen by offering programs to introduce young people to aviation. Please come to our next meeting or event as our guest.
Over the last 35 years, our members have:
Built or restored 50+ aircraft

Provided scholarships to young people to attend the EAA Air Academy

Awarded a Ray Scholarship to a young person to help them achieve their private pilot's license.

Offered free airplane rides to over 3,000 kids between the ages of 8-17 at our annual Young Eagles Day.

Offered countless workshops, seminars, cookouts, fly-ins and fly-outs.
Most recently, our chapter has acquired our own hangar at Skypark, the Ryerson Hangar, and had a Titan T-51 Mustang donated to the chapter. We are excited about using them to launch new programs and events. Skypark is located on Greenwich Rd., Wadsworth, OH. Turn onto Kane Rd, and at the end, turn right into the airport. See the map at right to find our hangar at Skypark.
We love aviation and we would love to have you join us. For more information on our chapter, please contact our president via the contact information provided in the sidebar. Interested in joining us? Then fill out the Membership Application. We're looking forward to meeting you and hearing about your aviation dreams.
Chapter 846 is a 501(c)3 non-profit organization.
Our Mission
The mission of Chapter 846 of the Experimental Aircraft Association is to support the growth of EAA, safety of aviation, and promote sport aviation through education, training and fellowship. The Chapter introduces area youth to aviation through the use of Young Eagles flights and educating them about aviation. The Chapter promotes all facets of aviation by presenting programs and activities which are available to anyone interested in aviation.
---
About Weltzien Skypark Airport
FAA INFORMATION EFFECTIVE 30 December 2021
Location
FAA Identifier:
15G
Lat/Long:

41-01-41.4650N 081-47-53.3300W




41-01.691083N 081-47.888833W




41.0281847,-81.7981472




(estimated)

Elevation:
1210 ft. / 369 m (estimated)
Variation:
06W (1985)
From city:
3 miles W of WADSWORTH, OH
Time zone:
UTC -5 (UTC -4 during Daylight Saving Time)
Zip code:
44281
Airport Operations
Airport use:
Open to the public
Activation date:
07/1967
Sectional chart:
DETROIT
Control tower:
no
ARTCC:
CLEVELAND CENTER
NOTAMs facility:
CLE (NOTAM-D service available)
Attendance:

DAWN TO DUSK

Pattern altitude:
2000 ft. MSL
Wind indicator:
lighted
Segmented circle:
no
Lights:

ACTVT NSTD LIRL RWY 03/21 - CTAF

Beacon:
white-green (lighted land airport)
Operates sunset to sunrise.
Airport Communications
| | |
| --- | --- |
| CTAF/UNICOM: | 123.05 |
| WX ASOS at BJJ (10 nm SW): | 118.075 (330-669-9105) |
| WX ASOS at AKR (15 nm E): | 126.825 (330-724-4237) |
| WX ASOS at CAK (17 nm SE): | PHONE 330-493-5260 |
| WX AWOS-2 at 1G3 (19 nm NE): | 119.15 (330-346-1497) |