Whether you fly, build, restore or simply enjoy airplanes and aviation, you are welcome to attend our events and join our Chapter. We are a group of aviation enthusiasts, aircraft builders, and pilots who get together with like minded people to share ideas, exchange information, encourage safety, serve the local aviation community and have a lot of fun doing so. Please come to our next meeting or event as our guest.
And for more about our chapter and events, check out our Facebook page.

We hope to see you soon!
Invitation from EAA Chapter 5, Now June 15
Chapter 5 would like to invite EAA Chapter 846 to join them for a picnic and presentation at their chapter meeting on Monday, June 15 at 7:00pm.They'll start with an Oshkosh-style picnic dinner of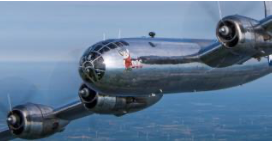 burgers and brats on the grill. Immediately following dinner, the program will feature a presentation about restoring "Doc the B-29" by Tony Mazzolini- the man who managed the entire project.
Back Together Again! June's Meeting Will be at the Chapter Hangar
Yes, we can meet again in person! Social distancing will be observed and masks are encouraged, and it will be great to be able to see everyone in person, Thursday, June 11 at 7 pm. The topic for the evening is to finalize the plans for the chapter "Tool Crib" and discuss the possible hangar swap. See you then!
Virtual Oshkosh! Spirit of Aviation Week, July 21-25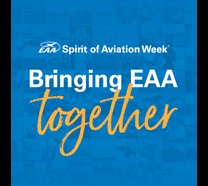 EAA AVIATION CENTER, OSHKOSH, Wisconsin — (June 4, 2020) — The Experimental Aircraft Association is showcasing the whole spectrum of flight this summer in a virtual way, as Spirit of Aviation Week on July 21-25 will celebrate the entire aviation community.
The five-day event will include streamed and on-demand content, encompassing nearly every subset of aviation, with a focus on educational, informational, and entertaining content. EAA's special interest groups will also be heavily involved, bringing highlights that include homebuilts, warbirds, vintage, aerobatics, ultralights, and much more.
"Nothing can replace the Oshkosh experience in-person during AirVenture week, as that event personifies the common passion we have for flight, in all its wonderful ways," said Jack J. Pelton, EAA's CEO and chairman of the board. "As unfortunate as it was that the cancellation of AirVenture 2020 took away that personal experience, countless people and groups have stepped forward to ask what they could do to virtually create something from Oshkosh that brings us together as aviators and aviation enthusiasts. We're going to incorporate as many of them as possible during a full five-day event." Go to EAA Together for more information.
Congratulations are in order!
Did you notice in the last newsletter what a busy spring everyone is having? If you haven't, take a look. You guys are on a roll!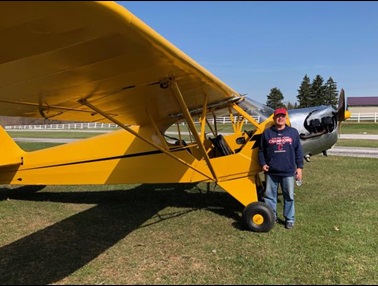 Randy Brooks completed his J3 Cub, completing a multi-year restoration.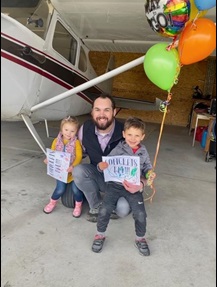 Matt Tomsheck's son, Josh completed his training for his private pilot's license.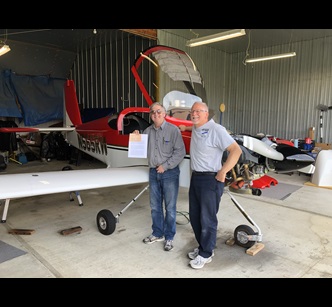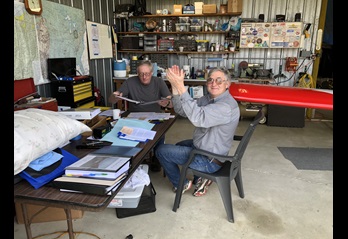 Jay Waddell's RV-9A project passed its airworthiness inspection, going from project to plane in a morning! Also pictured are chapter members Karl Aber, and Inspector and chapter president, Matt Tomsheck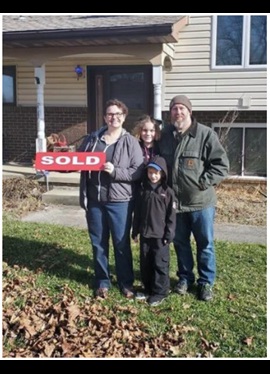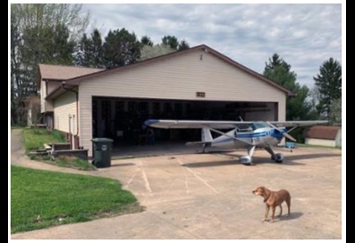 The Hanchecks have moved the Luscombe into its new Skypark home, and the family should be following soon.
Jason Lorenzon's son, Todd, completed his first solo flight.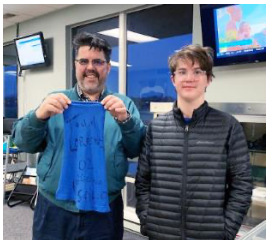 Ben Nagy graduated from Cloverleaf High School.
Congratulations to all!
AirVenture 2020 - Cancelled
Jack Pelton, CEO and Chairman of the Board of EAA, announced today that AirVenture has been cancelled for 2020. His letter to members can be found here.
Zoom In to the May Meeting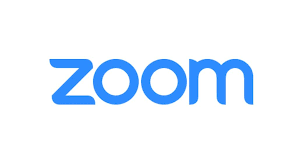 Join us online, for our next meeting, Thursday, May 14 at 7 pm. We will be discussing a number of items of chapter business like the Mustang, and Sonex projects and the hangar. Like last month, you will get an email a day or two before the meeting with instructions and the login information. If you weren't able to join us or had difficulty last month, don't hesitate to reach out to a board member before the meeting and they will help talk you through using Zoom. Or if you would like, this link will take you to a short video on how to join a meeting on Zoom.
Reopening Ohio
Did you miss the big announcement about how Ohio will be reopening for business? Check out Responsible Restart Ohio for the latest information. Has the Stay at Home order been hard on your business or family? Here are some of the state resources to help you weather the crisis.
Congratulations to our 2020 Ray Scholar:
Ferenc Somogyi
We are proud to announce their selection of Ferenc Somogyi as their 2020 Ray Aviation Scholarship recipient. In total, five candidates were selected for final interviews which took place over two evenings utilizing online meeting software to allow Chapter members to participate in the interview process remotely. After a lengthy debate, Ferenc was chosen as the most deserving of the five finalists. The Ray Aviation Scholarship is a flight training scholarship worth up to $10,000 with EAA funding half of the award and Chapter 846 funding the remaining half. For more information check our our Ray Scholarship page.
The April Meeting is Going Online!

Instead of cancelling our April meeting, we are going to host it in the safety of your homes on your computers or mobile devices. We will be covering some chapter business, but will also have the chance to listen to two of our Ray Scholar applicants.
You should have received an email with instructions and the opportunity to try out the system on Tuesday evening. If you didn't get the email, please contact a board member and we will be happy to get it forwarded to you. See you online!
April Meeting Online; Pancake Breakfast Fly-in, Young Eagles -

POSTPONED
At this time, we will not conduct an in-person April chapter meeting. We are looking at a virtual meeting platform. This would be a great way to stay connected and engaged with the chapter. We will send out an email on the details once we figure out which platform we'll be using. Later in April we can make a decision about the May meeting depending on which way this virus is going.
With regards to the pancake breakfast, the consensus of the board is to postpone the event until fall. At this time there won't be any planning meetings. When this virus settles down and we start to get back to normal we can decide to do a pancake breakfast or as a someone suggested, have a chili fly-in in the fall.
The board also thought it would be prudent at this time to postpone the Young Eagles day until later date.
--

CANCELLED

--Chapter Meeting, Thurs., March 12--

CANCELLED
Bob Norman from Norman Aviation will be at our next meeting, to talk about engine maintenance and overhaul. Bob founded Norman Aviation in 1984 and has been providing service to the southeast Ohio region ever since. His facility is located at Parr Airport in Zanesville, OH. Join us at 7 pm at the Skypark Terminal to hear this engine expert. - Unfortunately, tonight's meeting is being cancelled. We hope to be able to reschedule Mr. Norman in the future.
Chapter Meeting, Thursday, Feb. 13
Many thanks to all who braved the dicey weather in February for our chapter meeting, and special thanks to Gary Baker who pinch-hit with an AOPA program on "Essential Aerodynamics."
Mustang Work Days
Join us to work on our chapter aircraft, the Titan T-51 Mustang! Jeff Paden has put together a list of tasks to be accomplished. The goal is to get the aircraft in an airworthy condition, leading up to the sign off of the condition inspection. Jeff was the original builder of the aircraft and obtained the repairman certificate, which allows him to sign off the condition inspection. Feel free to join us on:

Sat., Feb. 2, 9am-12pm

Wed., Feb 19, 7pm-9pm

Sat., Feb. 22, 9am-12pm (Cancelled)
Wed., Feb. 26, 7pm-9pm (Cancelled)
Sat., Feb. 29, 9am-12pm (Cancelled)
More dates to be scheduled soon! We are waiting for outside work to be completed.


Chapter Tool Crib Program
As you may already know, EAA National has developed the Tool Crib Program to help EAA chapters build an assortment of tools which might otherwise be too expensive for an individual member/builder. This program offers reimbursement of 30% of new tool purchases, up to $300.00. This would allow our chapter to hold tools for loan to individuals on an as-needed basis.
Brad Wurst and Bob Taylor are acting as the coordinators of the Tool Crib Program for EAA Chapter 846. They are interested in hearing which tools you think should be part of our Tool Crib. Also we have many members who have acquired tools over time. Should you have tools that you are willing to lend to other members/builders, please let Bob or Brad know. These could be offered for lending with an appropriate refundable security deposit.
Chapter Recognition

EAA Chapters have always been one of the most vital components in making general aviation fun, affordable and accessible at the local level. To recognize chapters that have demonstrated outstanding commitment to general aviation, EAA rolled out a Chapter Recognition Program in 2019. This recognition is based off ten criteria that have shown to correlate with active and engaged chapters. Chapter 846 was recognized this year as a Gold level chapter by meeting all 10 out of 10 of the criterion necessary! Congratulations to everyone for making us a vital, fun, committed EAA chapter!
Happy Holidays!
Thank you for being a part of our annual after-the-holidays Holiday Party and White Elephant Gift Exchange! The food was fabulous as always. Big thanks to Dave Gerdeman for handling the main dishes and organizing the buffet. Rounded out by everyone's delicious desserts and side dishes, it was a fine evening for food and entertainment.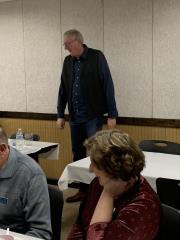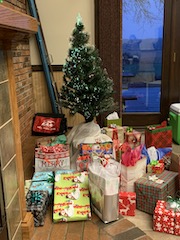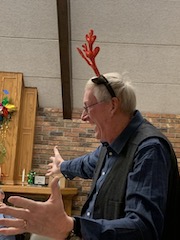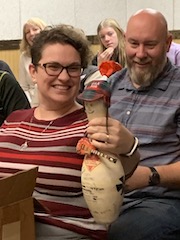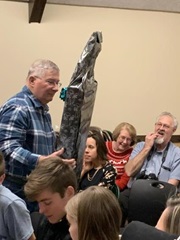 Newly-elected President Matt Tomsheck ran a short meeting, followed by past-president Gary Baker who recognized last year's Board Members, Young Eagle Pilots, and Chapter Volunteers, and summarized what was a very busy year for the chapter. Then we got to the hilarious white elephant gifts. Yes, the bowling pin made a reappearance, but there were a few new classic gifts given. Thanks to all who helped set-up, tear down, brought food, and fellowship. You are the reason we're an active, fun, productive chapter. Happy New Year Y'all!
Air Academy Scholarship Applications Being Accepted (Closed for 2020)

Do you know a young person who loves aviation as much as you do? Let them know about the EAA Air Academy and our scholarship to attend!
Chapter 846 is offering a full scholarship to attend the annual EAA Air Academy in Oshkosh, WI, in July, 2020 to an area youth who has an interest in aviation. The Air Academy is a fun-filled aviation camp experience for youth ages 16-18. Since 1984, experienced instructors and dedicated staff have shared their knowledge and lore of aviation through hands-on workshop, classroom, and outdoor experiences.
The scholarship will cover the entire cost of the camp as charged by EAA, which includes room and board. The recipient of the scholarship will need to provide his/her own transportation to and from Oshkosh. More information about the Advanced Air Academy can be found here. The session 1 camp runs from July 14 thru 22, 2020. Do not apply on-line. The application can be found here. The completed application and letters of reference must be sent to Art Hernandez, Scholarship Coordinator, eaachapter846@gmail.com by Feb. 8, 2020.
Note: April 2, 2020 - As the current situation surrounding COVID-19 has made it much more difficult to secure all the necessary logistics needed for a successful camp experience, EAA has decided to cancel the 2020 Air Academysessions that traditionally begin in mid-June and continue through early August. While this was an enormously difficult decision and is a disappointment to us all, the health and safety or our campers and a fulfilling camp experience were our priorities for the young people involved. Pease check here for more information.
Congratulations &
Thanks to New Officers and Board Members
Elections were held this month, and we have some new names on the Board. Thank you to all who offered to serve. Our officers for the next two years are:
President

Matt Tomsheck
Vice-President

Paul Lutz
Secretary

Greg Cantrell
Treasurer

Gary Baker
Board Members: Randy Brooks, Ron Lutz, and Bob Taylor