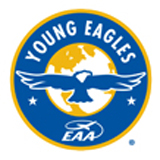 Launched in 1992, the Young Eagles program, is the only program of its kind, with the sole mission to introduce and inspire 8-17 year old youths in the world of aviation. Today, more than 2.2 million young people have enjoyed a FREE introduction flight through this program. These flights are made possible through the generosity of EAA member volunteers. The Experimental Aircraft Association (EAA) Chapter 75 hosts a variety of Young Eagles Flight Rallies each year featuring a chance for these youths to explore aviation. The Young Eagles are given a short introduction to airplanes and a free airplane ride lasting approximately 15-20 minutes.
YOUR FLIGHT EXPERIENCE:
Here's how your flight will go:
One The Ground
Your pilot explains what will happen during the flight. You may talk about the airplane, review an aeronautical chart (map), and complete a careful "walk-around" preflight inspection of the airplane.
Just Before Takeoff
Your pilot explains the interior of the airplane, including the operation of the aircraft door, safety belts, and instrument panel.
In the Air
The flight lasts between 15-20 minutes. And, if you want, your pilot may let you take the controls!
Back on the Ground
During this time, your pilot is happy to tell you more about flying their particular plane and there is more time for you to ask questions about the flight.
After The Flight
After the flight is completed, the pilot will issue you your official Young Eagles logbook and certificate. The pilot then returns the registration form to the Young Eagles office, where the flight will be officially entered in the World's Largest Logbook. EAA will send the Young Eagle follow-up information about their FREE online ground school, details regarding other youth aviation programs, and information about EAA scholarships.
Contact:
Name: Bob Thomas - Young Eagles Coordinator
Phone: 563-343-1825
Email: rbettendorf@aol.com
Young Eagles Photos