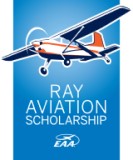 Through the generous support of the Ray Foundation, EAA provides up to $10,000 to deserving youths for their flight training expenses, totaling nearly $1,200,000 in scholarships annually.
The program is supported by more than 100 EAA chapters and supports close to 120 scholars.
EAA awarded Chapter 501 the opportunity in 2022 to mentor a Ray scholarship candidate and we chose Joshua Puerzer to receive the award. Josh's flight training will get into high gear in June. Beck Youngberg, our 2021 Ray scholarship winner, achieved his PPL rating on May 3rd.