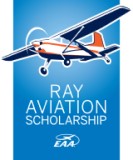 Through the generous support of the Ray Foundation, EAA provides up to $10,000 to deserving youths for their flight training expenses, totaling nearly $1,200,000 in scholarships annually.
The program is supported by more than 100 EAA chapters, and supports close to 120 scholars.
Chapter 501 in January filed an application with EAA to be qualified to sponsor a Ray scholarship applicant and we were accepted Our chosen candidate for the scholarship, Beck Youngberg, had his application approved by the EAA and Ray Foundation people. By mid June 2021 Beck has been in flight training and approaching the time for his first solo with the benefit of the first grant from the Foundation.