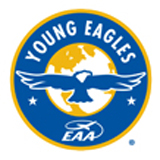 Flight operations are slowly proceeding. Registration is a must! Children will be required to wear masks. We will observe all Covid-19 protocols. This will be a test so please bear with us.
Covid-19 update. We have Pilots and Ground Volunteers who have been vaccinated and are ready to fly. We need a Blue status in order to hold Rallies.
Founded in 1992, the Young Eagles program is dedicated to giving youth ages 8–17, an opportunity to go flying in a general aviation airplane. These flights are offered free of charge and are made possible through the generosity of EAA member volunteers.
It's the only program of its kind, with the sole mission to introduce and inspire kids in the world of aviation.
Today, the Young Eagles program has flown over 2.2 million kids.
For more information from EAA headquarters about the Young Eagles program, visit www.youngeagles.org
The Young Eagles Program
EAA Chapter 43 holds Young Eagle Rallies once a month from March through October at the Erie Municipal Tri-County Airport. The flights are provided free by volunteer pilots and ground support personnel in the hope of inspiring kids to explore the world of aviation. Due to the limited number of seats available at each rally, EAA Chapter 43 allows young people to register for only one flight per year. Participating youth must be between the ages of 8 and 17 at the time of their flight.
To sign up your children for one of our upcoming Young Eagles rallies, please fill out the form by clicking the link below and submitting the form.
Note: Liability and release forms signed by a parent or legal guardian will be available for review and signature on the morning of the young eagle rally. Completion of these forms is required for youth to participate in a flight.
Please visit the EAA National Young Eagles web site for more information about this program.
Please visit our Facebook Page.
Call or e-mail our Young Eagle Coordinator for more information.