Marysville EAA Chapter 1629 Young Eagles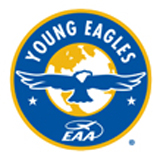 What: Free airplane rides for Kids.
Who: Kids 8 -17 years old
Where: Marysville Union County Airport
760 Clymer Rd.
Marysville, OH 43040
All Rallies are 9:00 am to 1:00 pm (weather permitting)
Registration is not necessary but preferred at http://YoungEaglesday.org or click the dates below.
A parent or guardian must be present at the rally with the youth and sign a waiver form.
Started in 1992 the Young Eagles program has dedicated 30 years giving kids ages 8 - 17 their first free ride in an airplane. The sole mission of the program is to introduce and inspire kids in the world of aviation.
Total Young Eagles Flown: 2,290,490 as of November 11, 2022
Future 2023 Marysville EAA Chapter 1629 Young Eagles Rallies

Date Location Identifier Status Remarks

To be Determined in the spring of 2023

Date Location Identifier Status Remarks

Saturday, August 27, 2022 Marysville Union County Airport KMRT Arrived on Time

Saturday June 11, 2022 Marysville Union County Airport KMRT Arrived on Time

Saturday October 23, 2021 Marysville Union County Airport KMRT Arrived on Time

Saturday August, 21, 2021 Marysville Union County Airport KMRT Arrived on Time

Saturday August 29, 2020 Marysville Union County Airport KMRT Arrived on Time

Saturday June 8, 2019 Marysville Union County Airport KMRT Arrived on Time

Saturday August 24, 2019 Marysville Union County Airport KMRT Arrived on Time

For young eagle events in your area please go to:

For all things related to EAA National's Young Eagles Program click

https://www.eaa.org/eaa/youth/free-ye-flights

if you have further questions please email MarysvilleEAAChapter@gmail.com or call 937-303-7392