Marysville EAA Chapter 1629 Flying Start Program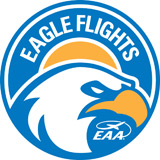 EAA Flying Start is a new program that provides EAA chapters with an opportunity to reach out into the local community and bring those interested in aviation to the airport for a first-hand look at the wonders of flight.
The program consists of an EAA-prepared presentation and video that provide information about topics ranging from what is involved in flight training and the types of certificates one can pursue, to how much it will cost in both time and money. Weather permitting the presentation is capped off with an EAA Eagle Flight for each attendee. That's where the member pilots come in.
Attendees who are new to flying will get a free six-month EAA membership.
In addition to providing a pathway for adults in the world of flight, EAA Flying Start gives chapters the opportunity to engage their current members and invite new people to join their local organization.
For many pilots, the act of opening the hangar door on a Saturday morning and pushing the airplane into the sunshine creates a feeling of excitement and expectation, and a promise of good things to come. To look up to the sky and wonder, "Where could I fly to today?" is something any dreamer can do, but the answer is for only a pilot to know. The EAA Flying Start program will help provide an opportunity for aviation enthusiasts to learn about aviation, learn about EAA, and take the first step in aviation so they, too, can have an answer to the question, "Where could I fly to today?"
Flying Start is an EAA program for chapters to use to reach out to the local community, and provides a pathway to invite interested people to the world of flight.
Through Flying Start, chapters and chapter members will break down the barriers commonly encountered by the non-aviation community that prevent people from becoming a pilot. Flying Start participants will walk away from the event with an, "I can do this" point of view, a clear understanding of how flying can fit into their lives, and a good idea of what they can do with this hobby.
This will be accomplished by inviting those who are interested in or curious about the world of flight to Flying Start events hosted by local EAA chapters. Chapters will use the EAA Flying Start and EAA Eagle Flights promotional and mentoring materials to garner interest in the event. Participating individuals will be provided with a pathway to get involved with their local EAA chapter, the opportunity to continue their interest in flying, and the chance to start new friendships based on a shared love of aviation with the potential goal of becoming a pilot. Flying Start participants will have direct access to the EAA Eagle Flights program through the hosting chapter. The EAA Eagle Flights program will continue to mentor participating adults, and help them to become pilots.
The Flying Start Program Goals
The primary goal of EAA's Flying Start program is to grow participation in aviation, starting at the chapter level to increase the pilot population. To achieve this goal, the program will provide the following pathways:
A place for aviation newcomers to learn about the recreational aviation.
A way for local EAA chapters to grow chapter membership.
Opportunities for local EAA members to share their aviation legacy by mentoring program participants.
A sense of belonging that our EAA community is founded on.
Why Chapters Participate in Flying Start
EAA chapters that participate in Flying Start will benefit from the program in numerous ways:
Recruit new chapter members and engage the current ones.
Sharing the passion of aviation and flight with those who have the same interest as you
Creating new pilots to strengthen the pilot population.
Enhancing the EAA chapter's position as the local access point to aviation.