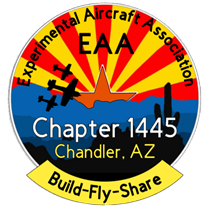 November Chapter Meeting
Chapter 1445 held it's monthly meeting November 19, 2022 at the Chandler Municipal Airport Terminal building. Approximately 35 members attended.
The business meeting consisted of election of 2023 Chapter officers.
Cecil Orozco - President
Scott Todd - Vice President
Tim -Burgoyne - Secretary
Peter Dooley - Treasurer
After business meeting, there were three presenters. Links to websites discussed by the presenters follow their names.
Randall Hayhurst - EAA website's builders log
Eric Wood - Google Group for us of Chapter 1445 to communicate
Presentation with narration in YouTube
Larry Nelson - Oil Analysis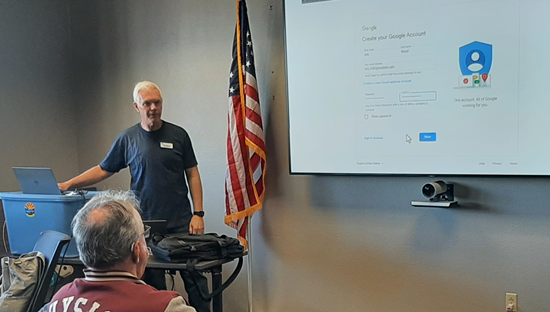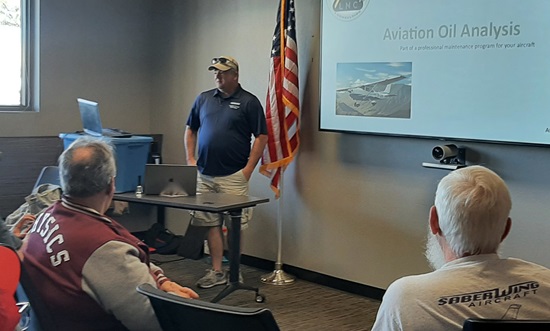 Veteran's Day
Every Veteran's day Chapter 1445 members participate in Maricopa's Veteran's day parade. Chuck Millar has several military vehicles and the our members drive and ride in the parade. Below is a photo of folks that participated.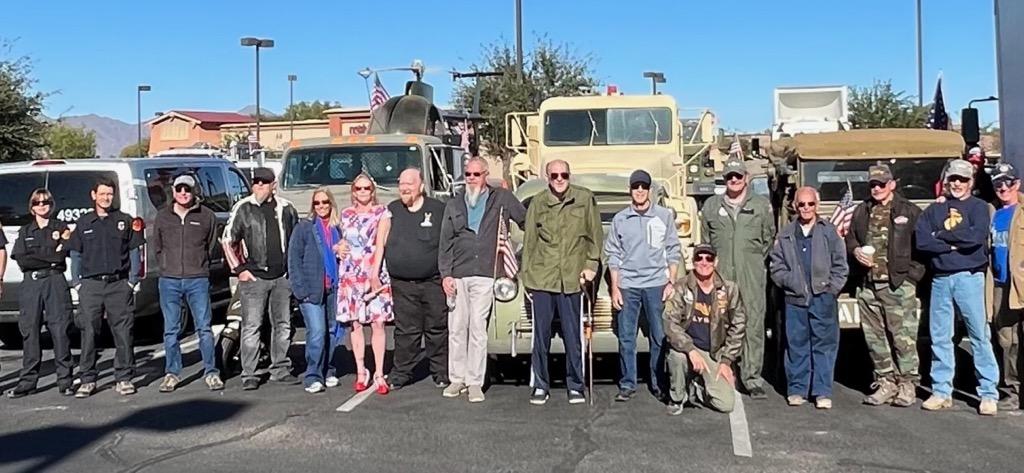 .
Aircraft Weighing
The Chapter owns a set of digital aircraft scales. Member can use the scales to weigh their airplanes. This especially helpful for builders getting ready for first flights are needing to weigh planes after a major modification. Presently the scales are certified so can't officially be used to weigh certified aircraft. Scales can be certified by the State of Arizona for a fee. Below is a photo of Rick Drown weighing a Beautiful newly completed Sonerai by Tim Swires.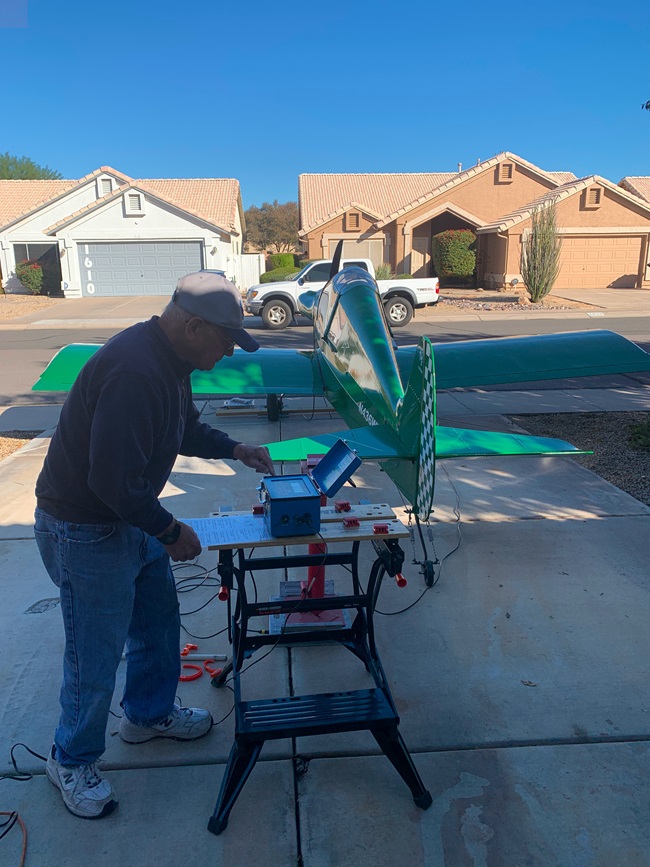 Young Eagles
Chapter 1445 held a Young Eagle event on October 22, 2022. Please visit our Young Eagle page for more info. Page can be found by clicking Young Eagles
Rick Drown First Flight
On October 21, 2022 Rick Drown and Bob Meyer (safety pilot) successfully completed the first flight of Rick's RV-14. According to Rick there were no squawks. Phase I fly off has started and Rick is now officially a test pilot.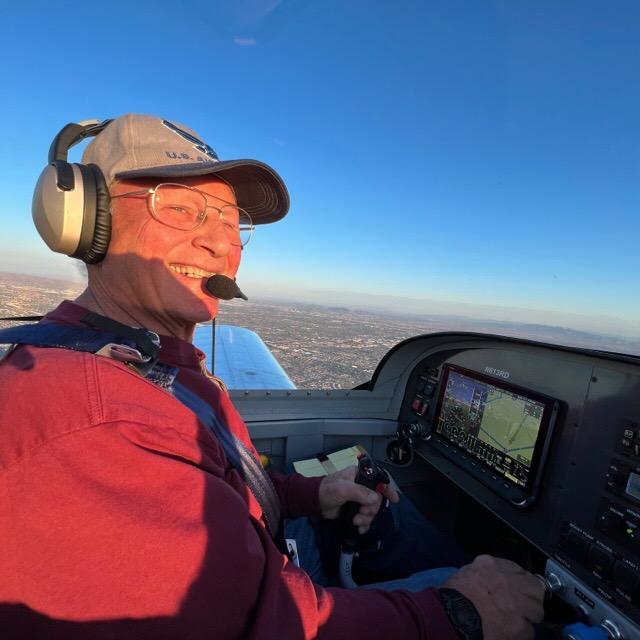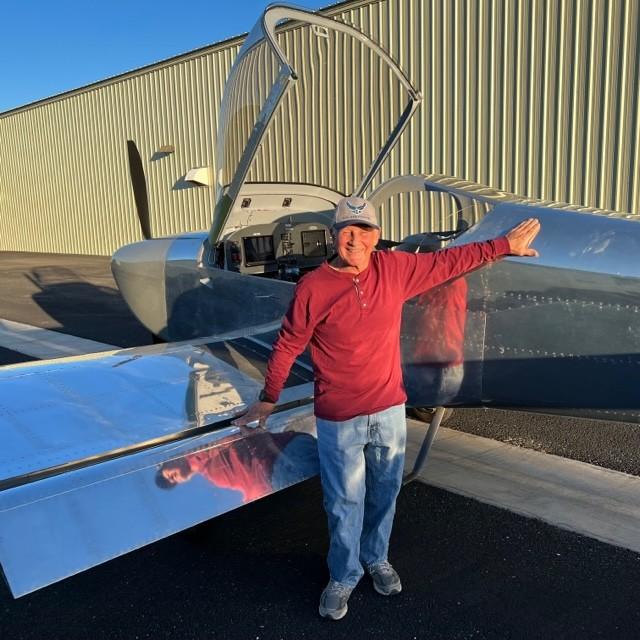 Note the RV grin.
Millar (2AZ4) Runway
Striping
A crew of Chapter 1445 members flew and drove out to Millar Airfield (2AZ4) to help Chuck restripe the runways. The runway needed to be restriped after Chuck had the runway resealed several months ago. A big thanks goes out to Chris, Hana, Don, Bob, Rick, Tom, Arlo and Cecil for helping Chuck with the needed maintenance.


October Monthly Meeting
Monthly meeting of the Chapter was held at Ak-Chin Regional Airport (A39) at 32514 W Bud Rd, Maricopa, AZ 85138 at 10AM. Fifty members and guests attended the meeting. Cary Grant, a member of the FAA FAST team gave a presentation on the airspace in the south practice area. Attendees were able to get Wings credit for attending. A big thanks goes out to Cary for his presentation and to Tim Costello for being a perfect host to our Chapter.
After the presentation attendees enjoyed a lunch of hamburgers and brats. A big thanks goes out to Rick Drown and Bob Meyer for cooking the meat and setting up the serving area with all of the sides. This was all done during a brief rain shower.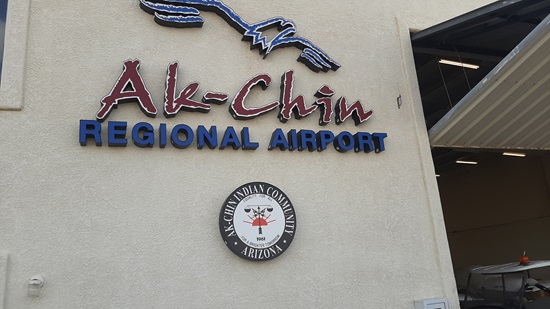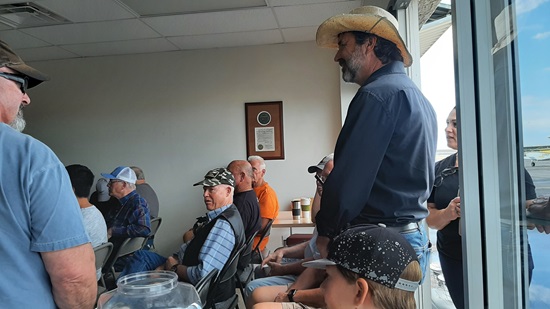 Sign on Terminal Building and Tim Costello, Airport Manager

Cary Grant , FAST team presenter and members and guests.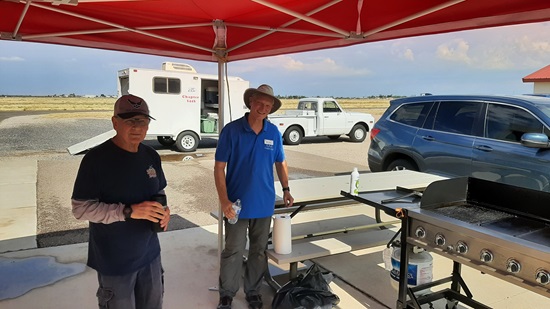 Bob and Rick patiently waiting for to cook the burgers.
Chuck and Bob at 2AZ4
Bob Meyer flew over to Chuck Millar's private airstrip (2AZ4) and help Chuck resurface the strip that it is usable for folks wanting to play in the dirt.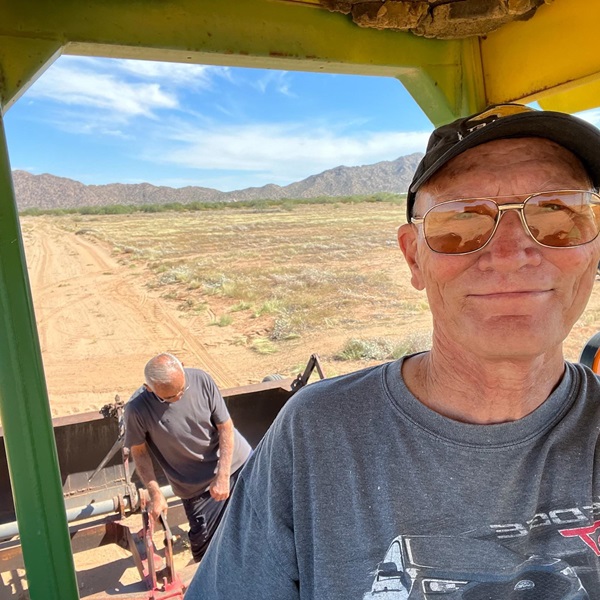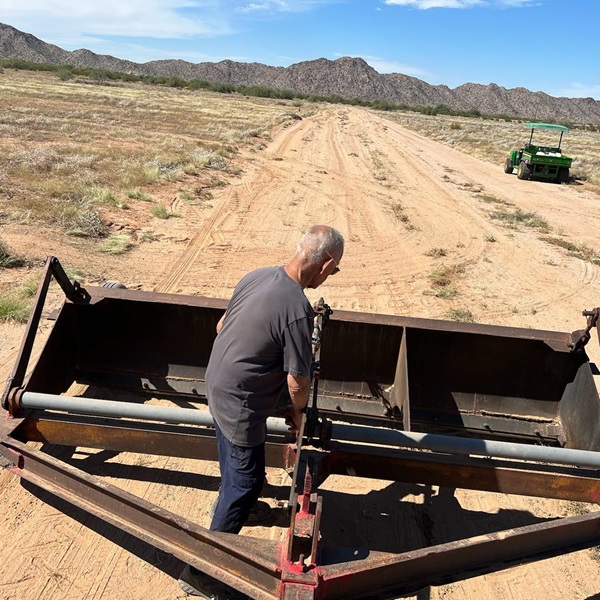 Now the Kitfox crowd have a place to play.
Rick Drown Gets Airworthiness Certificate
Rick Drown obtained the Airworthiness Certificate for his RV-14A on September 24, 2022. Below are some photos of Rick's plane and the setup of documents needed for his airworthiness inspection. Rick's organization of materials makes the rest of us look bad. Rick has set a standard for anyone completing their airplane in the near future.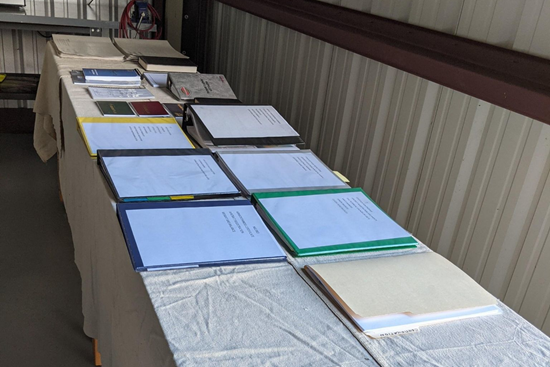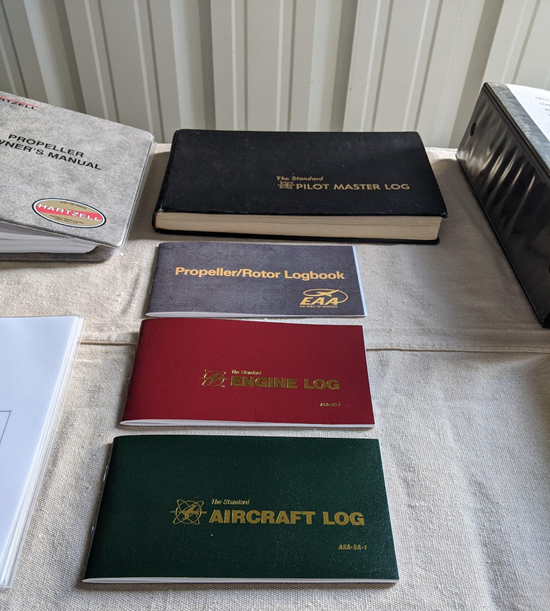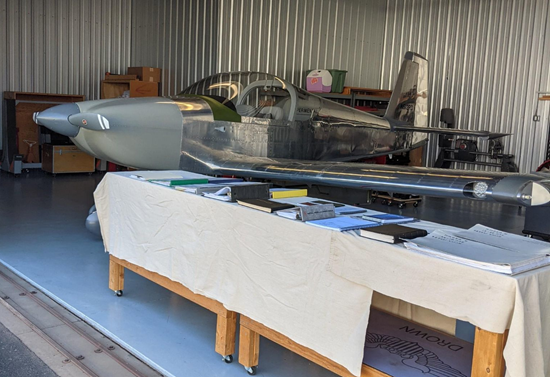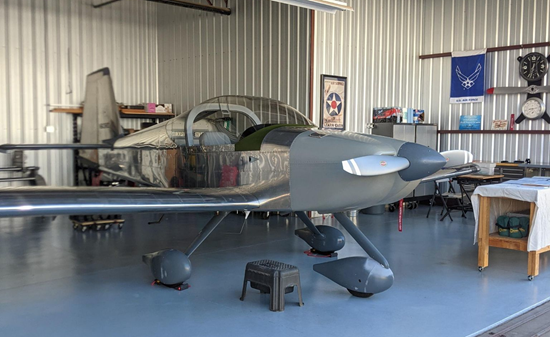 Congratulations Rick. We are eagerly awaiting the first flight of the 14.
September Monthly Meetng
Chapter 1445 crossed Chandler Airport and visited Quantum Helicopters. Thirty five plus members turned out on a perfect Arizona September morning. Thank you Neil Johns for hosting Chapter 1445's monthly meeting. Neil gave members a tour of his business prior to the business meeting. Neil has a beautiful well cared facilities. If you want to learn how to fly a helicopter, you can't go wrong visiting Neil and his friendly staff.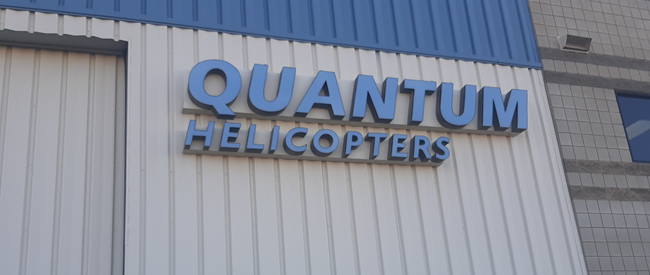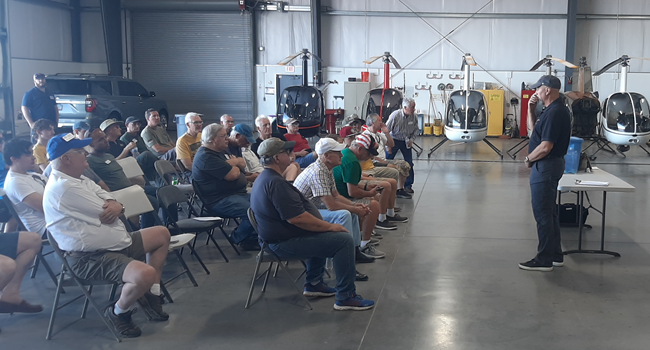 Neil talking to members about Quantum Helicopters inside the Quantum Hangar

Several chapter members taxied their aircraft across the airport for other folks to see a fixed winged aircraft.
August Monthly Meeting
Chapter 1445 held its first every August monthly meeting at the Chandler Municipal Airport Terminal meeting. Approximately 40 members, friends and guests attend the meeting. There was standing room only in the conference room.
Cecil Orozco, Chapter President and Scott Todd Chapter Vice President gave a review of their Airventure 2022 adventures. Both of them shared their photos, stories, and treasures that they obtained in the Airventure fly mart. Guest and members joined in and shared some of their own experiences.
After the meeting, the Chapter furnished water and ice cream bars so that everyone could enjoy a lot of hangar flying after the formal meeting.

Cecil showing photos of the new RV15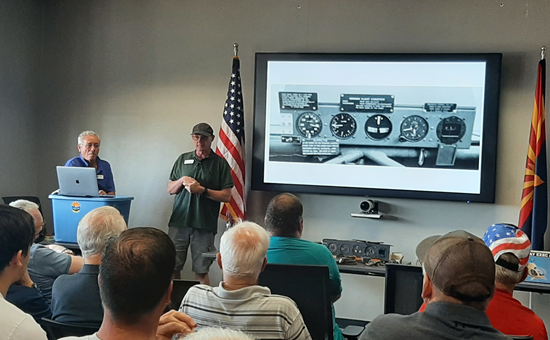 Scott show the WWII glider instrument panel obtained in Airventure Fly-Mart
Airventure 2022
A few lucky members were lucky and were able to attend Airventure 2022. The rest of us spent the time in Arizona dealing with record heat.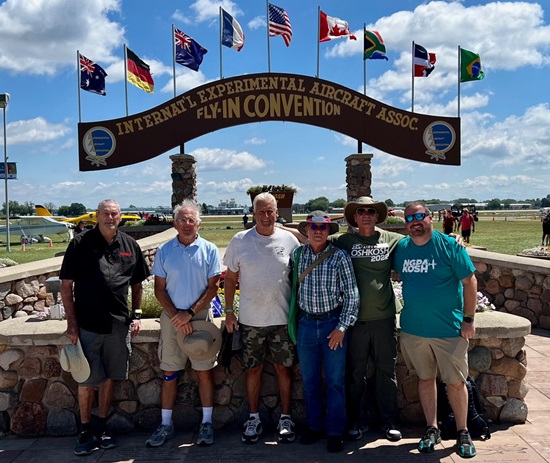 Wayne Zander made a sign that had the distance from Oshkosh to Chandler on and Bob Meyers carried the sign and attached to the sign post at Airventure.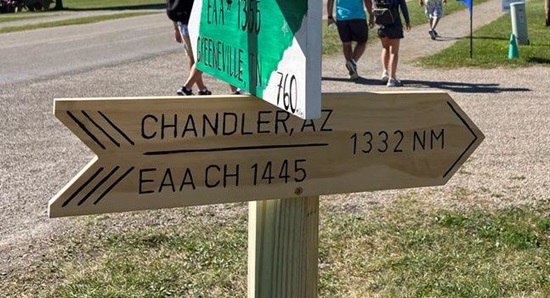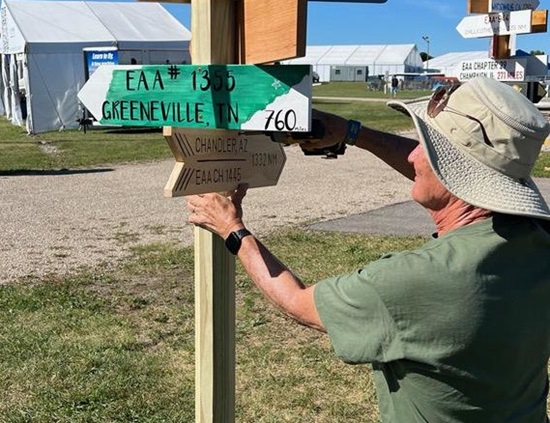 Bob Meyer purchased a brick for the Chapter at the Golden Arch. Now our fund raiser needs to pay him back.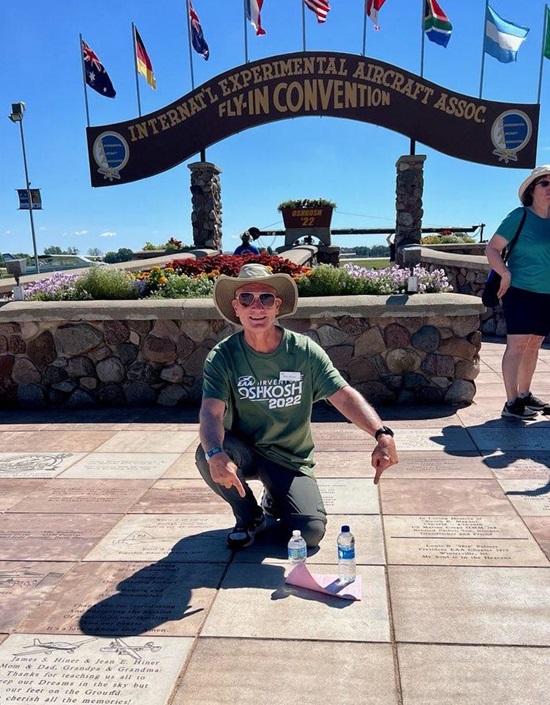 July Meeting
EAA Chapter 1445 held its regular monthly meeting at the Chandler Municipal Airport Terminal on July 16th at 10 AM. Turnout was low due to the extreme heat due to the extreme heat that the Phoenix area is experiencing.
The Chandler Fire Department led a discussion on hangar/workshop safety as well as a refresher on fire extinguisher use. A big thanks goes out to CFD for spending time with our Chapter discussing things that have caused issues at the airport in the past.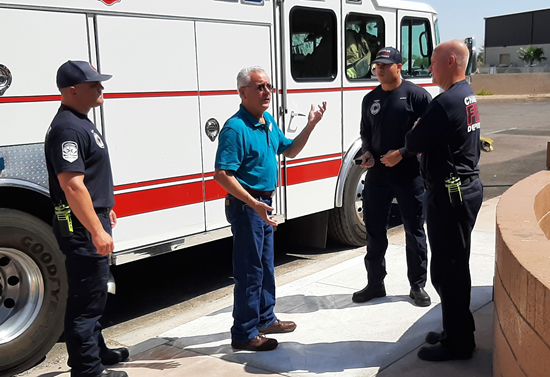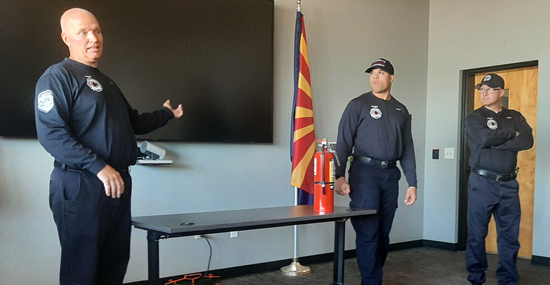 Cecil Orozco, Chapter President, introduced the winning logo entry that was designed by one of our new members, Tim Swires. Also during the logo contest the Chapter came up with a chapter moto, "Build-Fly-Share", which Tim was able to incorporate into his logo design. Tim did a super job capturing an image that represents EAA Chapter 1445.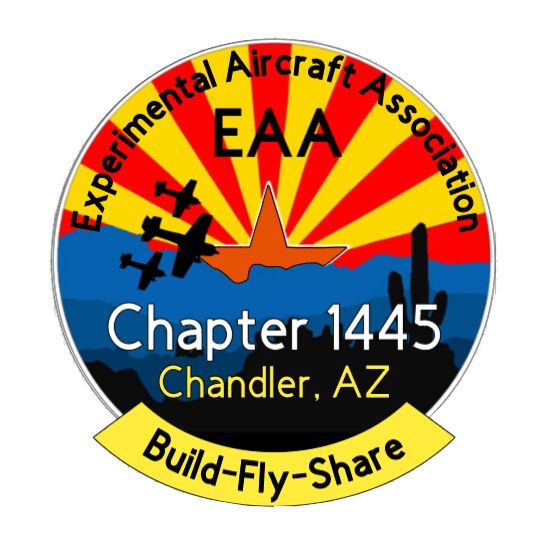 The Chapter also announced its fundraiser whose purpose is to purchase a brick to be placed in front of the golden arch at Oskosh. The goal is to purchase a whole brick and have it placed prior to next year's Airventure. Several large and small donations were made. Chapter had reached 25% of it's goal by end of meeting. More information can be found at the following link: Brown Arch Brick Fundraiser
AirAdventure "Oshkosh" 2022
EAA/FAA AirAdventure Notice link:
EAA "Oshkosh Arrival" Videos
AOPA "Oh Gosh Oshkosh" 2022-07-21@12:00 EDT
Wednesday @ 12:00 Brown Arch
Chapter 1445 Photo
"plan on flflying slow and if you can't keep distance fall out and try again,
most important have gas and be patient
"
"make sure your tent is water proof, stay dry.
Back yard and sprinkle test.
"
"light weight plastic cutting boards for under the wheels"
June 2022 Meeting
On June 18, 2022 EAA Chapter 1445 held its monthly meeting at the Chandler Muncipal Airport Terminal Building. Thirty One members and guest were in attendance. Snap On Tools provided one of their trucks full of tools to browse prior to the meeting. Several of the members purchased their own early Father's Day presents, while others brought ratchets to be repaired by the Snap On Rep. A big thank you goes out to the Snap On rep for spending some of his Saturday with our Chapter.
Brian Schober of the Arizona Pilots Association gave a presentation entitled "Public Land and Aviation". Several of our members are backcountry pilots and were able to get several of their questions answered. Thanks goes out to Brian for providing a super informative presentation.
Philip L'Heureux provided the Chapter with insights to the Aircraft Spruce Will-Call outlet that is just off the approach end of runway 22R. Aero Performance and Aircraft Spruce have partnered to provide this service to the aviation community. Phillip also discussed how members can order custom made hoses from Aero Performance.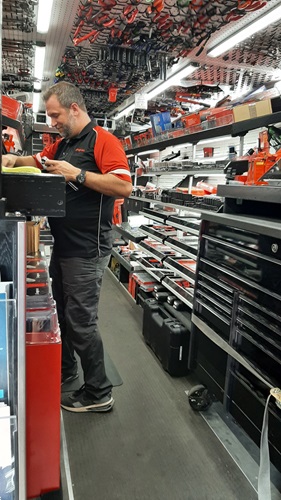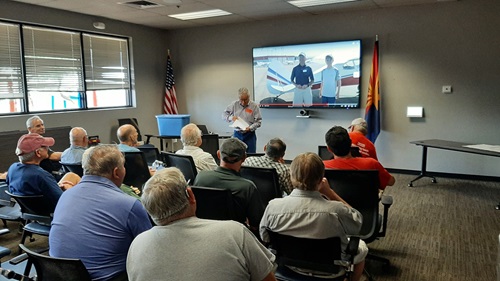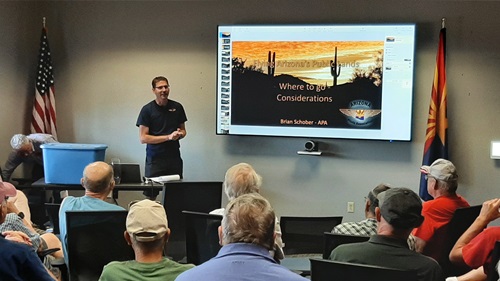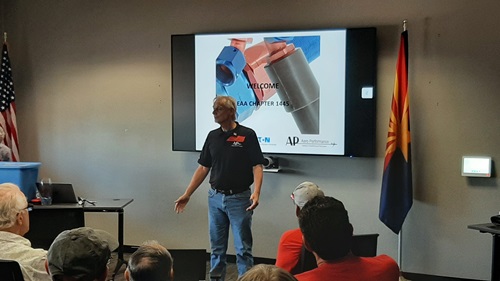 Thank You
Tom MacDonald delivered a thank you to Chuck Millar. The Chapter made up a thank you poster with a photo of the members who attended the May workshop. The poster was also signed by the members that attended the workshop.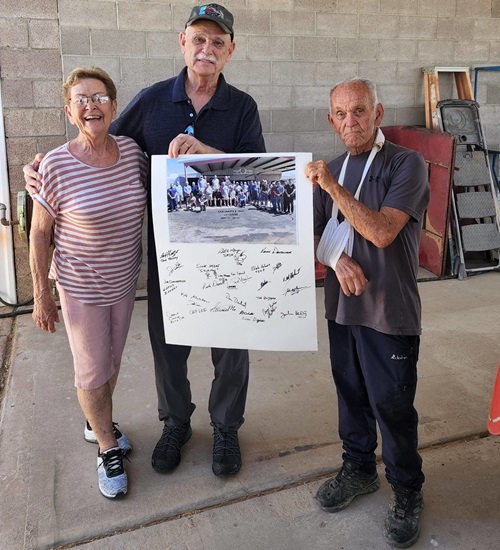 Chuck's sister, Tom MacDonald, and Chuck Millar with the thank you poster
Young Eagles June 4, 2022
Please go to the Young Eagle page on the website for more info.
Chapter Logo Contest
Hi Chapter 1445 members: We Need a Chapter Logo!
Who better to come up with ideas but our members.
This is a chance for you to use your creativity during the hot weather.
Put on your artsy side and see what you can come up with.
Attached is a montage of other Arizona EAA chapter logos. ( EAA AZ Chap Logos )
Make sure to include EAA and Chapter 1445.
The chapter board will decide on the winner and the EAA will need to approve.
If chosen you will win bragging rights and a $25 certificate to the Hanger Cafe!
We need your entry by June 11th; send your entry to EAA1445@gmail.com.
Cecil Orozco
EAA Chapter 1445
President
Annual Workshop Meeting
EAA Chapter 1445 held its annual workshop meeting at Millar Airfield on May 21,2022. Hands on demonstrations were held on riveting, safety wiring, and 3D printing. A bar-b-que featuring hamburgers and brats were held after and during the demonstrations. Thirty members and guests attended the event. By the look of the smiles on the attendees, everyone had a great time. A big thanks goes out to Chuck Millar for making his airfield and workshop available to the chapter for the event.
A short video of the event is embedded below. Enjoy
Lewis Muzzio First Flight
Congratulations to Lewis Muzzio for making the first flight of his RV8 on May 15, 2022. He and the plane made a successful 30 minute flight with no squawks out of KCHD.

April Monthly Meeting
April monthly meeting was held at the Casa Grande Airport Terminal building. Scott Todd (flight advisor) gave a presentation entitled, "10 Minutes to Safer Flying. Presentation included using Vy for take off, practicing deadstick landings, and a reminder to practice, practice, practice.
Feature presentation was titled "Operation Desert Storm" by Mike Berry. Mike ferried troops in the operation desert storm theater, flying for American Trans Air (ATA).
After formal meeting, members enjoyed some pizza, drink and socialization in the terminal area.
A big thanks to David and Rene at the Casa Grande Airport for their help and support.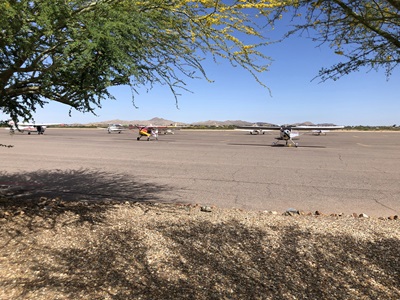 Several members chose to fly in to the meeting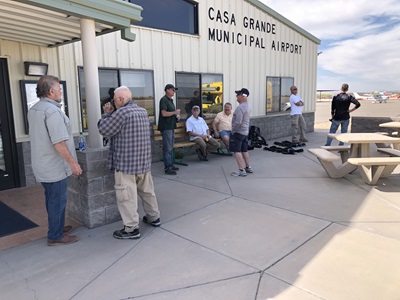 Pre meeting socialization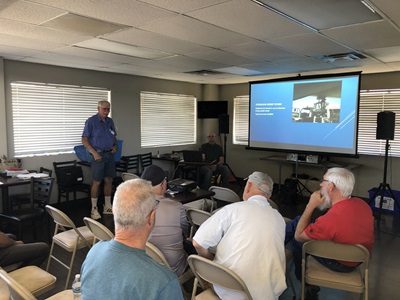 Mike Berry giving his presentation
March Monthly Meeting
Chapter 1445 held it's monthly meeting at Chandler Municipal Airport on March 19th. The meeting was devoted to the memory of Mike Still, one of our founding members. To learn more about Mike please click on the following link for more information.(Mike Still Passing)
Mike's son, Jon, and his family were able to attend. Jon gave a talk that outlined Mike's life and his love of aviation. Fifty members and guests attended the meeting and everyone was able to share their favorite Mike Still story. Jon also announced that he is keeping Mike's hangars. One of the hangars will be occupied by one of our member's airplane. The other hangar will be used to finish the Glasstar that Mike was in the process of finishing. Jon is also exploring the logistics of using the second by our members that are in the final stages of assembly of their projects. As well as making some of Mike's tools available to Chapter Members. The logistics still need to be worked out but Chapter 1445 is grateful for Jon's generosity.

Mike Still
14 Feb 1944 -- 02 Jan 2022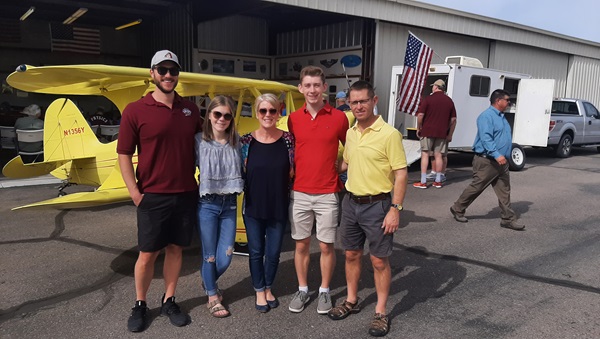 Jon Still and Family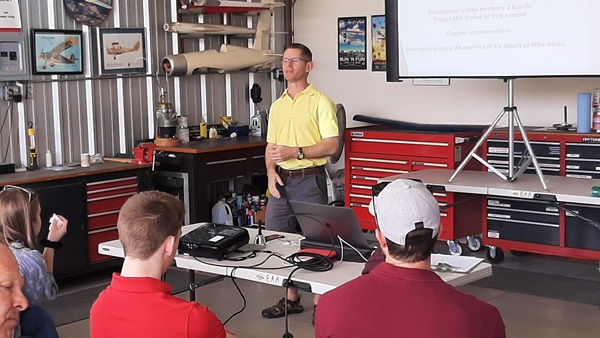 Jon's talk about his father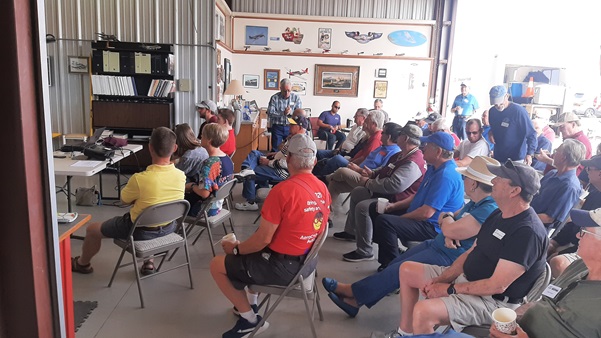 Members and guest remembering Mike
February Monthly Meeting
Chapter 1445 held its monthly meeting at the Chandler Municipal Airport terminal building on February 12th. Meeting was attended by more than 30 guests and new members on a perfect Spring Arizona day.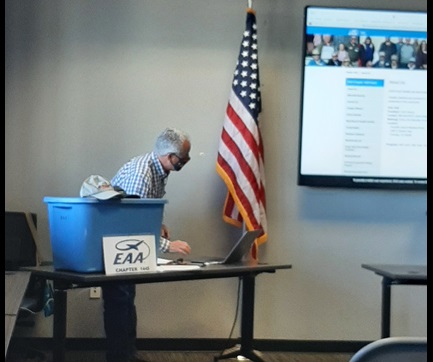 Sorry about the picture Cecil. Next time I promise to do better
Cecil Orozco called the meeting order by introducing Chapter 1445's new members and welcoming guests attending the meeting. Cecil turned the meeting over to Ryan Reeves, Chandler Municipal Airport Manager. Ryan gave an informative presentation which covered subjects that affected our chapter members. Ryan also went over the 5 year capital plan that has been approved for the airport. It is great to have an airport manager that has an aviation background.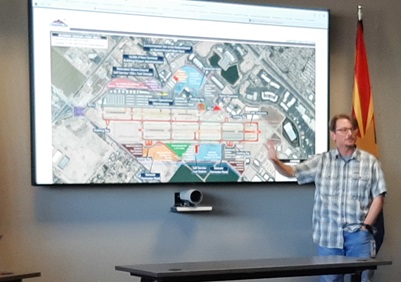 Scott Todd, Vice President of Chapter 144, gave an informative presentation entitled "First Flight Considerations". Scott is an EAA Flight Advisor and a Sport Pilot Instructor. The overall message that Scott was trying to relay to members was plan ahead of every flight like it was the first of the airplane or your first flight in different airplane. Scott is enthusiastic about this subject and is a valuable asset to our Chapter and the aviation community in general.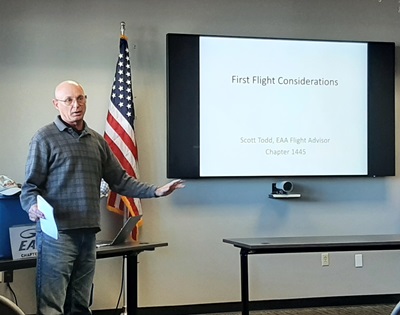 January 17, 2022
On Monday morning, a group of EAA Chapter 1445 members flew out to San Carlos (P13) for breakfast. Nine people, five aircraft. Only got one picture. Two people missing in pic (John & Faith Morgensen). They got there so early they were almost done eating when we got there. Looks like everyone is smiling in the photo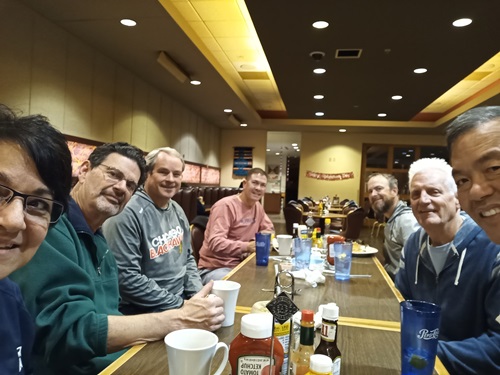 January 15, 2022
First meeting of the year was held after some confusion at Rick Drown's hangar. Controller from our local tower gave a presentation on first contact procedures when flying into the class Delta airspace and Alex from the VMC chapter gave a short presentation on the local VMC chapter. Pizza was served after the formal meeting.