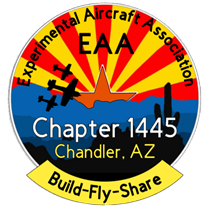 September Open House
On September 16, 2023 EAA Chapter 1445 held its first Open House at the Chandler Municipal Airport. The main purpose of the open house was to provide knowledge to the general public on the EAA, EAA Chapter 1445, learning to fly, Chandler Airport, and building an airplane. The open house also included a static display of members' airplanes. Below is a short YouTube video documenting the event. Chapter members were busy the entire 4 hours answering the public's questions. Thanks to the Civil Patrol for selling concessions, Ryan Reeves, airport manager, for his presence to discuss the airport, East Valley EVIT for assisting on the ramp, and Chandler Air Service for providing information on learning to fly.
Wayne Zander
A group of Vietnam War veterans from around the country gathered in Oshkosh for their annual reunion on Sept. 13, 2023, reconnecting with a "Huey helicopter" that was part of their mission. One of EAA Chapter 1445's original members, Wayne Zander, attended the reunion. Wayne was gunner on a Huey during the Vietnam war.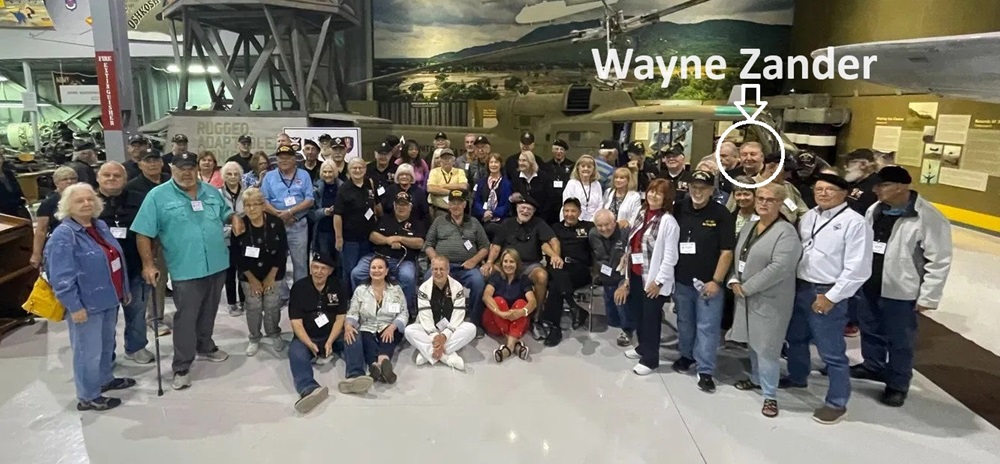 Youth Event
September 9, 2023
EAA Chapter 1445 held its first youth event Saturday September 9, 2023 at Chandler Municipal Airport. Event consisted of a meeting to discuss purpose of the event and future plans, and a tour of Rick Drown and Scott Todd's hangars. Five former Young Eagles and their parents attended the event.
August 2023 Meeting
On Saturday August 19, 2023 EAA Chapter 1445 held its monthly meeting at the Chandler Municipal Airport Terminal Building. Approximately 35 members and guests attended the meeting. Cecil Orozco, President of Chapter 1445, led the meeting where activities for the remainder of the year were discussed and Folks that were able to attend Airventure 2023 discussed their experiences. Most agreed that the name Airventure is appropriate because it was a venture getting to the event and getting home again.
After the formal meeting, a social hour was held with pizza and hot wings. Members were able to get to know each other better. The chapter had 5 new members attend so they were able to get know the membership and find folks with similar interests.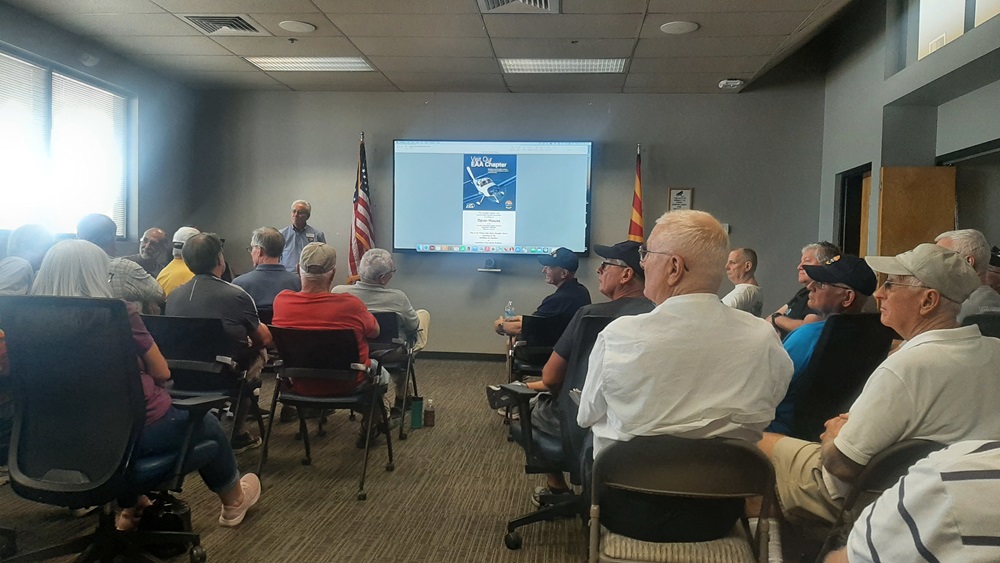 Airventure 23 Journey
At zero dark thirty July 20th, Bob Meyer starts his flight to Airventure 23.
Short Video of Bob's adventure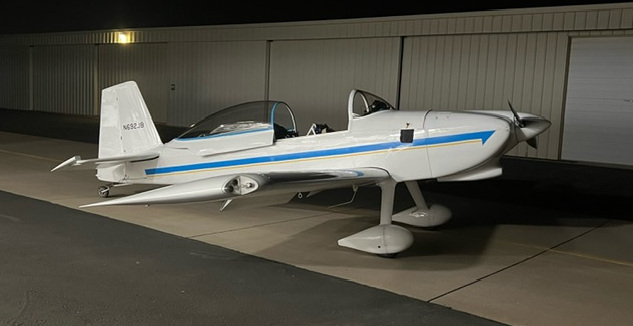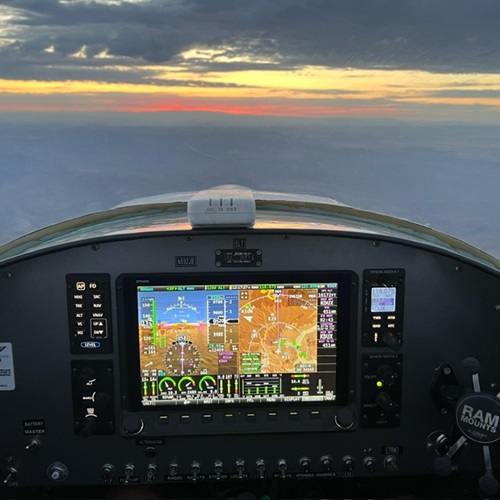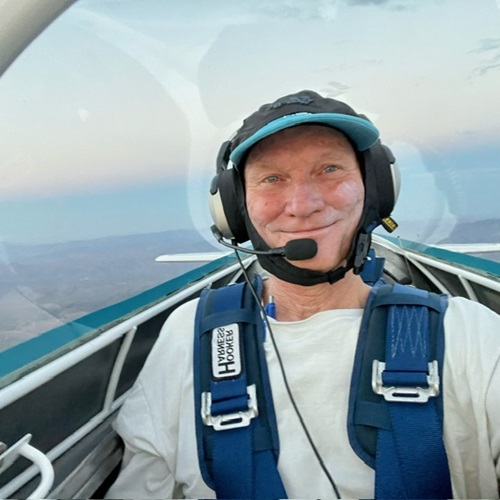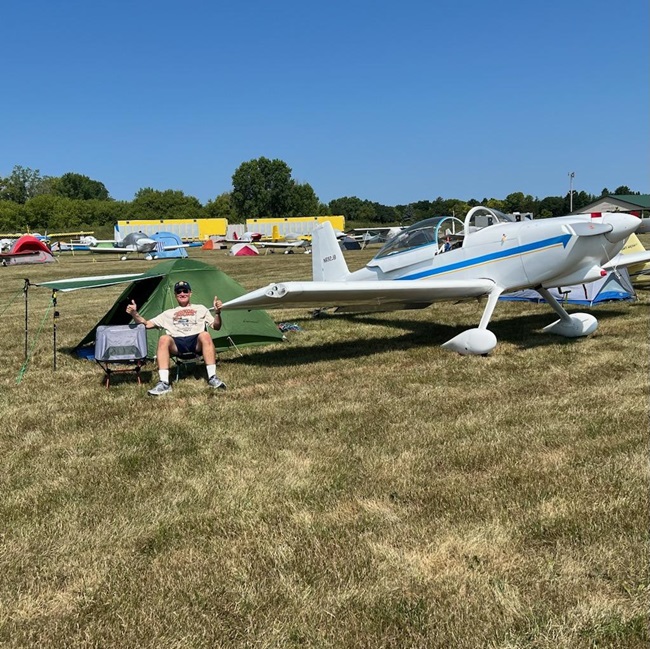 Bob's office at Oskosh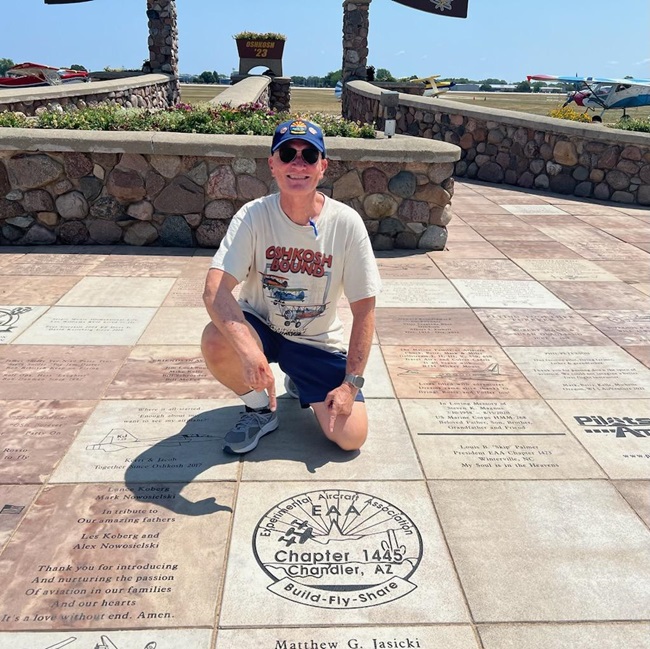 Chapter Brick in front of Brown Arch

A few of Chapter 1445's members that were able to make Airventure 2023
July, 2023 Meeting
Saturday July 15th 30 plus members and guests met at the Chandler Municipal Airport Terminal building. After a short business session, a video was shown discussing wide versus close in traffic patterns. After the video 6 of our members share some of the tools that were either their favorites or they had modified to complete a difficult task. Our youngest member (Joseph Turalba) shared a tool that he had made to pull wires through RC models that he builds. After the presentations attendees enjoyed pizza and were able to view the tools in person as well as discuss the tools with the presenters.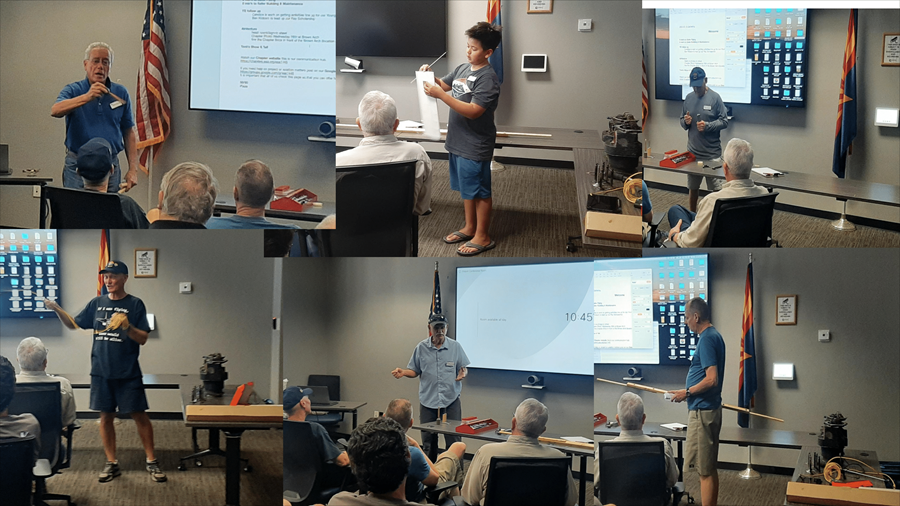 Presenters: Cecil, Joseph, Rick, Bob, Tom, and Rod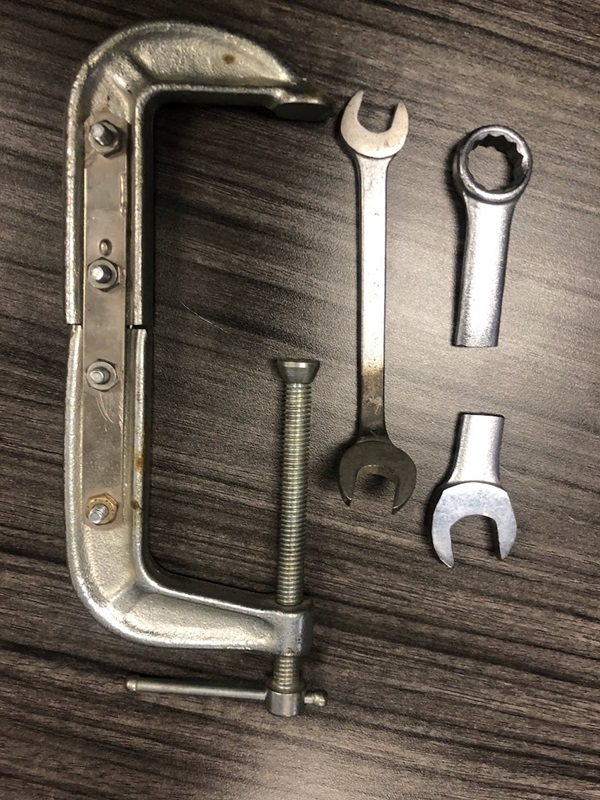 Tom's "Frankenstein" tools

Pizza didn't last long
June, 2023 Meeting
EAA Chapter 1445 held its monthly meeting on June 17, 2023 on the Chandler-Gilbert Community College (CGC) campus located on the Mesa Gateway Airport. Twenty nine members and guest attend. Attendees were given a briefing on the Aviation Technology program as well as a tour of the facilities. A special thanks to Roack Summerfield for giving our members the briefing and tour. CGC has an impressive facility and program. Anyone considering obtaining their A&P certification should consider CGC. A big thanks goes out to the CGC instructor that gave the tour. See the YouTube video below for a quick snapshot of the facility.
Another RV Grin
June 3, 2023, Glendale EAA member Logan Laux complete the first flight in his RV14A using the Additional Pilot Program with EAA Chapter Flight Advisor Bob Meyer. It was observed by Loren his wife. Congratulations Logan!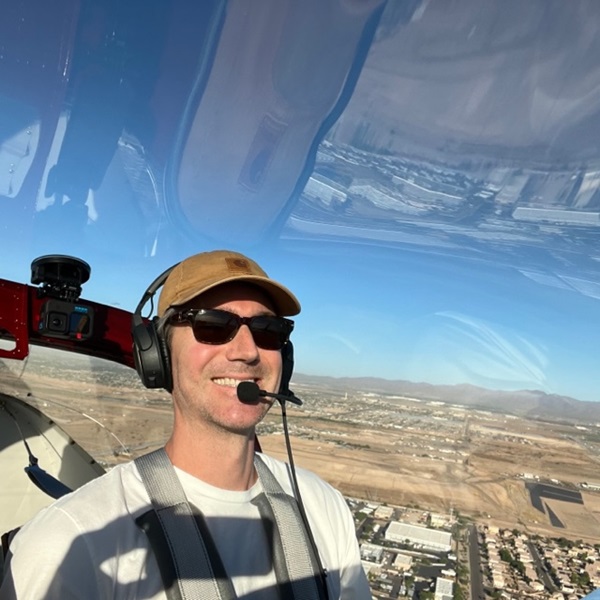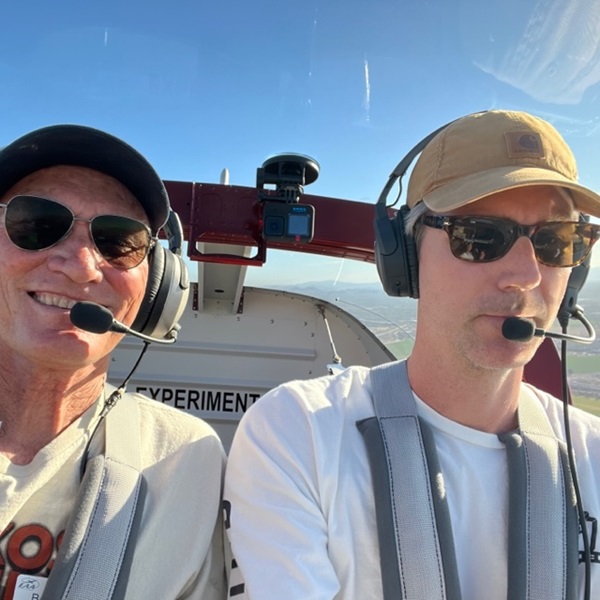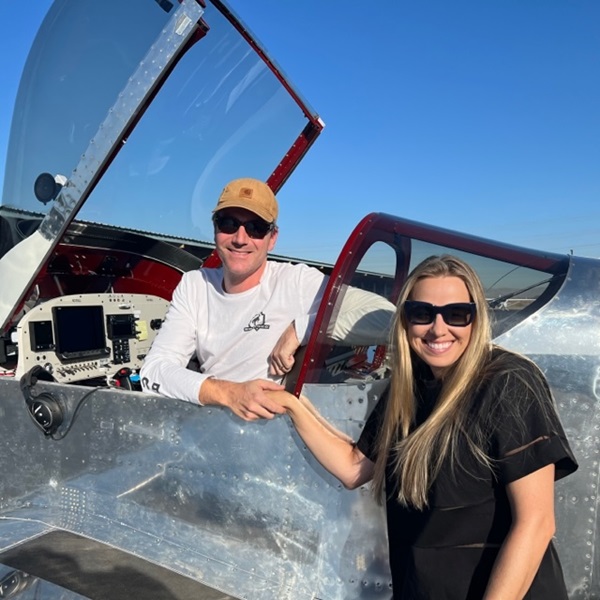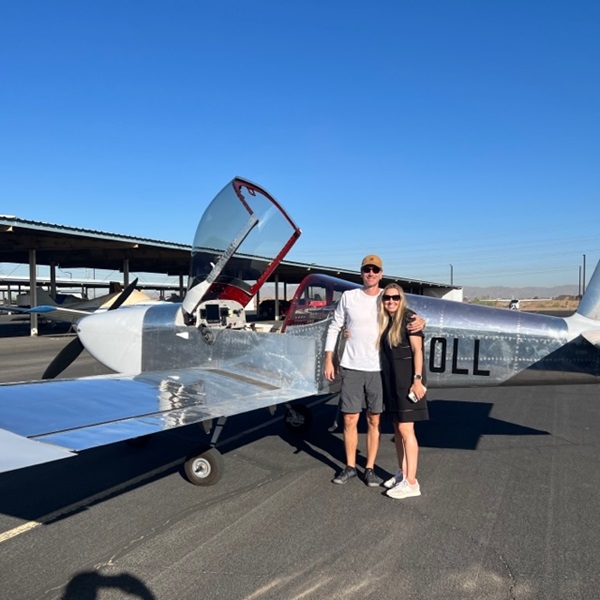 May Workshop Meeting
On May 20, 2023 EAA Chapter 1445 held it's annual workshop meeting at Millar Airfield (2AZ4). A huge thank you goes out to Chuck Millar for allowing the Chapter to hold its meeting and bar-b-que at his private airstrip. Fifty members and guests attended the meeting where they were able to do some welding, do some fabric stitching, 3D printing and tour Chuck's interesting World War II museum hangar. After the activities, everyone enjoyed hamburgers and brats along with a lot of hangar flying. Below is a YouTube video that documents the event.
Cinco de Mayo Campout
Payson Arizona (KPAN
Annual Camp-Out to Payson resumed May 5-7, 2023! Camping was Bob Meyer, Mark Weiss, Arlo Watkins, Bob and Ann Ellis, Gary DeHoff, and Steve. Joining us for breakfast on Saturday was Ron and Beth Orozco. Special thanks to Tom West (EAA Chapter 810 Payson, president) for inviting all campers to his Cinco de Mayo party. FAA FAASTeam held a seminar "Mountain Flying in the Summer" at the CAP hangar on Saturday. Weather was chilly at night but the campfire made it enjoyable. Hope to see you next year!
Mark Weiss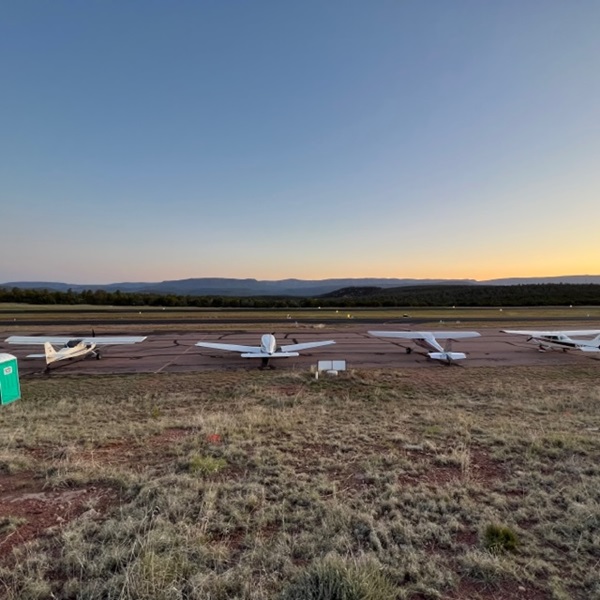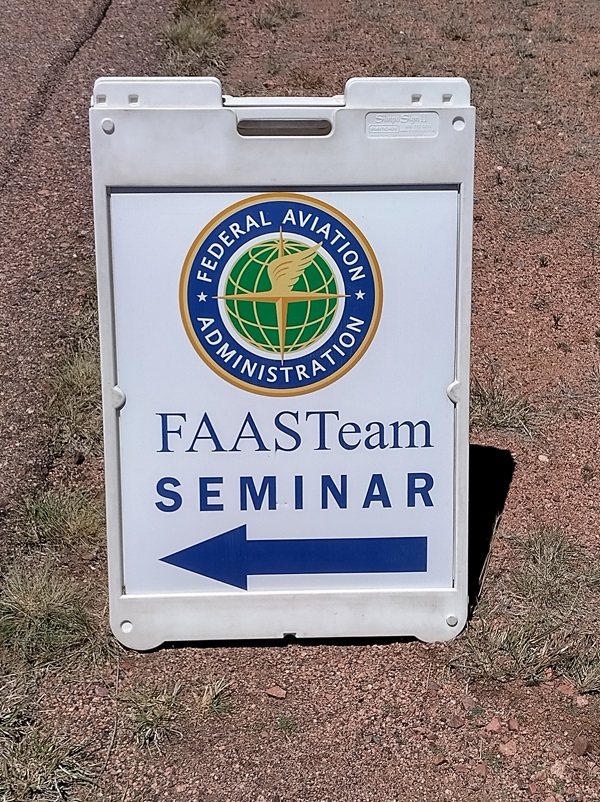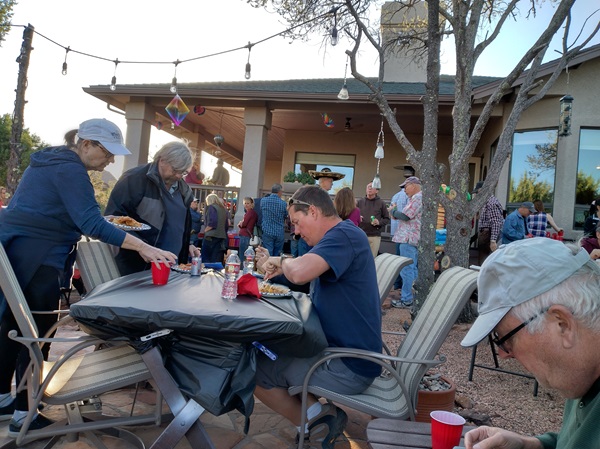 Tech Counselor Visit
On April 25, 2023, Jim Dornberger, Cecil Orozco, and Scott Todd paid Marty Goldberg a visit to look at his Pietenpol Air Camper project. Scott Todd is one of Chapter 1445's Tech Counselors so he performed an in depth inspection and signed Marty's builder log. Below are some photos of the project. Marty is doing a super job on this massive wood project.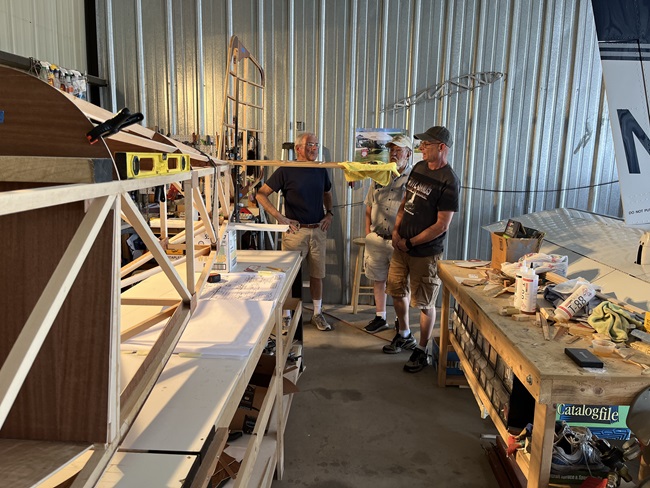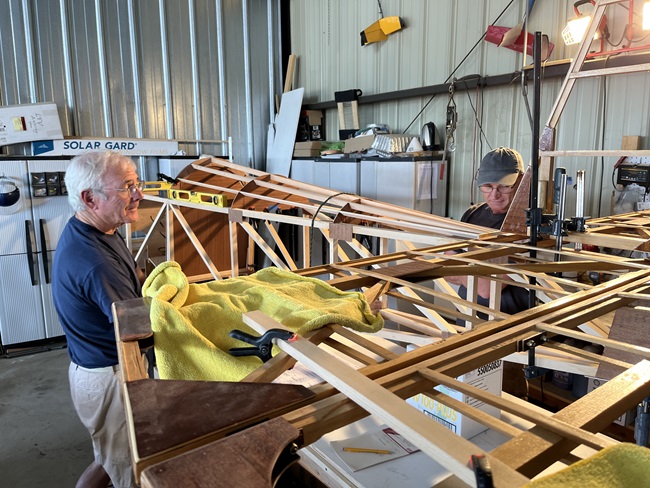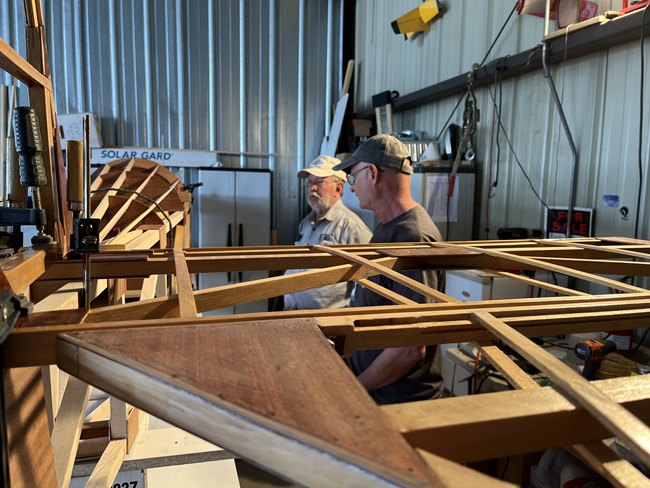 Fly-Mart
On Saturday April 22nd Chapter 1445 held its first ever Fly-Mart at Chandler Municipal Airport. Frank Setzler, owner of Chandler Aviation let the Chapter use his hangar all day Saturday to hold the event. Boy Scouts provided coffee and pastries and East Valley Institute of Technology brought their flight simulator to the event for young and old kids to learn how to fly an airplane. A big thanks goes out to Frank Setzler, the Boy Scouts, EVIT, and members of the Chapter who volunteered to put on a successful event.
Here is a link to a YouTube video from SlinkAir's visit to the fly-mart. It also includes a tour of Rick Drown's newly completed RV-14A. Fly-Mart Video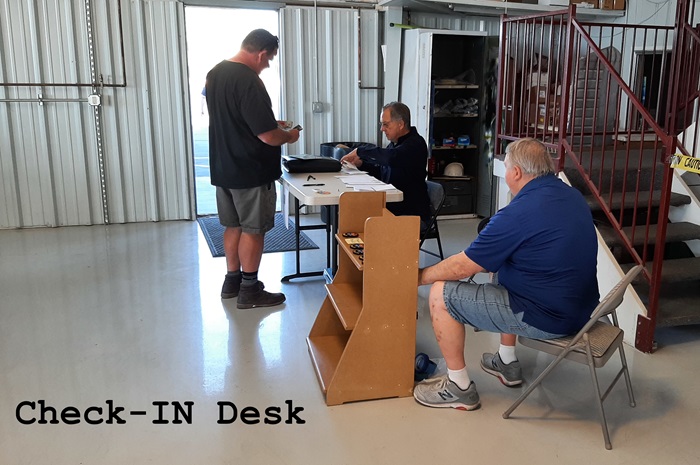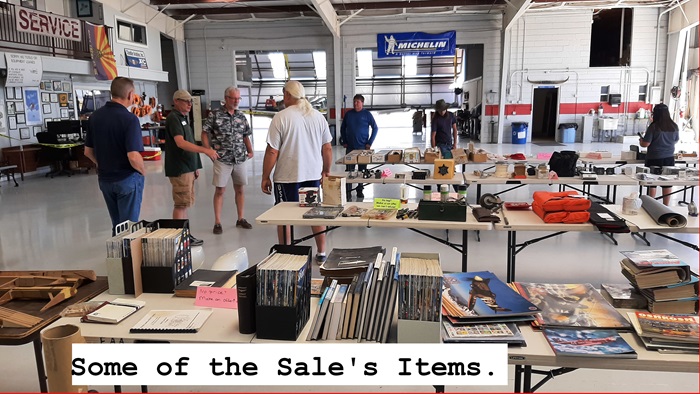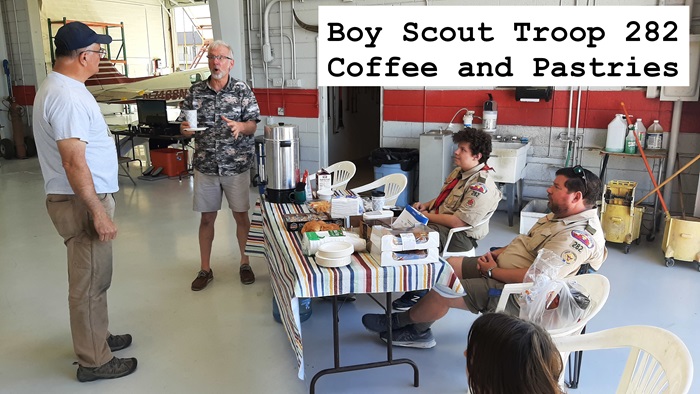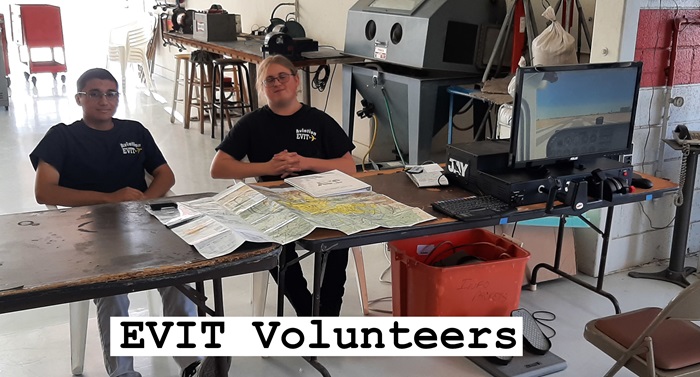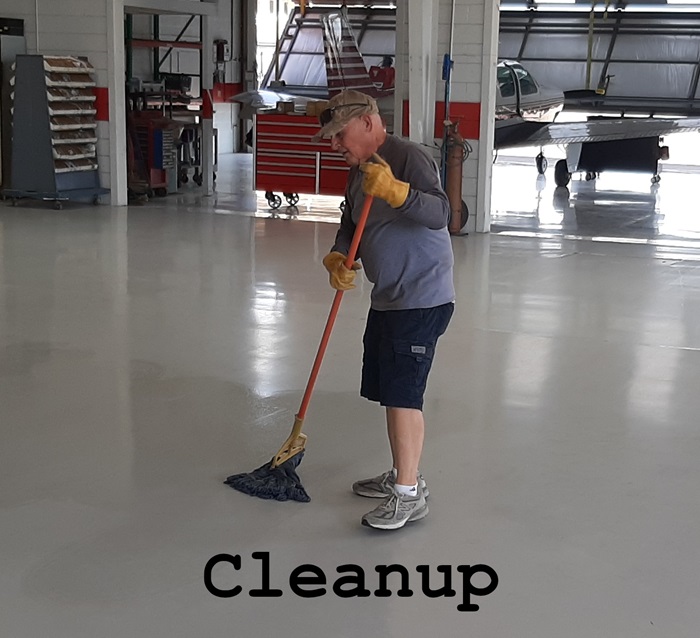 Lightning Factory Tour
EAA Chapter 1445 held it's monthly meeting at the Geronimo Experimental Aircraft Facilities. The Facilities is approximately 5 miles due west of Marana Regional Airport (AVQ). Twenty nine members, ex-members and guest attended the tour. Gregg Hobbs gave attendees a presentation on the Lightning aircraft and the builder's assist program offered by Gregg. The facilities is truly impressive. There are onsite apartments for the builders to stay in so they do not have to stay in a motel.
After the presentation, Cristal, Gregg's wife prepared and served up some of her delicious chicken fajitas and strawberry shortcake for lunch. a big thank you to Gregg and Cristal for their hospitality.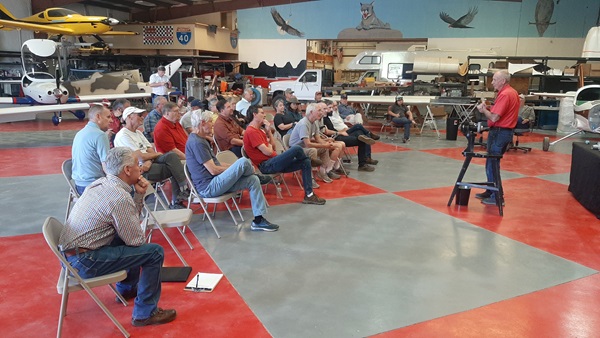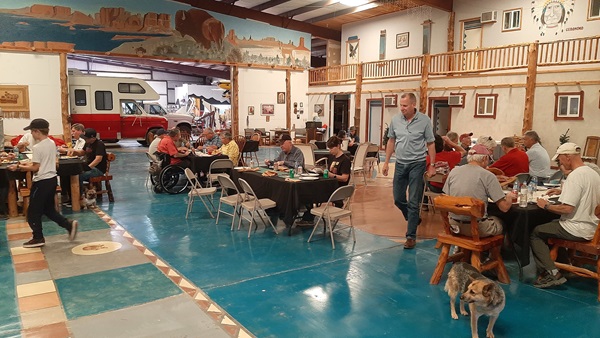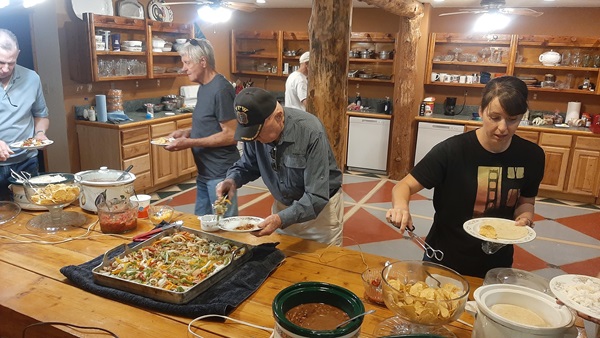 Twenty Fifth Anniversary of First Flight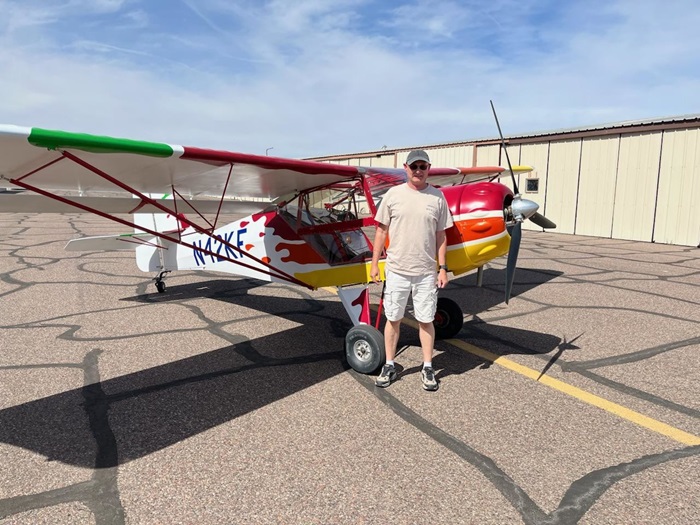 April 12, 2023 marks the 25th anniversary of Scott Todd's firs flight of his Kitfox. To celebrate he and Jim Dornberger took N42KF for a fun flight. Congratulations Scott!!
April Young Eagles
March Meeting
Chapter 1445 held its regularly schedule meeting on March 18th in the Chandler Municipal Airport Terminal Building. There were 28 members, guests, and dog in attendance. Vice President Scott Todd hosted the meeting whose theme was meet the members and their airplanes. Scott had a slid show of members airplanes and the members gave a brief description of their planes. After the formal meeting, the attendees enjoyed some pizza and more hangar flying.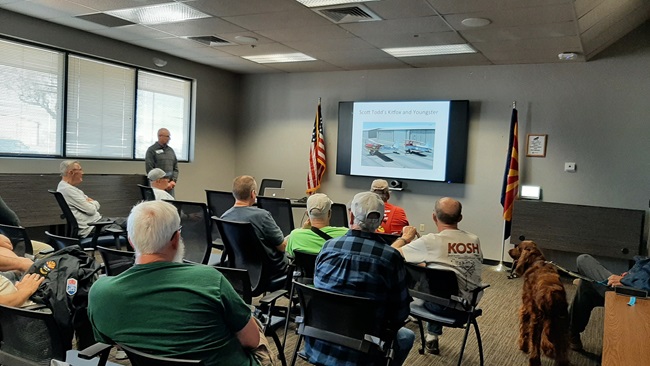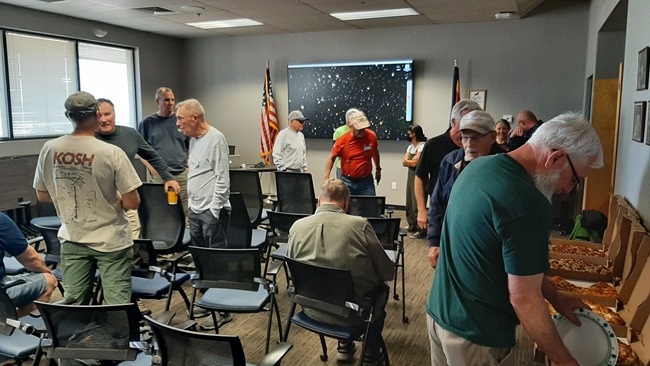 San Carlos Fly-Out
On Tuesday March 14th, Chapter 1445 hosted a fly-out to San Carlos Apache Airport (P13). It was a fantastic spring day in Arizona. Ten airplanes and 15 people participated in the fly-out. No one complained about the quarter plus mile hike over to the San Carlos Casino for breakfast. The employees at the restaurant did a super job of taking care of our large group. a big thanks goes out to the participants and especially to Mark Weiss for organizing the chapter's first large fly-out since the beginning of COVID.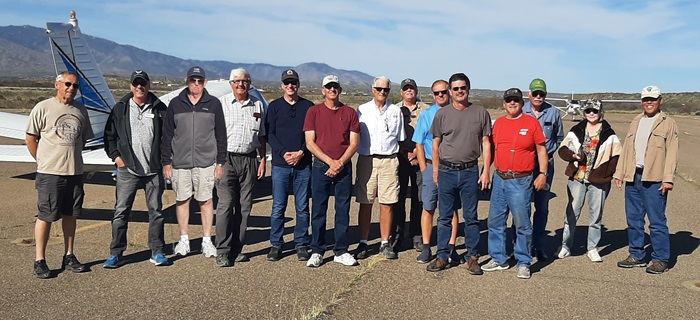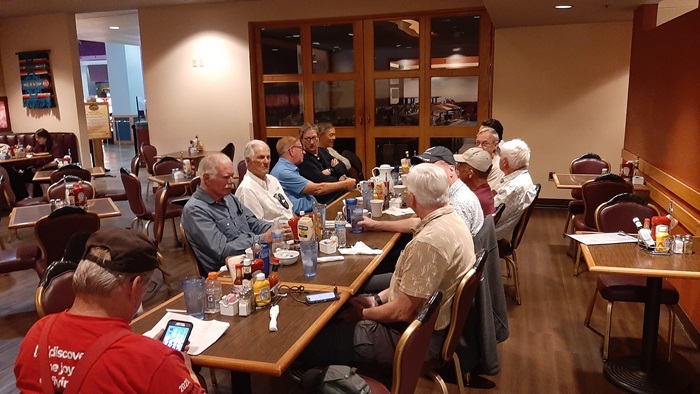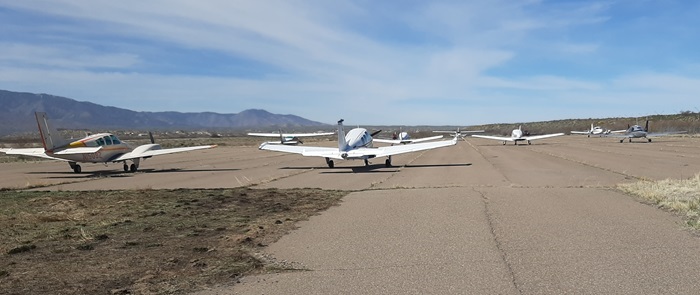 65th Annual Cactus Fly-In
The 65th annual Cactus Fly-In was held at the Casa Grande Municipal Airport. The weather was great and attendance was back to normal after the COVID 19 pandemic break. A group of EAA Chapter 1445 members attended the fly-in were able to have a great hangar flying session during the event.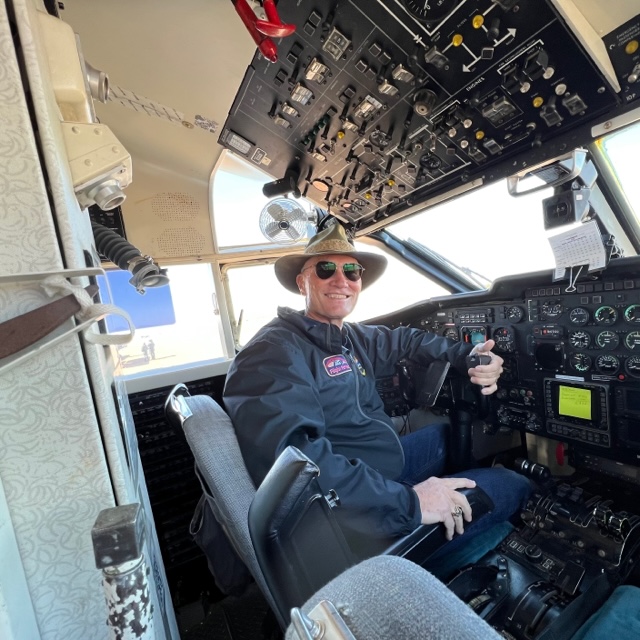 Bob Meyer in the cockpit of a Sherpa Skyvan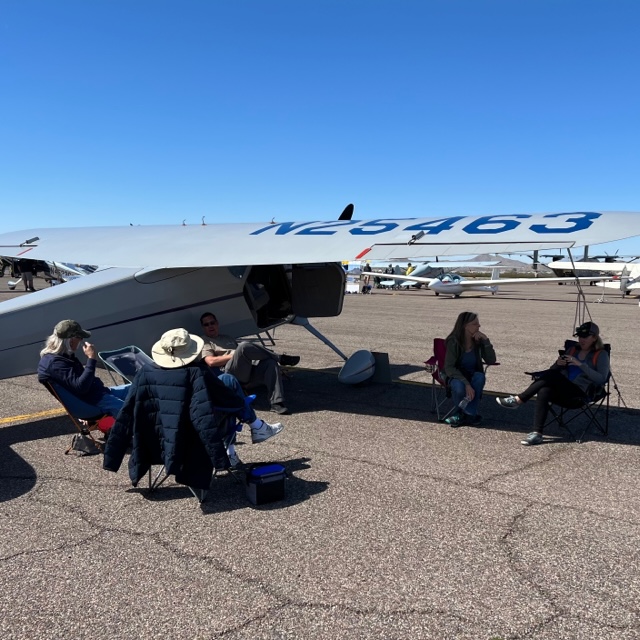 Chuck and Bev Buccholz, Jerry Latimer, Arlo Watkins Chapter members enjoying the show.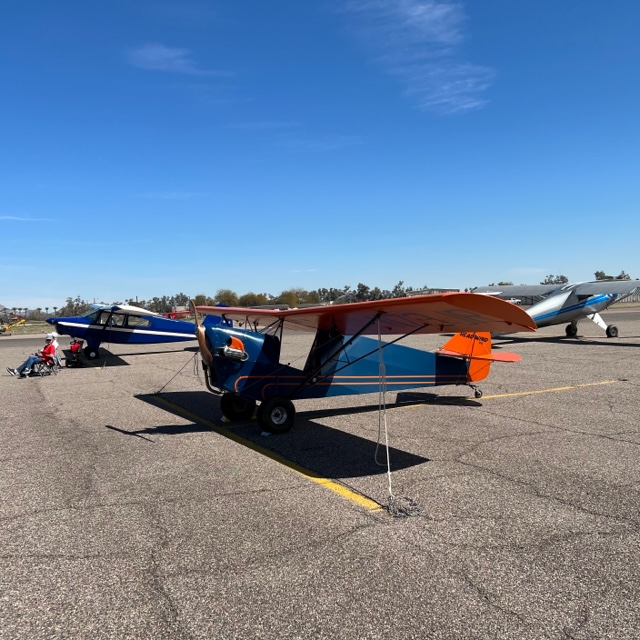 Arlo Watkin's beautiful Headwind.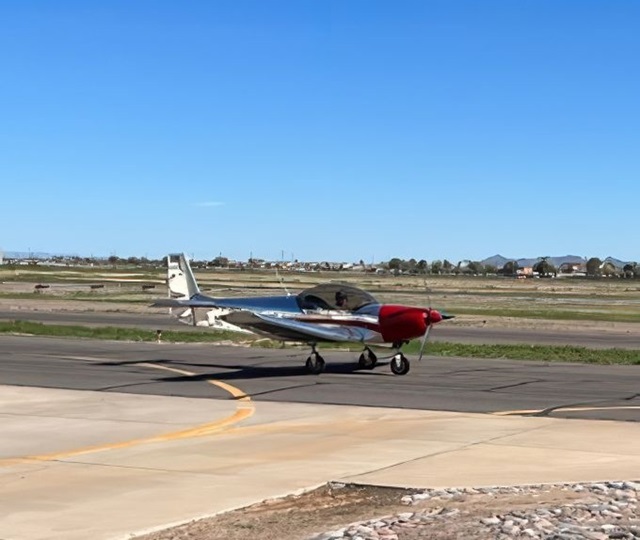 Jerry Latimer's arrival at KCHD
AOPA Buckeye Fly-in
On Saturday February 18, 2023, members of Chapter 1445 setup and maintained a booth representing our Chapter. Hope you were able to attend and visit the booth. There were free donuts for those that were able to attend.
A big thanks to the crew that got up early, traveled to Buckeye, set up and manned the booth.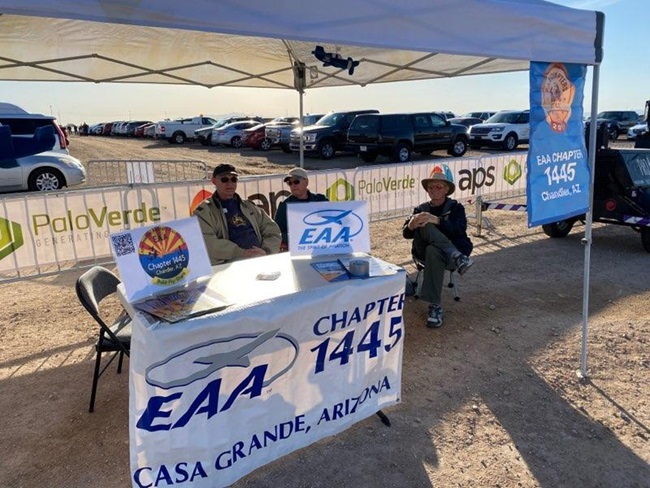 January Chapter Meeting
Chapter 1445 held its regular scheduled meeting on Saturday January 21, 2023 at the Chandler Municipal Airport. Approximately 40 members and guests attended the meeting. Ryan Reeves, Chandler Airport Manager gave an enlightening presentation on:
Super Bowl impact to the Airports in Phoenix
Airport Usage
Upcoming Projects
Noise complaints and tool for investigating
After the formal meeting several members opened their hangars for other members to visit.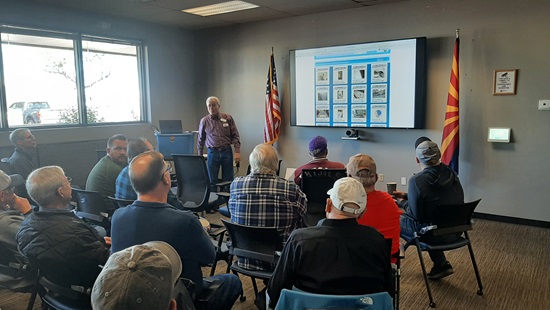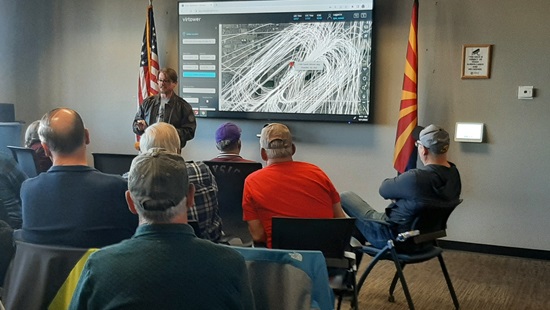 EAA Chapter 1445 at Aviation Day at the State Capital
On January 17, Cecil Orozco, Chapter President, setup a small table at the Leslie Bolin Park by the State Capital Building. The event was setup to let State Legislators get know General Aviation better. Cecil planned to have his Kitfox on display but had trouble finding a trailer for the Kitfox to fit on. Cecil was able to setup next to the Arizona Pilot's Association display and was able to discuss experimental aviation with some of the legislatures.

Cecil at the Chapter's table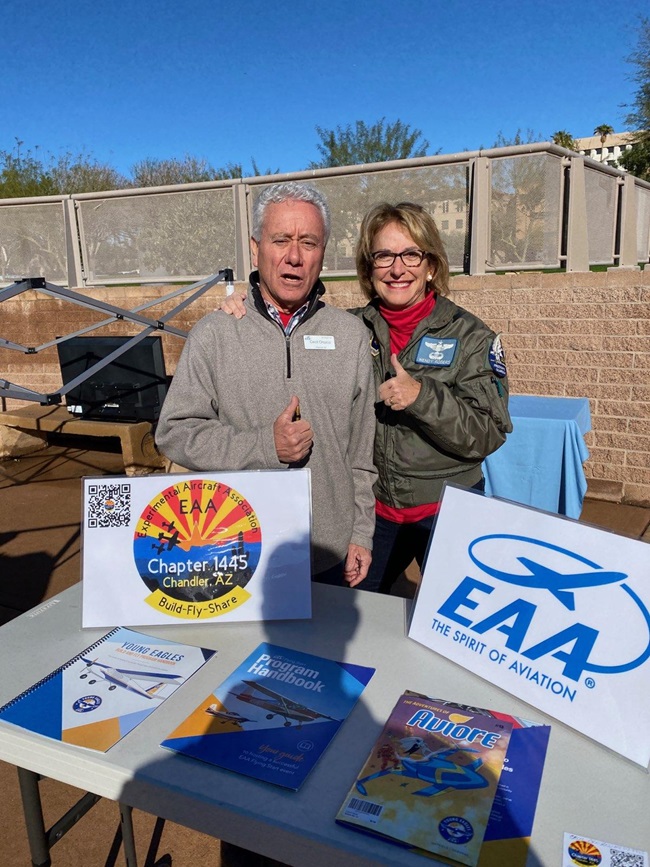 Cecil and State Senator Wendy Rogers
January 2023 Young Event
EAA Chapter 1445 held its first Young Eagle event of 2023. Eighteen Young Eagles were flown by volunteer pilots. Eleven Boy Scouts used the event to work on their aeronautic merit badge. Activities and refreshments were supplied to keep the waiting Young Eagles and their parents occupied.
A big thanks goes out to the volunteers from the Chapter that made the event successful!!
Kevin Bisiq's Kitfox Tech Counselor Visit
On January 5, 2023, Scott Todd and Cecil Orozco went to visit Kevin Bisig who just received his Kitfox kit in November 2022.
Kevin is a retired machinist and is pursuing his pilot's certificate while building his airplane.
He joined our chapter because of the Technical Counselors with Kitfox experience.
Scott provided Kevin with his first Technical Counselor visit with an introduction to the program.
This is Kevin's a first time as a builder, and he is doing very well and looking forward to chapter support.
Let's all welcome Kevin, give him our encouragement and offer any help he might need.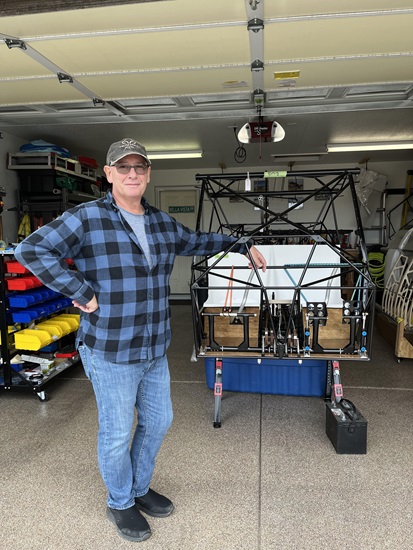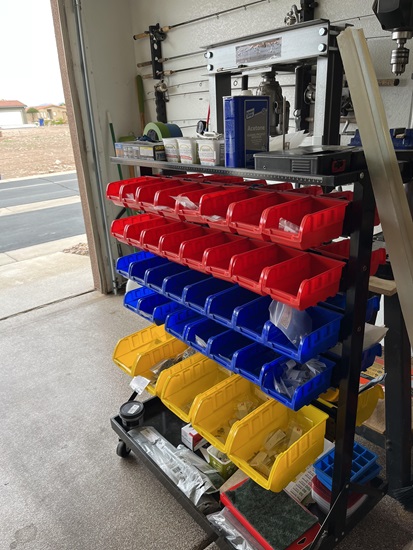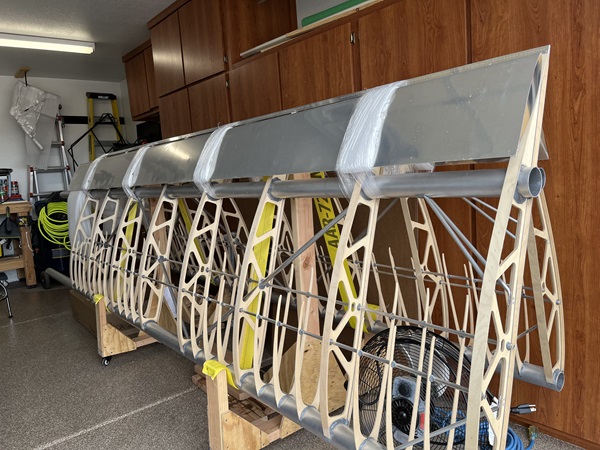 Thursday at KCHD
Thursday morning 3 past presidents and the current president met at the Chandler Municipal Airport for a photo op. It was arranged by Bob Meyer who along with Kelly McMullen were flying over to Ak Chin Regional (A39) to make a tech consular visit to look at Rory Jones' RV14A.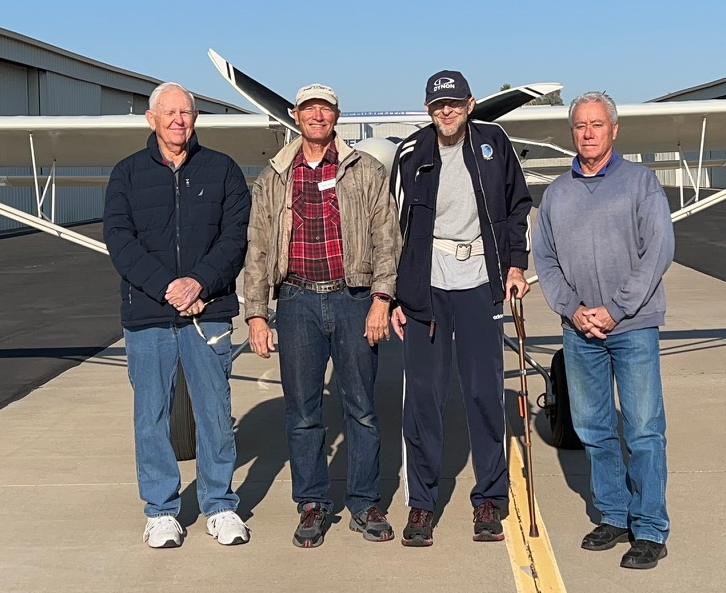 R to L; Jerry Latimer (2013-2014), Bob Meyer (2015-2016), Kelly McMullen (2018-2021), Cecil Orozco (2022 -?)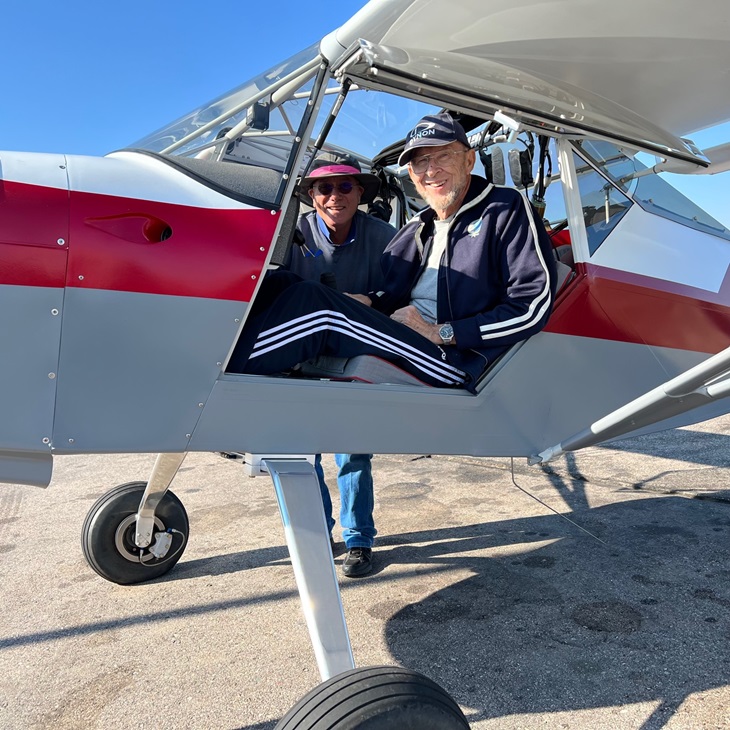 Kelly McCullen getting ready to fly Cecil Orozco Kitfox from A39 to KCHD
2022 Year in Review
Annual Christmas Party
On December 10, 2022, Chapter 1445 held its annual Christmas party in one of the hangars located at Millar Airpark (2AZ4). A big thank you for Chuck Millar for letting the Chapter hold its party at his airstrip!!.
Approximately 40 people made the event which consisted of a lot of socializing, eating, member recognition, RC flying, and a secret Santa gift event. Members and guests drove in flew in to enjoy the weather, food and friendship. Eight airplanes made the short trip to 2AZ4.
EAA Chapter 1445 had a very successful year coming out of the last 2 COVID years. A big thank you to everyone that made the year successful!!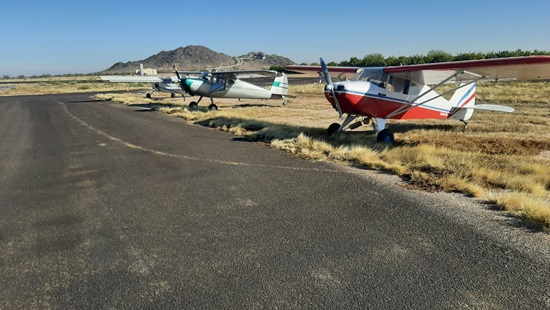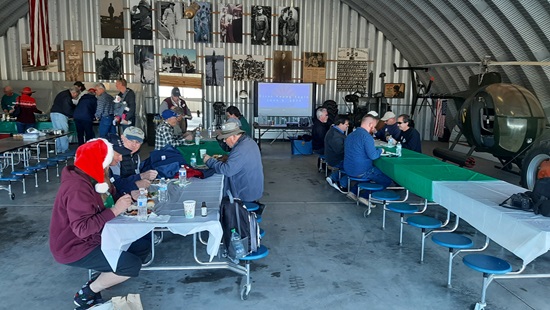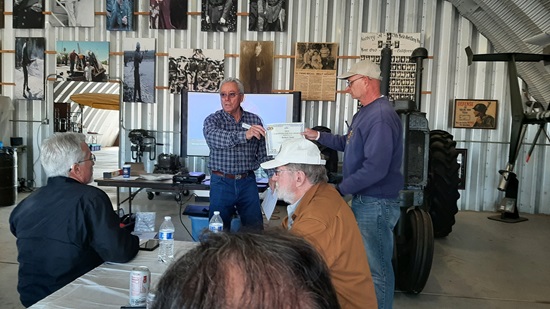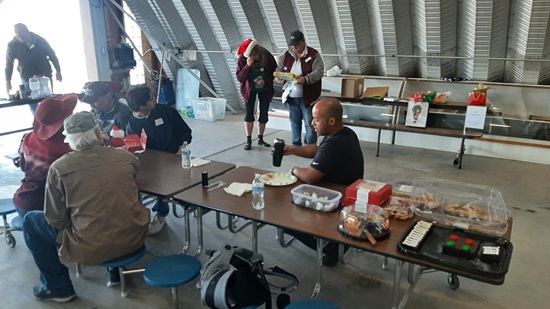 November Chapter Meeting
Chapter 1445 held it's monthly meeting November 19, 2022 at the Chandler Municipal Airport Terminal building. Approximately 35 members attended.
The business meeting consisted of election of 2023 Chapter officers.
Cecil Orozco - President
Scott Todd - Vice President
Tim -Burgoyne - Secretary
Peter Dooley - Treasurer
After business meeting, there were three presenters. Links to websites discussed by the presenters follow their names.
Randall Hayhurst - EAA website's builders log
Eric Wood - Google Group for us of Chapter 1445 to communicate
Presentation with narration in YouTube
Larry Nelson - Oil Analysis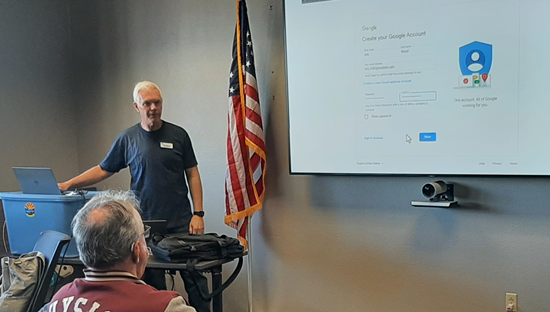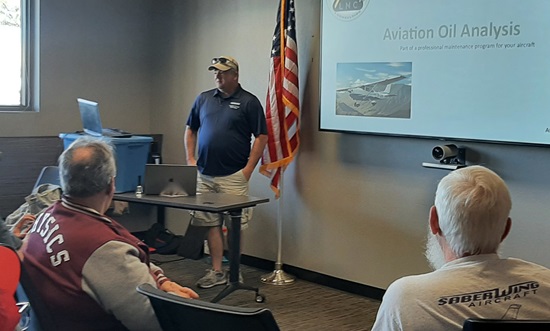 Veteran's Day
Every Veteran's day Chapter 1445 members participate in Maricopa's Veteran's day parade. Chuck Millar has several military vehicles and the our members drive and ride in the parade. Below is a photo of folks that participated.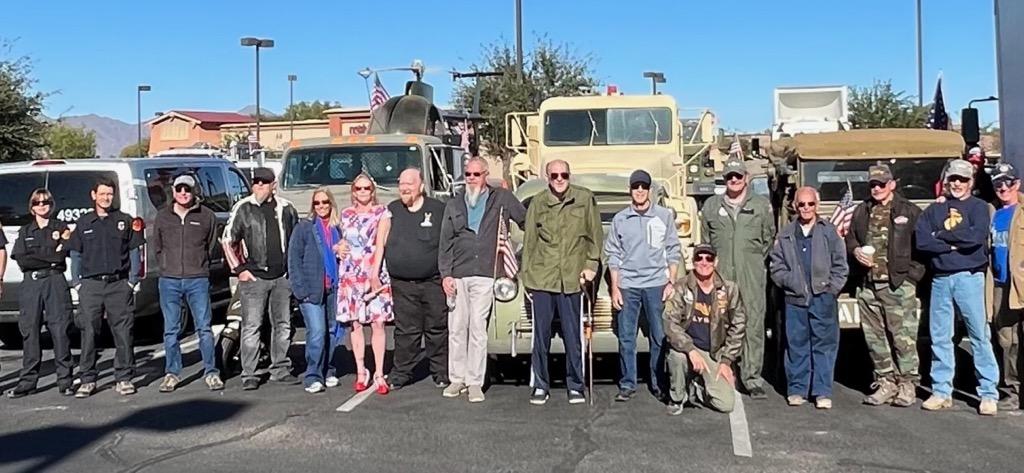 .
Aircraft Weighing
The Chapter owns a set of digital aircraft scales. Member can use the scales to weigh their airplanes. This especially helpful for builders getting ready for first flights are needing to weigh planes after a major modification. Presently the scales are certified so can't officially be used to weigh certified aircraft. Scales can be certified by the State of Arizona for a fee. Below is a photo of Rick Drown weighing a Beautiful newly completed Sonerai by Tim Swires.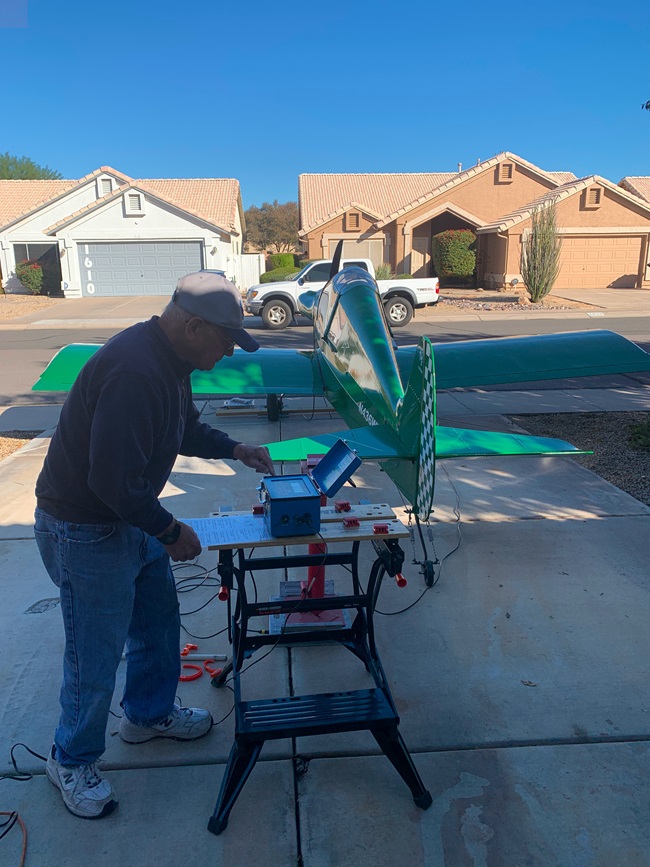 Young Eagles
Chapter 1445 held a Young Eagle event on October 22, 2022. Please visit our Young Eagle page for more info. Page can be found by clicking Young Eagles
Rick Drown First Flight
On October 21, 2022 Rick Drown and Bob Meyer (safety pilot) successfully completed the first flight of Rick's RV-14. According to Rick there were no squawks. Phase I fly off has started and Rick is now officially a test pilot.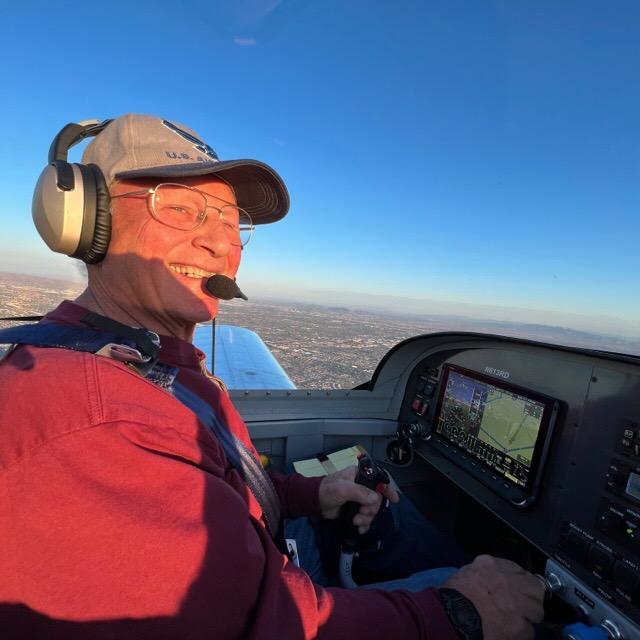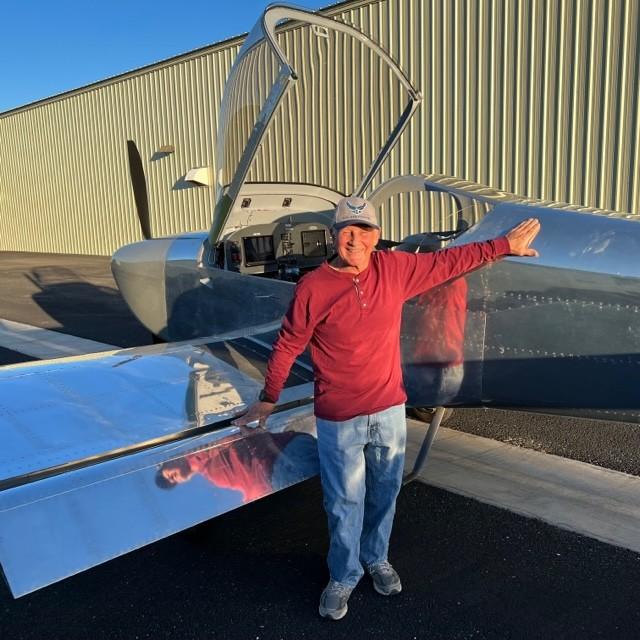 Note the RV grin.
Millar (2AZ4) Runway
Striping
A crew of Chapter 1445 members flew and drove out to Millar Airfield (2AZ4) to help Chuck restripe the runways. The runway needed to be restriped after Chuck had the runway resealed several months ago. A big thanks goes out to Chris, Hana, Don, Bob, Rick, Tom, Arlo and Cecil for helping Chuck with the needed maintenance.


October Monthly Meeting
Monthly meeting of the Chapter was held at Ak-Chin Regional Airport (A39) at 32514 W Bud Rd, Maricopa, AZ 85138 at 10AM. Fifty members and guests attended the meeting. Cary Grant, a member of the FAA FAST team gave a presentation on the airspace in the south practice area. Attendees were able to get Wings credit for attending. A big thanks goes out to Cary for his presentation and to Tim Costello for being a perfect host to our Chapter.
After the presentation attendees enjoyed a lunch of hamburgers and brats. A big thanks goes out to Rick Drown and Bob Meyer for cooking the meat and setting up the serving area with all of the sides. This was all done during a brief rain shower.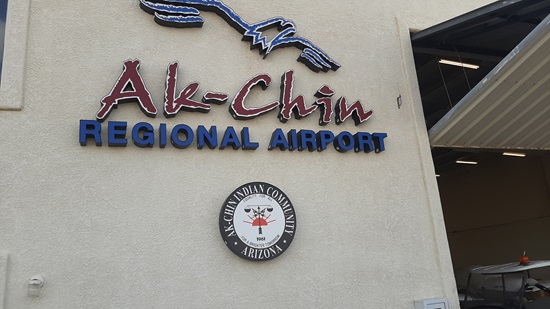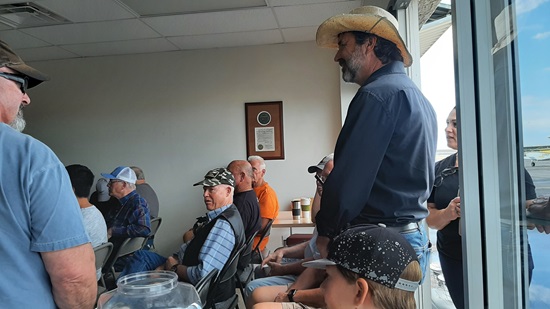 Sign on Terminal Building and Tim Costello, Airport Manager

Cary Grant , FAST team presenter and members and guests.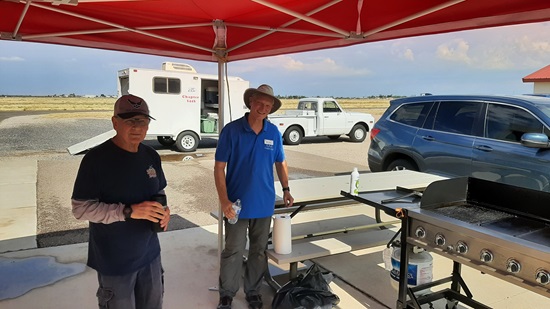 Bob and Rick patiently waiting for to cook the burgers.
Chuck and Bob at 2AZ4
Bob Meyer flew over to Chuck Millar's private airstrip (2AZ4) and help Chuck resurface the strip that it is usable for folks wanting to play in the dirt.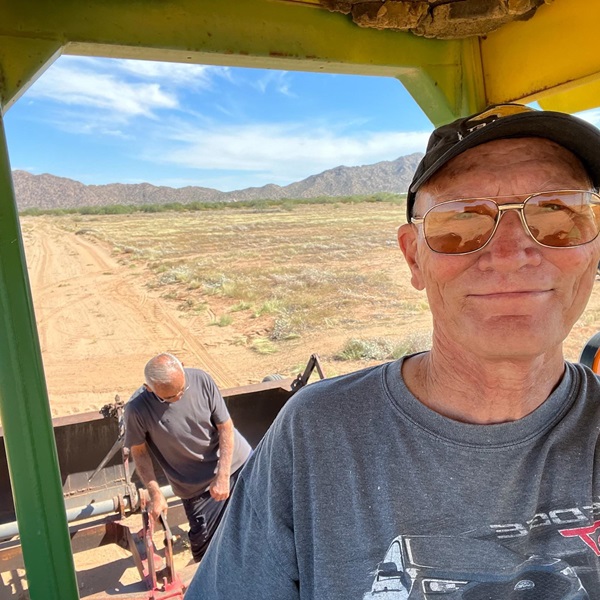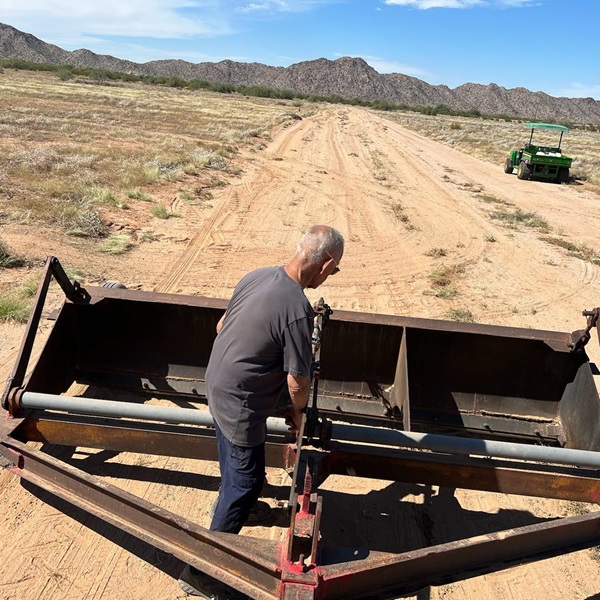 Now the Kitfox crowd have a place to play.
Rick Drown Gets Airworthiness Certificate
Rick Drown obtained the Airworthiness Certificate for his RV-14A on September 24, 2022. Below are some photos of Rick's plane and the setup of documents needed for his airworthiness inspection. Rick's organization of materials makes the rest of us look bad. Rick has set a standard for anyone completing their airplane in the near future.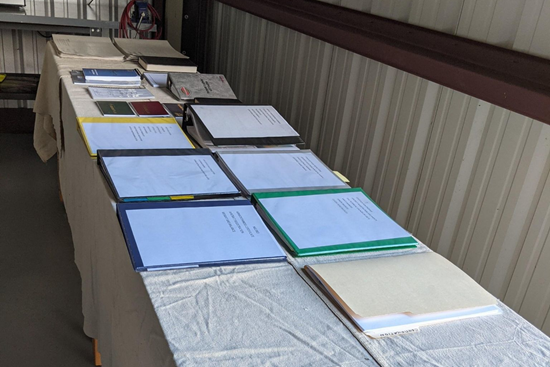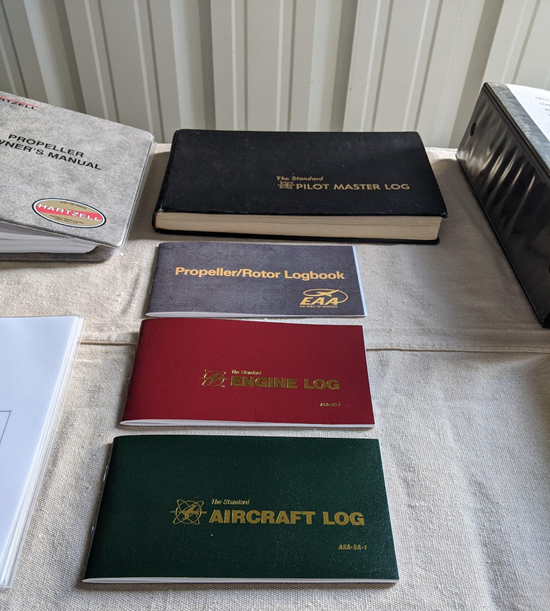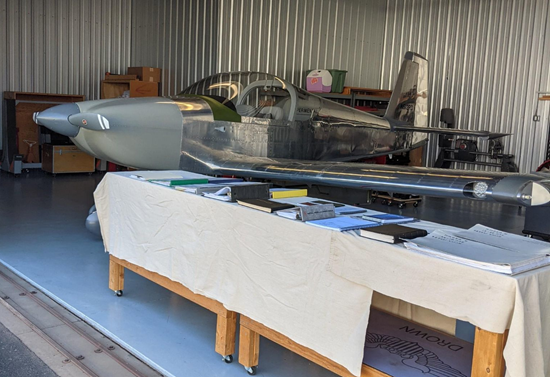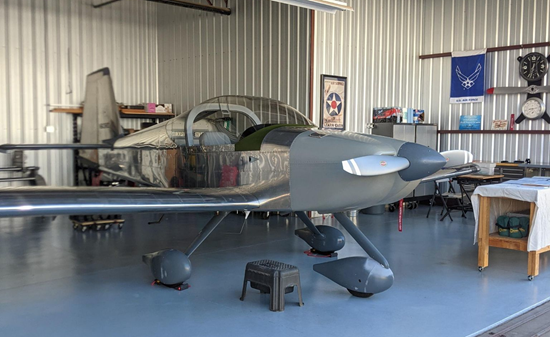 Congratulations Rick. We are eagerly awaiting the first flight of the 14.
September Monthly Meetng
Chapter 1445 crossed Chandler Airport and visited Quantum Helicopters. Thirty five plus members turned out on a perfect Arizona September morning. Thank you Neil Johns for hosting Chapter 1445's monthly meeting. Neil gave members a tour of his business prior to the business meeting. Neil has a beautiful well cared facilities. If you want to learn how to fly a helicopter, you can't go wrong visiting Neil and his friendly staff.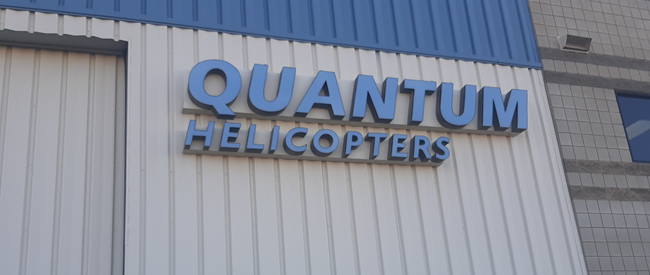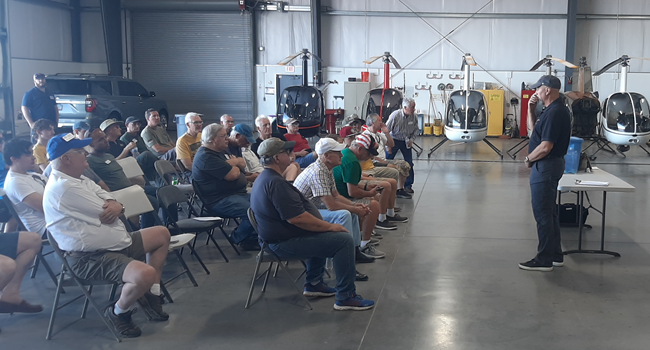 Neil talking to members about Quantum Helicopters inside the Quantum Hangar

Several chapter members taxied their aircraft across the airport for other folks to see a fixed winged aircraft.
August Monthly Meeting
Chapter 1445 held its first every August monthly meeting at the Chandler Municipal Airport Terminal meeting. Approximately 40 members, friends and guests attend the meeting. There was standing room only in the conference room.
Cecil Orozco, Chapter President and Scott Todd Chapter Vice President gave a review of their Airventure 2022 adventures. Both of them shared their photos, stories, and treasures that they obtained in the Airventure fly mart. Guest and members joined in and shared some of their own experiences.
After the meeting, the Chapter furnished water and ice cream bars so that everyone could enjoy a lot of hangar flying after the formal meeting.

Cecil showing photos of the new RV15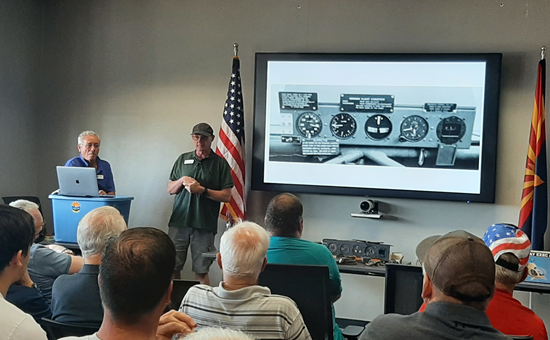 Scott show the WWII glider instrument panel obtained in Airventure Fly-Mart