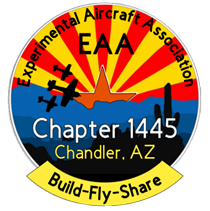 Hi Chapter Members and Guests:
We will have a EAA Chapter 1445 Gathering this Saturday August 20th at the Chandler Airport Terminal at 10:00 A.M.
The agenda is a debrief by those who got to attend AirAdventure this year, lots of stories, things brought back and pictures and videos.
We should have ample room, so bring a guest.
I hope to see you on Saturday,