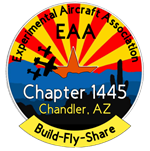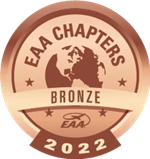 Chandler EAA 1445 members & guests
Weekly Update 2023-11-22
New chapter officers were elected at our November 18th gathering they are:
Rod Kjerstad for President (Cecil Orozco)
Aaron Smith for VP (Scott Todd)
Jenn Burnett for Secretary (Tim Burgoyne)
Mark Weiss for Treasure (Peter Dooley)
Rick Drown for Director (continuing)
Tom MacDonald for Director (continuing)
Jerry Latimer for Director (continuing)
Don Daubert for Director (John Cook)
Continue your support for our chapter officers, directors and volunteers (the work horses), a "what can I do" is so appreciated.
I miss spoke about EAA membership dues. They are due a calendar year from the month that you renewed, unlike our chapter dues which are due in January and go to December. Our chapter is in very sound financial ground, but as we grow in the future with activities, scholarships and a potential hangar we will need to keep a good income stream.
Candice is looking for advisors to help with planning Youth Activities, if you are interested reach out to Candice (480) 707-1501.
A reminder the Stellar EAA chapter 1614 will be holding a Young Eagle rally on Dec 2nd, if you would like to volunteer for flight or ground crew reach out to Kurt Gearhart at 480-329-1936.
Our December gathering is scheduled for the 16th at Millar Airfield. We will be sending out more details for the event soon. Mark your calendar this is a fitting way to conclude a great year with friends.
January 20th 2024 will be Aviation Day at KCHD.
We would like to display all of the aircraft that have made their 1st flight from KCHD.
If you would like to participate please let me know, as we are work with the airport to have appropriate space.
Happy Thanksgiving
Safety First and Enjoy,
Cecil Orozco