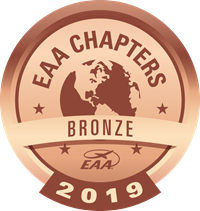 While fall is almost here, an end to the coronovirus is not. Your board of directors met to discuss what we could safely do for the chapter while weathering the Covid-19 storm.
We will investigate holding a few fly-outs, where we could gather outdoors, enjoy a flight to nearby airport, perhaps grab some food and return. We will send an email notice and post on our web page any fly-outs that are arranged.
The board voted unanimously to extend your membership. All that have paid for a 2020 membership will be credited as paid through 2021. New members payment will also cover through 2021.
Indoor meetings are unlikely to be feasible in the next 5-6 months, so we will do what we can to provide content of news, links to available training, etc. We will try to provide at least monthly updates.
The IMC Club held a trial Zoom meeting on Tuesday with about 15 participants. I expect the VMC and IMC clubs will continue experimenting with meetings via Zoom. You can contact Alexander Peña
<vmcclub@icloud.com>
for further information.
In the mean time I encourage you to take advantage of the many online seminars, webinars, and classes that are abundantly available from EAA, as well as those offered by the AOPA, FAA and many private organizations and for profit companies that are offering their products for free or deep discounts. I have listed links to a few below, but this is just a very small sample of what is currently available, and a little searching will reveal many more opportunities to stay involved. We will also post on the Chapter's web page anytime we see something that may be of interest.
CheckRide-Prep is offering free Private, Instrument and commercial ground school along with endorsements and wings credit
https://checkride-prep.com/online-courses/
Topic: Updates on Construction Projects Tips to Operate Safely and Efficiently in the Airspace with Brief Q & A
On Thursday, September 10, 2020 at 17:00 Mountain Daylight Time
https://www.faasafety.gov/SPANS/event_details.aspx?eid=101484
Sporty's is offering their Flight/Ground Instructor refresher course for
*

free

*
https://www.sportys.com/pilotshop/sporty-s-efirc-flight-instructor-refresher-online-course.html
Sling Pilot Academy is letting pilots sit in online and watch their instrument and private ground classes they give their pilots in training.
https://www.slingpilotacademy.com/free-online-ground-school/
Kelly McMullen
President EAA Chapter 1445