Be a Member of Our Chapter!
We invite you to be a part of the 'Keystone Corp' and enjoy all the great fellowship, education, & activities that our group provides!
Member Application & Renewal Form
Annual dues for Chapter 122 are $25 per year. This is more than compensated for by what you'll get out of being a member of our organization!
Click HERE to download our application/renewal form, then mail it and your check to the address listed on the form... or
Scan and send the form to the following email link: Chapter 122 Email. Then pay securely online using the PayPal button below:
Note: There is a $1.50 fee when paying through PayPal
Membership Directory
Chapter 122 utilizes a membership database & directory that allows
dues-paying members
to connect with other flyers, builders, & aviation enthusiasts in the chapter. This site can be accessed at the following link:
EAA Roster Management
Contact our Treasurer for individual access to the database & directory at the following email link:
Chapter 122 Email
We also have a Facebook page for those members (and prospective members!) that use social media:
Chapter 122 FB
Nametags
To truly socialize, you have to be able to associate a face with a name -- therefore, all members and guests are encouraged to wear nametags during Chapter events. Upon joining, new members are provided with a basic plastic nametag with magnetic backing, printed at our Hangar 2 headquarters. Guests are provided with temporary sticky nametags. While these are both suitable for any of our events, high-quality engraved EAA nametags can be purchased for less than $10 each at the following link:
EAA Name Tags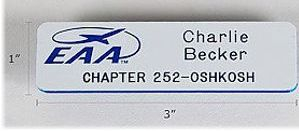 Shirts, Hats, Patches, Mugs, & Decals!
We currently have mugs and embroidered 'polo' shirts with our 'Keystone Corps' logo -- order yours today and proudly display The Spirit of EAA and your affiliation with the EAA 122 'Keystone Corps'!
To order, send an email to the following link: Chapter 122 Email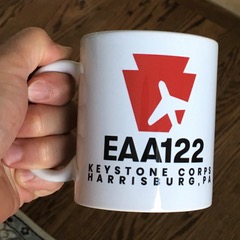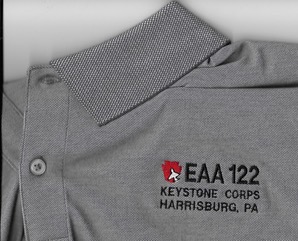 11 oz coffee mug - $10 Knit 'polo' shirts (S-XL): $25