This
FREE
annual (since 2004) event showcasing
Experimental / Amateur-Built Aircraft
(also called "homebuilt"), also offers many seminars for pilots, builders, and just for interest.
Sat, July 9, 2022
- with a rain date of Sun, July 10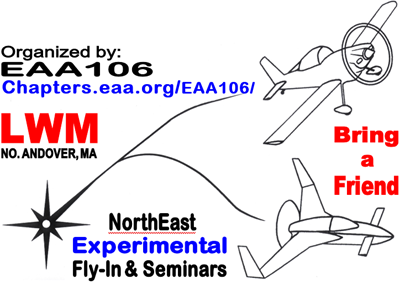 The NorthEast Experimental Fly-In with Seminars is hosted annually by EAA Chapter 106

WHERE: EAA Chapter 106's hangars and ramp area on the north side of the Lawrence Municipal Airport (LWM)
See below for Directions/Maps
Use 400 Holt Rd, No Andover, MA for driving GPS to get close to Gate 4 (right at stop, then gate on left)
This FREE event (but come hungry to help support our expenses) offers you the opportunity to:
1) See experimental aircraft (also known as homebuilt from a kit or plans) which are built under the FAA category of Experimental / Amateur-Built or E/A-B).
Learn more
2) Attend/participate in several free seminars and workshops. These may include hands-on how to build an aircraft, aviation safety, and many other topics.
List of past seminars
This event only happens through the help of volunteers.
Please sign up to

< click
Do you fly an E/A-B? Please put it on display to help inspire others to build!
One PIC per homebuilt aircraft on display will receive meals at 1/2 off.

Four of our six 2022 seminars will be FAA WINGS qualified and the links will be provided on this website soon.


2022 Flyer: 2022 Seminars (schedule/location) 2022 Food Pricing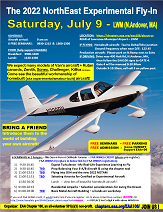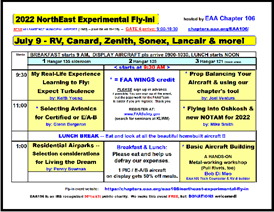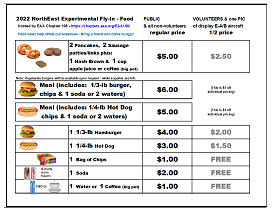 2022 SEMINARS:

SCHEDULE

FAA WINGS

SEMINAR
SPEAKER
0930 - 10:45


Expect Turbulence - My Real-Life Experience Learning to Fly

Keith
Young

0930 - 10:45

YES

Prop Balancing Your E-A/B Aircraft & using the chapter tool



Joel
Ventura

1100 - 12:15

YES

Flying into Oshkosh and the new 2022 AirVenture NOTAM



Mike
Smith

1100 - 12:15
YES
Selecting Avionics for Certified
or Experimental Aircraft

Glen
Bergeron
1300 -
1415


Residential Airparks – Selection considerations for Living the Dream



Penny Bowman

1300 -
1500

YES

Basic Metal Aircraft Building – a hands-on workshop




Bob
Di Meo
For pictures of prior events, click this photo:

Above: RV-8, a 2-place, kit-built, aerobatic aircraft.