Started in 2012, as of 2020 EAA Chapter 106 has awarded 20 scholarships to ultra-aviation-passionate youth (ages 16-18) for an all expenses paid, once-in-a-lifetime aviation camp experience in Oshkosh, WI. The EAA Chapter 106's 2020 Young Scholarship is over (three winners selected). Due to Covid-19 in 2020, those winners will be attending in 2021. Therefore, we are uncertain whether we can secure one additional camp slot. Please check back in the OCTOBER-NOVEMBER time-frame to see whether we will be able to open our scholarship for 2021.

TBD: 2021 EAA Chapter 106 YOUTH SCHOLARSHIP
to the EAA ADVANCED AIR ACADEMY in OSHKOSH, WI
to expand the aviation knowledge of a few aviation-passionate New England youth through a total immersion aviation camp experience.

Do you ... Have a DEMONSTRATED PASSION for aviation by working to earn some or all of your own flight training? Live in NEW ENGLAND? (MA, NH, RI, CT, VT, ME) Will be AGE 16-18 during late July, 2021? (or within 1-2 weeks?) See complete list of requirements below ↓

2020 FLYER: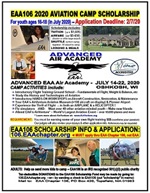 - LAST YEAR's FLYER (as an example, but links obsolete) - 2021 is TBD

CLICK for ...