Started in 2012, as of 2022 EAA Chapter 106 has awarded 18 scholarships to ultra-aviation-passionate youth (ages 16-18) for an all expenses paid, once-in-a-lifetime aviation camp experience in Oshkosh, WI.

2023 EAA Chapter 106 YOUTH SCHOLARSHIP
to the EAA ADVANCED AIR ACADEMY in OSHKOSH, WI
to expand the aviation knowledge of aviation-passionate New England youth through a total immersion aviation camp experience.

Do you ... Have a DEMONSTRATED PASSION for aviation (demonstrated by working to earn some or all of your own flight training)? Live in NEW ENGLAND? (MA, NH, RI, CT, VT, ME) ? - and will be AGE 16-18 during late July, 2023? (or within 1-2 weeks?)
See complete list of requirements below.
You must apply for our scholarship though our below application, not EAA.

2023 FLYER: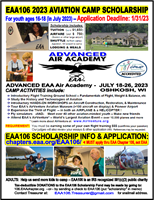 Ages 16-18 in July

NOTE: If you look at the camp's website, it says it's full. Don't worry.
We already have reserved one of those original slots,
so apply to our scholarship below (not thru EAA).
Deadline to apply for the EAA106 scholarship: January 31, 2023

Below is additional information about this scholarship:

CLICK for ...
Requirements
Earning some of own flight training money & more
What is included
What the scholarship covers and what it does not
Camp info
What you will do, see and learn
Timetable
Phase 1 (all applicants), Phase 2 (only for the finalists)
Application
Phase 1 application -

DEADLINE: Jan 31, 2023



If you have any questions, contact us

at: EAA106.YoungEagles << gmail.com (type it)