We have a group of very talented members. They fly, instruct, and some have even built their own aircraft. Need a little inspiration or maybe even some ideas for your own build? Our members are happy to share. Ready to be impressed? Here are the stats:
52 - Built or restored airplanes by 35 chapter members
22 - Projects currently under construction, by 22 builders
Click here for a history of past completed projects!
---
Current Member Projects:
| | | |
| --- | --- | --- |
| Builder | Aircraft | Builders Log |
| Mike Baker | Sonex | |
| Steve Bauman | G1 STOL | |
| Randy Brooks | Rans S-21 | Builders Log |
| Jeremy Cowgar | Bearhawk LSA | Builders Log |
| Mike Guenthner | RV-8 | Builders Log |
| Paul Hancheck | Steen Skybolt | |
| Dale Holmes | RV-7 | |
| Dale Housley | Volmer VJ-22 | |
| Bob Eiben | Zenith 701 | |
| David Kopanski | Spezio Tuholer | |
| Paul/Ron Lutz | Rans S-20 | Builders Log |
| Dave Manning | Rans S-21 | |
| Bernie May | Zenith CH 750 Cruzer | |
| Curt Speck | Zenith CH 750 SD | |
| Joe Stefanini | SubSonex JSX-2 | |
| Matt/Josh Tomsheck | Just Highlander | |
| Rob Trout | RV-14 | |
| Joe Walker | RV-7 | |
| Barry Wawrin | RV-14A | Builders Log |
| Brad Wurst | Wittman Buttercup | |
| Jim Yurichak | Kolb Fire Fly | |
| Jeff Zink | RV-7 | |








---
Zenith 750 Update:
By Bernie & Aaron May
We are currently working on the panel.
---
Feb Project Update: RANS S-21
By Randy Brooks
I'm progressing with my RANS S-21 project, working on the boot cowling skins and firewall fitting.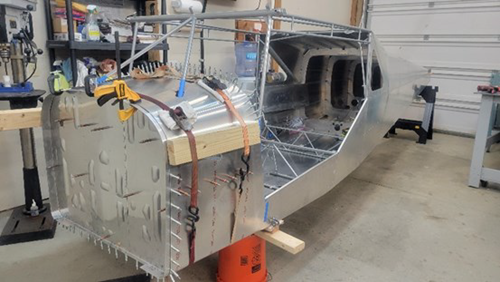 The boot cowling bottom and side skins are match drilled and ready to install- as well as the cowling attach strips that are used fasten the cowling around the perimeter of the firewall.
I'll wait to receive my instrument panel from SteinAir to final match drill the top cowling skins. Hopefully, my pan-el will be completed by April. The control assemblies- rudder pedal, control stick, and elevator push-pull tube assemblies- are fit together and ready for final installation. I'm currently working on fitting and installing the cockpit floorboard.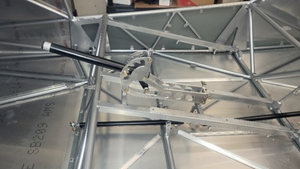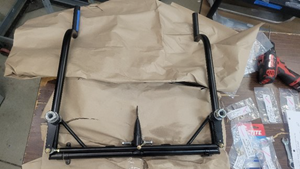 ---
A New Bearhawk LSA!
By Jeremy Cowgar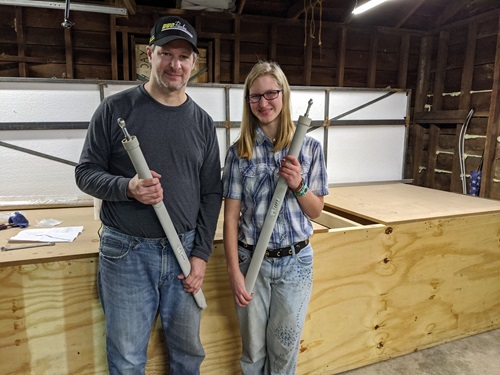 Today we started our Bearhawk LSA build. We completed the two landing struts. Next up is mounting brakes on the landing gear legs. The current goal is to get the fuselage on it's gear.
---
RV-8 News!
By Mike Guenthner
I was able to make quite a lot of progress during the month of January and managed to finish the horizontal stabilizer this past month. Chapter 846 Tech Counselor Gary Baker was kind enough to pay me a visit to evaluate my progress so far and provide valuable input. With his expertise and advice I completed the final assembly of the horizontal stabilizer and it's now safely stored away.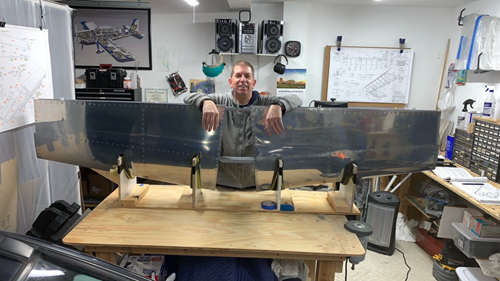 I've now moved onto the vertical stabilizer and it is mocked up and ready to be disassembled, prepped, primed and riveted together. I just need a little bit warmer weather to get the painting completed before final assembly of this part.

---
Project Update: Skybolt
by Paul Hancheck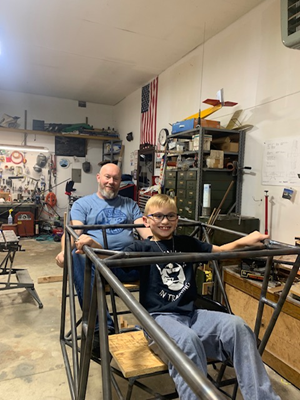 The Skybolt is progressing slowly. The seats have been welded in and tried out! I am soon to start on the landing gear.
---
Jan Project Update: RANS S-21
By Randy Brooks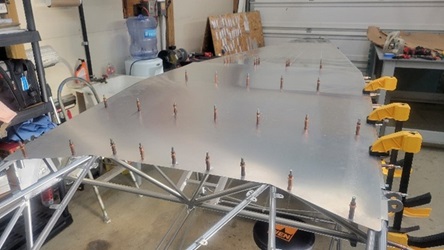 I've been working steadily on my RANS S21 project and currently I'm installing the cockpit side and bottom skins. Once that's complete, I'll fit up the boot cowling skins and firewall. I installed the main landing gear legs last week to insure fitment. I had to make some minor tweaks to the mounting plates to ensure the attachment bolts will fit properly. I'm still very impressed with the fit and quality of the RANS kit- it makes it great for a first- time builder.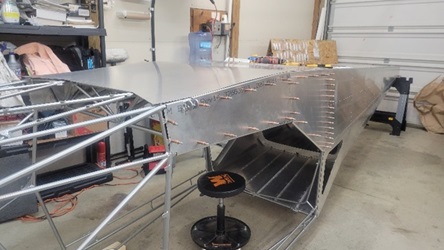 ---
Changing Projects!
By Brad Wurst
Selling the Preceptor Ultra Pup project (no longer fits mission) and recently purchased this Wittman Buttercup project.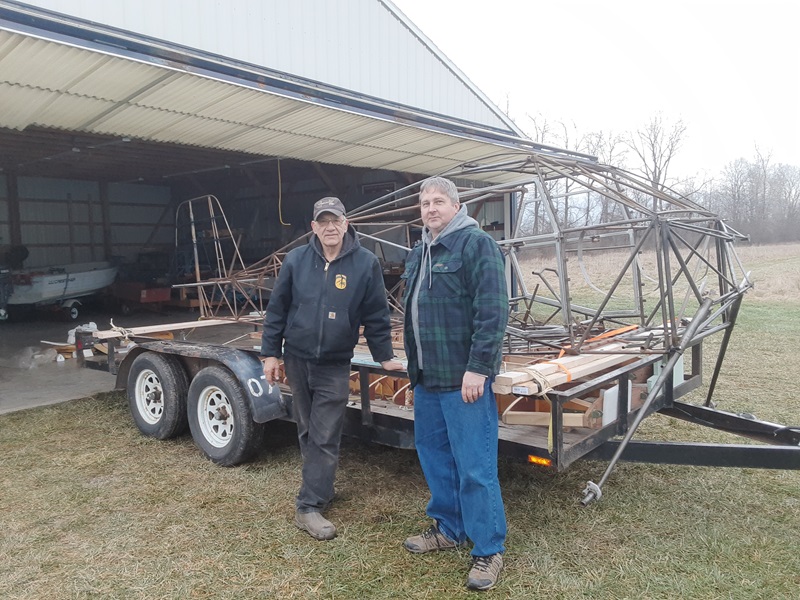 Earl Luce & Brad Wurst with Wittman Buttercup project
---
A New Project- SubSonex JSX2!
Joe Stefanini is now working on a SubSonex JSX2! This is the single-seat jet that John Monnett at Sonex Aircraft designed in 2011. Joe is working on it in his hangar at Akron Fulton Airport.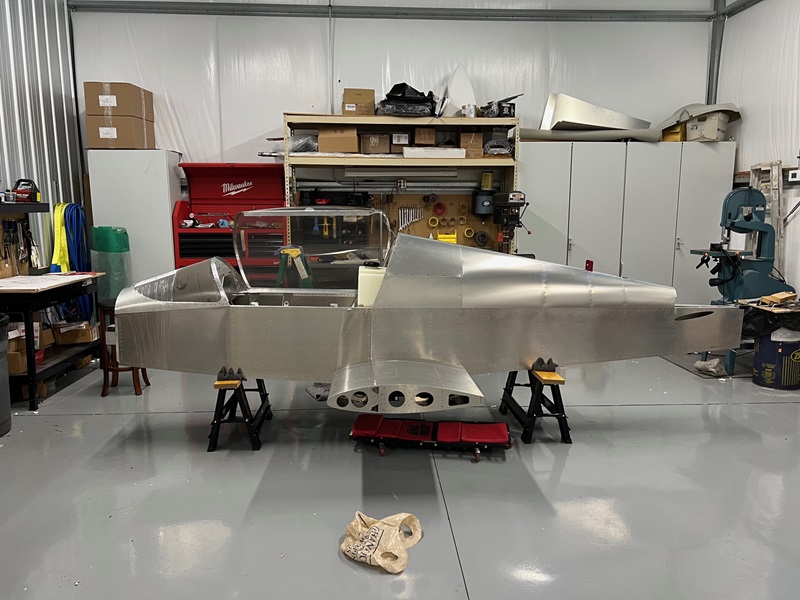 ---
Project Update: Highlander
by Matt & Josh Tomsheck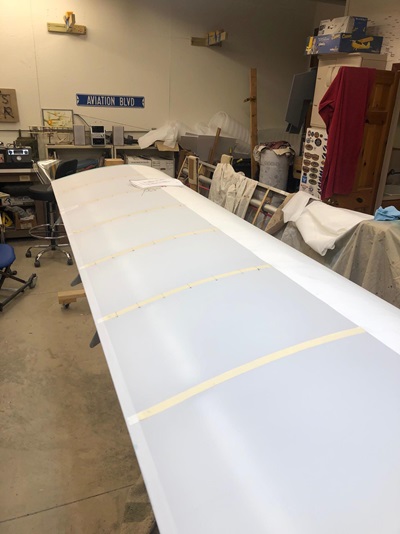 The left wing has fabric on it. The wing is under cambered so we did some additional research on how to apply the fabric to the bottom of the wing. We are using the Stewarts covering system and have found that to be easy to work with, so far. There is a Stewart technical representative in Wooster and he was gracious enough to come to my house and he gave us some helpful tips on the process. Josh and I chose to do rib stitching instead of pull rivets or screws. Between YouTube videos and the covering manual we got it figured out and now moving along great.
We sent our engine out to have up-graded performance parts installed. We're anticipating that to be completed and back to us in a couple of weeks. Josh is working on the final configuration of the instrument panel. Once that is completed, we'll have the final panel cut.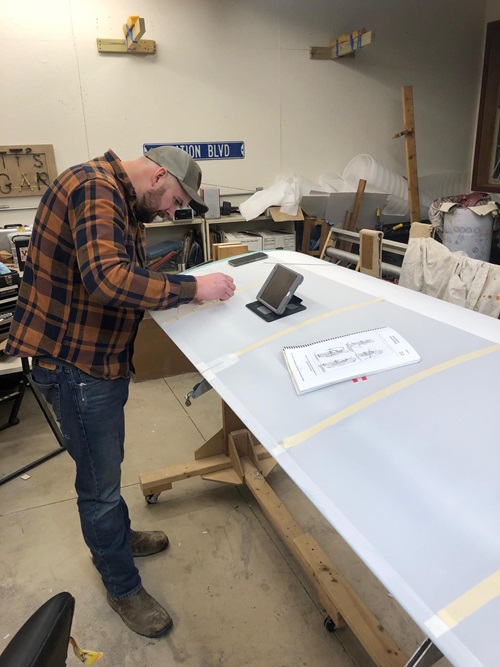 Josh hard at work!
---
Project Update: Chapter 846 Wind Tunnel
Brian Burke has started work back up on the wind tunnel. He continues to work on the neckdown section of the fan box and has rough cut the wood for the electrical switch.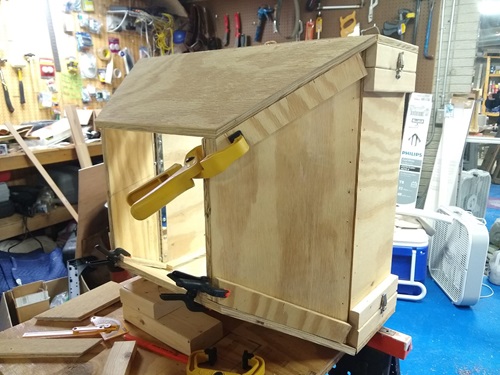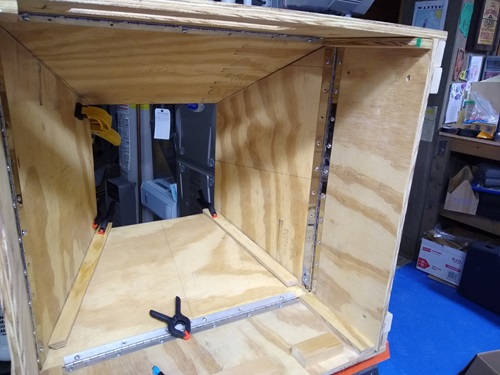 ---
And here are some of our member's current aircraft building projects from the EAA Builders Log website.