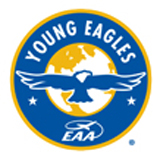 What's this program about?
Founded in 1992, the Young Eagles program is dedicated to giving youth ages 8–17, an opportunity to go flying in a general aviation airplane. These flights are offered free of charge and are made possible through the generosity of EAA member volunteers.
It's the only program of its kind, with the sole mission to introduce and inspire kids in the world of aviation.
Today, the Young Eagles program has flown over 2 million kids.
You are invited to take to the skies and become a Young Eagle with Chapter 790!
Chapter 790 Young Eagle Rally Information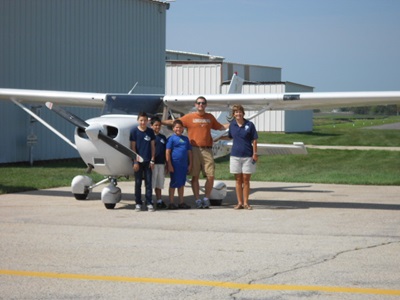 We hold our rallies monthly during the summer, and this year we are flying from the Schaumburg airport on West Irving Park Road. Check-in is held downstairs in the airport office.
Contact information for our Young Eagles Coordinator, Paul Ranieri, is p.ranieri@comcast.net or phone at 847-997-0135.
What do I have to do to become a Young Eagle?
If you are age 8 through 17, you and your parents or guardian should read through the brochure and complete a release/registration form online (youngeaglesday.org). Print the form and bring it with you to the event. Once you are called for your flight, your EAA pilot will prepare you for your demonstration flight. You can ask your volunteer pilot as many questions as you like. In doing so, you'll learn more about airplanes and the principles of flight. That's all there is to it. It's really that simple!
IMPORTANT! Be sure that your parent or legal guardian is present at the event day in order to sign the registration form. A friend's parent's or other adult's signature is not enough! It must be an authorized signature. Even though you registered online, a signature on the day of the event will still be required. Young Eagle flights will be offered on a first come, first served basis so be sure to arrive at or close to the event start time.
When are the 2023 Young Eagle flight dates and where do I go to fly?
Our rallies in 2023 will be as follows:
June 3rd, 8:30 to noon
August 5th, 8:30 to noon
October 7th, 8:30 to noon
This year we are flying from the Schaumburg airport on West Irving Park Road. Check-in is held downstairs in the airport office.
Our ability to fly will be weather dependent. You can check on the status of the rally by calling (224) 484-7163 beginning the evening prior.
Should I Bring Anything?
Make sure you wear comfortable shoes, sunscreen and clothing that is appropriate for the weather that day. Also, be sure to bring water for you and your child as we won't have water available for the participants. If your child has received a Young Eagle log book on a previous flight, please be sure to bring that as well.
What will my flight be like?
First of all, your pilot will explain what you will do and see, including: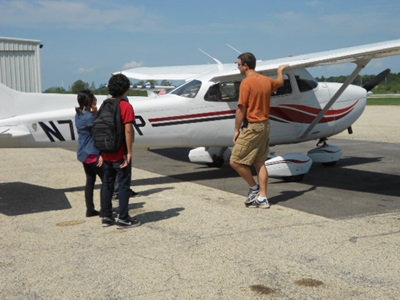 A description of the plane and basic aeronautics
A quick review of an aeronautical chart (a pilot's map) and identification of some of the points of interest you will look for during the flight
A description of the interior of the airplane, including the instrument panel
Then, the pilot will begin the actual flight. This includes:
A complete, pre-flight inspection, or "walk around," of the airplane to confirm that the aircraft is ready for flight.
Helping you buckle your seat belt and securing any cargo for flight
Proper start-up of the airplane, taxiing to the runway, and take-off!
You will see the earth and sky in a new and exciting way. You will experience the wonderful freedom of flight that many people only dream about. Most people remember this experience for the rest of their lives and you will, too!
What happens after the flight?
After your flight, your pilot will submit the completed registration form to the EAA, so you can:
Complete your registration as a Young Eagle
List your name in the world's largest logbook on display at the EAA AirVenture Museum in Oshkosh, WI
List your name on the Young Eagles website logbook
Begin receiving the monthly Young Eagles electronic newsletter
Obtain additional information on other EAA and aviation activities
Receive information on scholarship programs administered by EAA
Please note, EAA does not sell or share your personal information to anyone else. Additionally, you can unsubscribe to (opt out of) the newsletter at any time.
Safety Reminders

Millions of people fly safely in airplanes every year. However, an airport is not a playground. Listen and follow instructions given by your pilot and follow these simple rules when you are around an airplane:
Stay away from the propellers
Listen carefully for instructions on entering and exiting the airplane
Do not touch any part of an airplane without the pilot's permission
Stay with your pilot or ground crew at all times
Additional Resources
For more information from EAA headquarters about the Young Eagles program, visit www.eaa.org/eaa/youth/free-ye-flights
Information for Parents (www.eaa.org/eaa/youth/free-ye-flights/eaa-young-eagles-information-for-parents)
Join the Experimental Aircraft Association (https://www.eaa.org/en/eaa/eaa-membership)
Young Eagles Coordinator
Name: Matt Van Bergen
City: Lake In The Hills
Phone: 224-484-7163