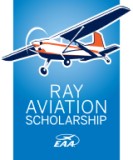 Each year, our chapter supports one scholar, between the ages of 16 and 19, in the form of funding and mentorship to help him or her earn their pilot certificate. We can do this because, through the generous support of the Ray Foundation, EAA provides up to $10,000 to deserving youths for their flight training expenses, totaling nearly $1,200,000 in scholarships annually.
The program is supported by more than 100 EAA chapters, and supports close to 120 scholars.
Chapter 790 began this program in 2019 when we nominated Eddie Ranieri to be our Scholar, and he began his flight training that Fall. This year we have nominated Mark Luchsinger to be our Scholar, and he has now gained approval from EAA to receive the scholarship.
Below are some highlights of our Scholar's progress.
Eddie Ranieri
10/19 -Eddie has begun his flight training, with 12 hours completed so far. He is taking his training at Lake In The Hills with Blue Skies Flying Services. He will be joining us on 10/5 at our Young Eagle rally, as part of the volunteer hours required of scholarship winners.
11/1/19 - Eddie has completed his solo in record time, Congratulations Eddie! Eddie continues his flying instructions and is working on his Ground School Studies. Upon completion of the FAA exam, EAA will be rewarding him with a Zulu ANR headset.
3/15/20 - Eddie has passed his FAA Written Exam and whenever flight training resumes at Blue Skies, he will be back up in the air. Until then, he is receiving some airtime and mentoring from his uncle Paul
6/13/20 - Eddie has just received his new Lightspeed Zulu ANR headset as part of the scholarship program. We think he likes them!! With the state moving to phase IV re-opening, Eddie has resumed his flight training and now has 27 hours.
7/17/20 - Eddie's training at Blue Skies has resumed, and he now has just over 31 hours.
Mark Luchsinger
3/1/20 - Mark Luchsinger has been nominated for the award. He is in the process of submitting his application to EAA, and obtaining his medical and student pilot certificate. Upon EAA approval Mark will begin his flight training within 60 days. CONGRATULATIONS Mark.
5/15/20 - Mark has received approval for the scholarship from EAA. He has obtained his medical and student pilot certificate and currently is studying his Sporty's ground school.
7/1/20 - Mark has begun his flight training at the Poplar Grove Airport. He now has 12 hours of flight time, and is close to soloing.
7/17/20 - Mark has completed the Sporty's Ground School and is practicing for the written test. He soloed (!!) on 7/14 and now has just over 16 flight hours.
12/17/21 - Mark passed his check ride today. We congratulate Mark on becoming a Private Pilot
-
The Ray Aviation Scholarship is supported by the Ray Foundation. To learn more about James C. Ray and the Ray foundation, click here.