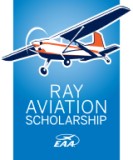 Since 2019, our chapter has supported three scholars, in the form of funding and mentorship, to help him or her complete their pilot training. We can do this because, through the generous support of the Ray Foundation, EAA provides up to $11,000 to deserving youths for their flight training expenses, totaling nearly $1,800,000 in scholarships annually.
Chapter 790 began this program in 2019 when we nominated Tom Solar to be our chapter Scholar Mentor. Our 2019 scholar, Eddie Ranieri, completed all training hours and related activities, but chose not to get his Private Pilot Rating. Our second scholar was Mark Luchsinger, who was chosen in early 2020. Beginning his training that summer, Mark obtained his medical certificate, completed ground school and all required flight hours, to receive his Private Pilot Rating by the end of 2021.
Our 2022 scholar is Megan Pranczke, who received her authorization for the program late fall of 2022. Megan had three private pilot lessons at Galt Airport, 10C, prior to injuring her shoulder while at work as a gymnastics' instructor. Currently her scheduled surgery is in December. Time for healing is forecasted to be about three months. EAA has extended her solo date until late March 2023, but probably will need to be extended further pending her doctors release date and winter weather flying conditions.
(Her doctor, also a pilot, stated she had two choices concerning the surgery. One, do not have the surgery and become a librarian or have the surgery and continue flying. Megan is very excited about continuing her flying. Guess what she chose?)
Courtesy of Tom Solar, here is some background for Megan --
Megan, a "Young Eagle" is a valuable Chapter 790 member, assisting Young Eagles flights and running the Chapters simulator (pictured below). She attended the advanced EAA flight academy last summer as well as the intermediate Academy two years ago. Both were paid through EAA Young Eagles Credits from Chapter 790. She has flown on a number of Young Eagles Flights as an enthusiastic participant. Megan studied her ground school with chapter member Tom Solar under a multi phased plan using both the Sporty's free on-line ground school and the Gleim Private Pilot FAA Knowledge Test Prep Book. She is a High School Senior in the Advanced Studies Program also taking classes at Elgin Community College.