CHAPTER NEWS
Chapter 790 Receives Silver Recognition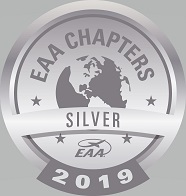 This program was created to recognize chapters that have demonstrated outstanding commitment to general aviation. Developed in partnership with EAA's Chapter Advisory Council, it's based on 10 criteria that are consistently found in active and engaged chapters. Each is worth a point, and there are three levels of recognition: bronze (7 out of 10), silver (8 out of 10), and gold (at least 9 out of 10).
Chapter 790 Approved For Ray Scholarship
Effective August, 2019, our chapter was approved to submit a candidate for the Ray Aviation Scholarship program. We chose Eddie Ranieri as our candidate, and as of 8/27 he was approved by headquarters to receive the scholarship funds. And again in 2020 we have approval for an additional scholar. Mark Luchsinger has been nominated for the award and has been approved by EAA headquarters. CONGRATULATIONS Mark!
Both or our candidates are now actively engaged in flight training, and both have soloed.
See our Ray Aviation Scholarship page for further information on this program, and our scholars progress through it.
2020 Youth In Aviation Scholarship Awarded
The $1,000 flight Training Scholarship has been awarded to Mark Luchsinger. Mark is active in Boy Scouts and is on track to earn his Eagle rank. He is also active in the Civil Air Patrol, and has just earned his Mitchell award. His goals include Navy ROTC on the way to becoming a Navy pilot, followed by piloting for a commercial airline.
This scholarship is funded by our annual Pancake Breakfast. The Scholarship funds will be paid directly to the flight training facility of Mark's choice.
The summertime Basic Air Academy camp session at EAA Oshkosh has been awarded to Megan Pranczke. Megan has participated in several Young Eagle flights with us, and attended the Young Eagle camp last year with our sponsorship.This scholarship is available because of the many Young Eagles our volunteer pilots fly each summer. Mark and Megan received their awards on February 22 at the chapter's annual banquet. Congratulations Mark and Megan!
Chapter 790 Has A New Mailing Address
Effective immediately, all dues and other correspondence should be addressed to our new post office box in Crystal Lake. Our old address in Barrington was discontinued on 3/28/19.
Our new address is P. O. Box 685, Crystal Lake IL, 60039-0685.
News You Can Use
Do you ever wonder if you ADS-B unit's performance is up to snuff? If you would like to verify that your ADS-B installation is working correctly, you can obtain a free performance report on your ADS-B signal from the following website: https://adsbperformance.faa.gov/PAPRRequest.aspx. Tom LeGates 3/6/18
On our monthly fly-out in November (2018) to Watertown, WI, we discovered the Perkins restaurant adjacent to the airport is closed. There is a nice restaurant called 'The Spot' which is about 1 mile north on RT 26. In nice weather a nice walk from the airport, or use the crew car if available. Tom LeGates 11/27/17
From Ole 6/20/2017......I flew to Milwaukee's Timmerman Airport today with George Haupt and George Roby.The FBO there now charges a $ 10 parking fee, - they call it Ramp Fee – this is new, never did that before. The fee is waived if you buy at least 10 gallons of fuel. Present price is 4.28 per gallon. Ole Sindberg