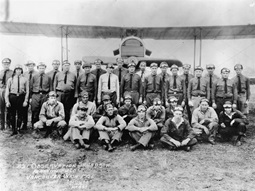 The Experimental Aircraft Association's Chapter 782 is a small group of pilots, designers, engineers, and builders located in Vancouver Washington's historic Pearson Field who are actively restoring and flying antique, classic, experimental, and ultralight aircraft in the local area. Pearson Field is the second oldest operating airfield in the nation and has its roots as a army training post so aviation has been here for a long time and so has 782. Matter of fact, some of the vintage planes and many of the newly made experimental airplanes of classic designs on the airfield would have been recognized by the military pilots on the field in the 1920's.
What is an "experimental" aircraft and why are they different from the regular aircraft that you see everyday in the skies? Small experimental planes are one-off designs or engineered plans or kits made in homes and shops and thus are given the "experimental" category by the FAA after a testing period. There are legally defined classifications of US registered aircraft.
Acrobatic – These airplanes have no flight maneuver restrictions other than limitations posed by certain flight tests. They have a maximum of nine seats, not including pilot seats and that weigh no more than 12,500 pounds.
Commuter – defined as a multi-engine, propeller-driven aircraft with 19 or fewer passenger seats and weighing less than 19,000 pounds.
Experimental

– Issued under a special airworthiness certificate for that one aircraft only. These aircraft are typically used for research and development, crew training, exhibition, air racing and market surveys but cannot be used for commercial uses.

They can also include amateur-built or kit-built aircraft, and they can be light sport or certain unmanned aircraft.
Light Sport (LSA)

– Operates under a special airworthiness certificate for that one airplane. This is any sport aircraft that does not fall under the designations of kit-built, gyro-plane or transitioning ultralight, have special speed and weight restrictions and cannot fly at night or for hire.

Limited – reserved for military aircraft that have been converted and/or modified for civilian use.
Normal – Aircraft contains nine or fewer seats and has a maximum takeoff weight of 12,500 pounds or less. Not approved for acrobatic flight.
Primary – These aircraft have special airworthiness certificates, and they are manufactured in accordance with a production certificate.
Restricted – Aircraft designed for a specific use, such as crop dusting for agriculture, forest services, aerial surveying and weather control.
Transport – More than 10 seats weighing more than 12,500 pounds. If piston-engined, greater than 19 seats and a maximum takeoff weight of more than 19,000 pounds.
Utility – Contains nine seats or less not including pilots and has a maximum takeoff weight of 12,500 pounds or less. These airplanes are approved for limited aerobatics.
There are smaller airplanes in the "normal' and "utility" category like the Cessna's we see everyday manufactured to production standards and designed from extensively tested concepts and approved by government agencies across the globe like the even larger "transport" category ones as passenger jetliners . We though, are interested in "uncertified" ones built from designs and ideas by individuals both professional and amateur using any construction method or materials you can think of. They can be any size, configuration, and built from wood, fabrics, metals, composite plastics, even cardboard and use electrical, gas, turbine, and even rocket propulsion to get into the air and stay airborne. All newly designed aircraft from the big jet airliners to fighter planes begin as experimental prototypes and are tested and are later certified prior to production while amateur built machines stay in the "experimental" category and flown for fun.
If you are interested in aviation in any form, please feel free to join us for meetings at Pearson and in and around the Clark county area at projects being built. If you would like to join as a member please click and go to the link below, fill it out, mail it back, and we will contact you.
https://documentcloud.adobe.com/link/review?uri=urn:aaid:scds:US:7dd972b5-49d7-4b96-88c9-4345d7a3a963