Can you build your own airplane? You bet! There are laws allowing you to do so because they are experimental catagory aircraft and they are amatuer built and not to a certification standard so they must fall within some simple parameters: they cannot be used for compensation and only for personal use and built for personal education. Beyond that the experimental category has no restrictions on size, speeds, or configuration. You have the freedom to succeed or fail based on your design, judgement, skill, and capabilities. A further subset below the experimental category that is still part of the homebuilt movement is the simplest, smallest, cheapest, and most fun form of this being the "ultralight" that is less than 254 lb. in weight and flies at less than 64 mph. Not considered an aircraft, it instead is considered a "vehicle" for a single pilot needing no license or pilot qualification that is like most like having a flying motorcycle.
Do you need to be an engineer or a Phd to do any of this? Absolutely not! The majority of builders have done nothing more complicated than changing the oil in their cars prior to beginning their projects and use normal power and hand tools found at your local home improvement store when they did it. Do you need a big fancy workshop? No, most people use a two-car garage at home thus the term "home-built"! Does this take a lot time and money? Yes, it can but so can a couple Starbuck's coffee every single day or packs of cigarettes while looking at Facebook. But, your journey isn't just about making an airplane, but about learning new real-world skills, ideas, and concepts and learning from others who become your friends that will push you to grow as an individual. And when you are all done you can fly it whenever and wherever simply because you want to and you can!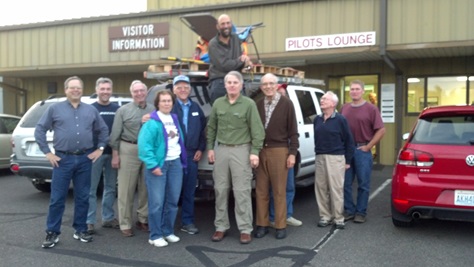 WE WILL RESUME OUR IN-PERSON CHAPTER MEETINGS ONCE AGAIN ON JULY 28th at 7PM. TO MAXIMIZE COVID SAFETY IN OUR CURRENT "PHASE", WE WILL MEETING OUTSIDE IN THE OPEN AIR WITH APPROPRIATE DISTANCING MINIMIZING THE VIRAL LOAD IN THE BREEZE OUTSIDE AND WE FEEL HIGHLY CONFIDENT IN OUR MEMBERS PERSONAL SAFETY. EVEN SO, MASKS ARE STILL REQUIRED WHILE INSIDE THE LOUNGE. WITH SUNSET BEING AFTER 9 PM AND THE WEATHER EXPECTED TO BE GOOD, THIS WILL ALLOW MEMBERS TO FLY IN AND LEAVE BEFORE NIGHT TIME. NOTE THAT WE WILL NOT BE PROVIDING A DINNER FOR THIS MONTH, BUT SNACKS ARE APPRECIATED.
IN THE MEANTIME, MANY OF OUR MEMBERS WOULD BE PLEASED TO ANSWER ANY QUESTIONS ABOUT DESIGN OR CONSTRUCTION OF THE MORE POPULAR DESIGNS (ESPECIALLY THE RV SERIES) OR CLASSICS LIKE THE BONANZA'S OR FUNK'S THAT YOU MAY BE HAVING DIFFICULTY WITH.
FOR QUESTIONS OR OTHER INFO CONTACT BOB MARTILLA
360.601.9317
BE35731D@GMAIL.COM