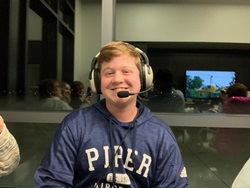 Matt Shaw
Hello members and friends of EAA Chapter 770,
We have great news to announce!
Today, our current Ray Aviation Scholarship recipient, Matt Shaw, passed his check ride and is now a Private Pilot! Congratulations Matt! You did it!!
Thanks to Marty Townsley, our chapter coordinator for the scholarship, Rod Egizii who was his CFI and mentor, and his family for their support! It was a great effort, especially during this pandemic, and we are so proud of Matt! Congratulations again!
Andrew Dow, the FAA DPE, commented on how well Matt did and what natural abilities he has as a pilot. Rod even commented as Matt taxied in that the nose wheel was perfectly centered on the yellow line. Not even touching the black edge marks! Thanks Rod for being such a critical part of our chapter's journey with Matt, and to Andrew for withstanding a hot day in a low wing airplane cockpit!
And a special thank you to the Ray Aviation Scholarship, Lightspeed Aviation Foundation and EAA! We could never have done this without their generosity and support! Thank you!!
A few pictures from todays achievement.
Congratulations to both Matt and Parris!