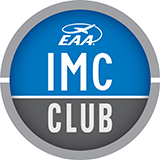 Each month we discuss a flight scenario and everyone is encouraged to think about what they would do in that situation. The discussions are interesting because everyone bring their own experiences and training. While the topic is typically instrument flying, we have a number of VFR pilots that participate as well. All are welcome! Our goal is to make everyone a safer pilot.
The IMC Club's purpose is to promote instrument flying, proficiency, and safety. The instrument is to create a community of pilots willing to share information, provide recognition, foster communications, promote safety and build proficiency in instrument flying. Fore more information visit. https://eaa.org/eaa/pilots/EAA-pilot-proficiency/proficiency-and-education-programs/imc-club.
Our IMC Club meetings are held on the 1st Tuesday of the month, 6PM, at the Lindquist Ford in Bettendorf, IA (3950 Middle Road, Bettendorf, IA).