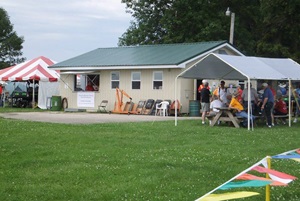 At EAA AirVenture in Oshkosh, Wisconsin each year, we, EAA Chapter 75, maintain the Emergency Aircraft Repair Barn which has been our service project since 1962. The Chairman is Bernie Nitz. Our chapter members include A&P mechanics, tech counselors, homebuilders, private and commercial pilots. We assist pilots with problems that occur to their aircraft while attending the convention and to facilitate a safe return flight or ferry flight for permanent repairs.
The Emergency Aircraft Repair Barn is located south of the Vintage Camping area, next to the Hangar Café along the flight line, about the mid-point of runway 18/36. It is operated from 8 AM to 5 PM Saturday-Saturday and on Sunday it is open until early afternoon. It can be reached by calling 920-230-7795. You can also call the Emergency Aircraft Repair Chairman Bernie Nitz at the 24-hour hotline 563-508-8200.
These volunteers can provide hand tools, jacks, compressed air, portable air tanks, oxygen/acetylene torch, welding equipment, drills, brake and magneto tools, spark plug cleaners, battery charges, a field level maintenance shop, some manuals, and limited technical assistance to aircraft owners and/or agents. So, check with us first before you spend your money on an item that can be borrowed for a short period of time. A full list of tools can be found here.
Limited transportation can often be arranged to obtain parts and service for repairs.
For safety purposes, you will need a wing walker when taxing to the Emergency Aircraft Repair roped-off area, so please call us and we will arrange for a wing walker to assist you.
All work done is by, or under the supervision of the owner or the owner's agent. The owner and/or agent assumes all responsibility for determining suitability and airworthiness of attempted repairs.