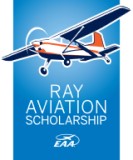 Through the generous support of the Ray Foundation, EAA provides up to $10,000 to deserving youths for their flight training expenses, totaling nearly $1,200,000 in scholarships annually.
The program is supported by more than 100 EAA chapters, and supports close to 120 scholars.
Each year, EAA Chapter 613 supports one or more scholars between the ages of 16 and 19, in the form of funding and mentorship to help them earn their pilot certificate.