EAA Flight Advisors can help you find the right path to get you flying efficiently and, most importantly, safely.
The Flight Advisors program is designed to increase sport aviation safety by developing a corps of volunteers who have demonstrated expertise in specific areas of flying and making them available to EAA members who may be preparing to fly an unfamiliar aircraft.
Flight Advisors can help you plan your first flight, and determine if additional training is needed. Often, members who access this program qualify for more complete insurance, like "first flight" coverage under the EAA Aircraft Insurance Plan.
Meet Hobie Tomlinson, our Chapter 613 Flight Advisor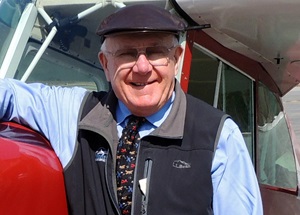 Hobie Tomlinson is an experienced business operations and logistics manager within national and international aviation industry. His areas of expertise include: managing fleets of aircraft, pilots, safety programs, and training staff.

As a highly respected professional in Aviation Safety, Hobie has developed and managed comprehensive safety programs for permanent fleets at FBO sites and for private aircraft owners and their crews. In addition, Hobie has provided flight instruction and acted as an FAA examiner for wide variety of small to large aircraft for 35+ years. Having operated an independent flight instruction service, consulted with flight schools, and provided instruction to private individuals, he brings a breadth and depth of knowledge and experience.
Awards:

FAA 2012 "Flight Instructor of the Year"
FAA "Master Pilot" Award
EAA "Spirit of Flight" Award
ACONE Vermont State Award
Certifications:

FAA Designated Pilot Examiner (DPE)
FAA Safety Team Lead Rep. (FAAST)
EAA Flight Advisor
Master Certified Flight Instructor (MCFI)