EAA 551 Program Meetings: Third Monday of the month 6:30 p.m. in the SCSU Aero Club Hangar at the St. Cloud Regional Airport. Educational programs. Meal provided for a donation starting at 6 pm. Attend, assist with set up and tear down if time allows. Learn how to use AV equipment and assist presenters in this area.
EAA 551 Board Meetings: First Monday of the month 6:30 p.m. If you want to be more involved or lead a project or have an idea, come to a Board Meeting. Talk to the current President a few days before the Board Meeting to get your item on the agenda.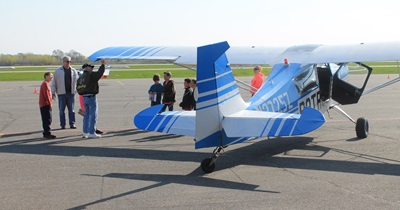 Volunteer for Young Eagle Rallies (free plane rides for youth ages 8-17): Rallies are typically held the third Saturdays in May and September at the St. Cloud Regional Airport and the June Saturday of River Dam Days in Little Falls. Rally volunteer times are from about 8 am until 3-4 p.m. Volunteer when you can for both youth and adults. Help is needed for both ground crew and pilots. Volunteer for set-up the evening before the St. Cloud Rally on Friday evening. About 250-300 youth are flown annually through this program.
Become a Member of EAA Chapter 551: $25 for Adults, $35 for a Family, and $10 for Students. Make your check payable to EAA Chapter 551 and mail to EAA 551, Kenneth HT Olson, P.O. Box 335, Sartell, MN 56377.
Scholarship and Fundraising:Join the Fundraising Committee and help EAA Chapter 551 fundraise and/or make a donation to the $2M Scholarship Program to support youth/young adults in local flight training and for post-secondary education scholarships for Aviation Maintenance Technology programs. Or make a donation toward a dedicated building space with classrooms at the St. Cloud Regional Airport.
Become a Mentor Pilot for youth ages 16-19 actively working toward their Private Pilot's License (at least one flight lesson per week). 2 to 12-month commitment. Responsibilities include weekly phone/in person contact with Student Pilot; work closely with Student Pilot, CFI, Parents, and Scholarship Coordinator. Must be a Pilot and current with EAA's Youth Protection Program.
The best way to get involved in EAA Chapter 551 is to attend a Chapter program meetiing or two, to see what interests you have. Chapter members will help you from there if you wish to be further involved in the Chapter.