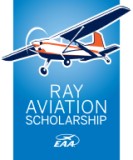 Through the generous support of the Ray Foundation, EAA provides up to $10,000 to deserving youths for their flight training expenses, totaling nearly $1,200,000 in scholarships annually.
The program is supported by more than 100 EAA chapters, and supports close to 120 scholars.
Each year, our chapter supports one scholar, between the ages of 16 and 19, in the form funding and mentorship to help him or her earn their pilot certificate.
Additional Chapter Information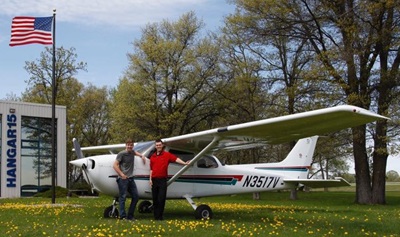 EAA Chapter 551 has two routes where the Chapter can apply to be an EAA Ray Aviation Scholarship Chapter. One route is for one of one hundred $10,000 Scholarships that is awarded to the Chapter. The Chapter Scholarship Coordinator submits an application to National EAA and National EAA awards the chapters. The second route (with some chapter stipulations) is for one or two $5000 matching scholarships. This latter route is a guaranteed scholarship(s), but the Chapter must provide the matching $5000 for one or both youth that would be supported by the Chapter. At this time, EAA Chapter 551 is fundraising for the latter route, so the Chapter currently makes application for the one $10,000 scholarship.
Participating in EAA's Ray Aviation Scholarship Program is an honor that requires dedication, perseverance, ability to keep a schedule, study, and be prepared. If youth are still in high school and under the age of 18, EAA Chapter 551 recommends parental involvement to assist with completing the EAA Chapter 551 Ray Aviation Scholarship application and to be of support throughout the Private Pilot training process. For both parents/guardians and youth, this means attending as many Program Meetings as possible. This provides opportunity to ask questions regarding the Scholarship application process and once selected, to provide support to their EAA Chapter 551 Ray Aviation Scholar.
The EAA Ray Foundation Scholarship Program began in 2019. In 2019, EAA Chapter 551 supported one scholar through the EAA Chapter 551 Ray Aviation Scholarship program. In 2020, the Chapter was able to support two youth successfully through this program. The Chapter has again applied to be a part of the 2021 Ray Aviation Scholarship program with a youth in mind to become EAA Chapter 551's 2021 Ray Aviation Scholar.
The Chapter received word in early March that EAA Chapter 551 is again a Ray Aviation Scholar Chapter for 2021. The youth needs to complete an online application to EAA. National EAA is the final decision-maker as to who becomes the Scholar for Chapters. More information will be available late April. We are so excited to be a part of this program another year!
Detailed information on the program can be provided. Please contact the EAA Chapter 551 Scholarship Coordinator at scholarships@eaa551.org