EAA Chapter 551 was founded in 1976 "by a group of guys who loved airplanes and wanted to get together and talk aviation." At the time, many were either building or restoring planes. The founding members are shown on our EAA Charter document. Steve Reisdorf was a student pilot who later attended Saint Cloud State University (SCSU) for a degree in Aviation. He was a founder but was too young to sign the charter application to become an EAA Chapter. Steve went on to be a successful professional pilot and has been active in the Chapter since its founding.
EAA Chapter 551 has always had a focus on Youth and has participated in the Young Eagles program since its inception. EAA Chapter 551 has given introductory airplane rides to more than 3600 youth through the EAA Young Eagles program.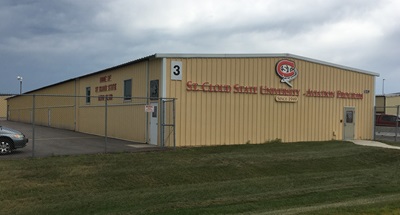 EAA Chapter 551 began meeting in the SCSU Aero Club Hangar in the Fall of 2008. Prior to that time, EAA Chapter 551 meetings had been held at Leaders Airport near Clear Lake, MN, about a 5-minute flight or 15-minute drive from the St. Cloud Regional Airport. Bob Leaders, owner of Leaders Airport has been a long-time member and supporter of EAA Chapter 551. He provided the Chapter with a free hangar for many many years where members could build airplanes and hold chapter meetings. As the club grew and space became available at the SCSU Aero Club Hangar at the St. Cloud Regional Airport, EAA Chapter 551 moved their meetings to this larger space.
In this new venue, EAA Chapter 551 has focused on Young Eagles, Youth, Adult Membership, and good monthly programming on various topics related to aviation. Our Chapter Program Meetings are held the third Monday of the month beginning at 6:00 pm. The meetings begin with a meal at 6:00 pm, and the Program beginning at 6:30 pm. Following the presentation, there is usually a lively discussion and social time.