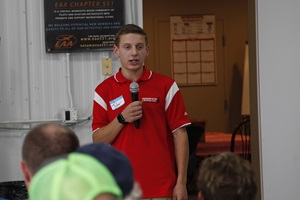 EAA's local chapters are about people, bringing together individuals interested in learning more about aviation as well as sharing their own knowledge.
Chapter members are involved in a variety of social and educational activities, including Young Eagles rallies, fly-ins, building seminars, and more, to build awareness in the community.
Who is EAA Chapter 551?
As the Chapter was developing the Scholarship and Fundraising Program, time was spent on the Chapter's mission statement. After discussion and discernment, it was decided that following National EAA's Vision and Mission statements succinctly stated EAA Chapter 551's values. The Chapter added the core values of respect, integrity, honesty, and generosity as values that the Chapter and members can aspire towards.
501(c)3 non-profit organization of Aviation Enthusiasts.


We are…A community of passionate aviation enthusiasts that promotes and supports recreational flying.


Our vision…A vibrant and growing aviation community.


Our mission…To grow participation in aviation by promoting the "Spirit of Aviation.


Core values…Respect, Integrity, Honesty, Generosity


EAA Chapter 551 is one of almost 900 local EAA Chapters across the United States. There is a National EAA organization, located in Oshkosh, WI.