MONTANA LICENSE PLATE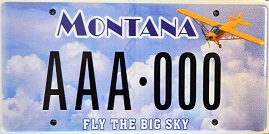 EAA 517 sponsors a Montana special license plate design. Part of the license fee is returned to our chapter. This plate generates funds to promote recreational flying and general aviation within Montana by sponsoring aviation education activities for youth ages 8-17 and educational programs for adults. The revenue generated from the license plates helps pay for flight training scholarships for Montana residents and donations of books & aviation materials to designated schools and museums for educational purposes.
PLEASE PURCHASE a PLATE the next time you renew your vehicle registration or you can do it at any time during the year.