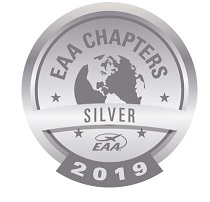 We're back with our monthly coffee and donuts gatherings for the off season! All are welcome to attend. For more information see our events calendar.
EAA Silver Medal Chapter Award Winner
EAA Chapter 517 is a community of aviation enthusiasts and aircraft builders from the Missoula and Bitterroot Valleys. We meet monthly and encourage the advancement of general aviation through scholarships, youth aviation programs, companionship & fellowship, lectures, videos/movies, dinners, and fly-outs.

Anyone is welcome to join. You do not have to be a pilot or own a plane.
Location
4198 Corporate Way, Unit 4, Missoula, MT 59808
(#4 Hangar in the East LZ Hangar Complex at the east end of the Missoula Airport).
Contact Info
P.O. Box 18264
Missoula, MT 59808-8264
406-541-0517
EAAchapter517@gmail.com