Walter R Hudson Jr.
September 25, 1927 - July 8, 2012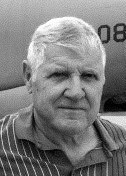 HUDSON, WALTER R, JR, born September 25, 1927, in Plant City, FL, passed away Sunday, July 8, 2012, in Tampa. Survivors include his wife Kathleen Cook Hudson; daughter Julie Hudson and her husband Rocky Ragsdale; sisters Sara Hildreth and Charlene Daniels.
Having a love of aviation since childhood, he inspired and mentored many young people to enter aviation by giving rides in his homebuilt Skybolt and Mustang aircraft and by taking the time to teach them in his garage. Julie inherited her father's love of aviation, is now a Delta Air Lines pilot and the first female A-10 pilot in the USAF ANG. Walter proudly pinned the rank of Colonel on her last December.
Walter helped build the Benoist airboat replica which he flew in 1964 to commemorate the 50th anniversary of the first scheduled commercial airline flight between St Petersburg and Tampa. He piloted everything from hot air balloons to commercial aircraft. He held ratings in single and multi-engine aircraft; commercial aircraft; hot air balloons and gliders. His mechanic's ratings included Airframe and Power plant and Inspection Authorization. Walter served in the US Air Force stationed in England and at MacDill AFB. He also served in the US Navy aboard the USS Chevalier.
During his 32 years with TECO he sold the first heat pumps in the Tampa area. He was also the TECO President's "official" pilot when Mr Mac needed to travel. After retiring from TECO in 1987, he started the only aircraft weight and balance business in this area which he continued until his death.
Walter was a member of Egypt Temple Shrine; Aircraft Owners and Pilots Association; and he founded the local Chapter 175 of the Experimental Aircraft Association in his garage. In 2004, to commemorate his dedication to the aviation community, the FAA presented him with "The Charles Taylor Master Mechanic Award" for his 50+ years as a licensed aircraft mechanic. Walter requested there be no service. In lieu of flowers please donate to LifePath Hospice in his memory at 3010 W Azeele, Tampa, 33609, or www.lifepath-hospice.org.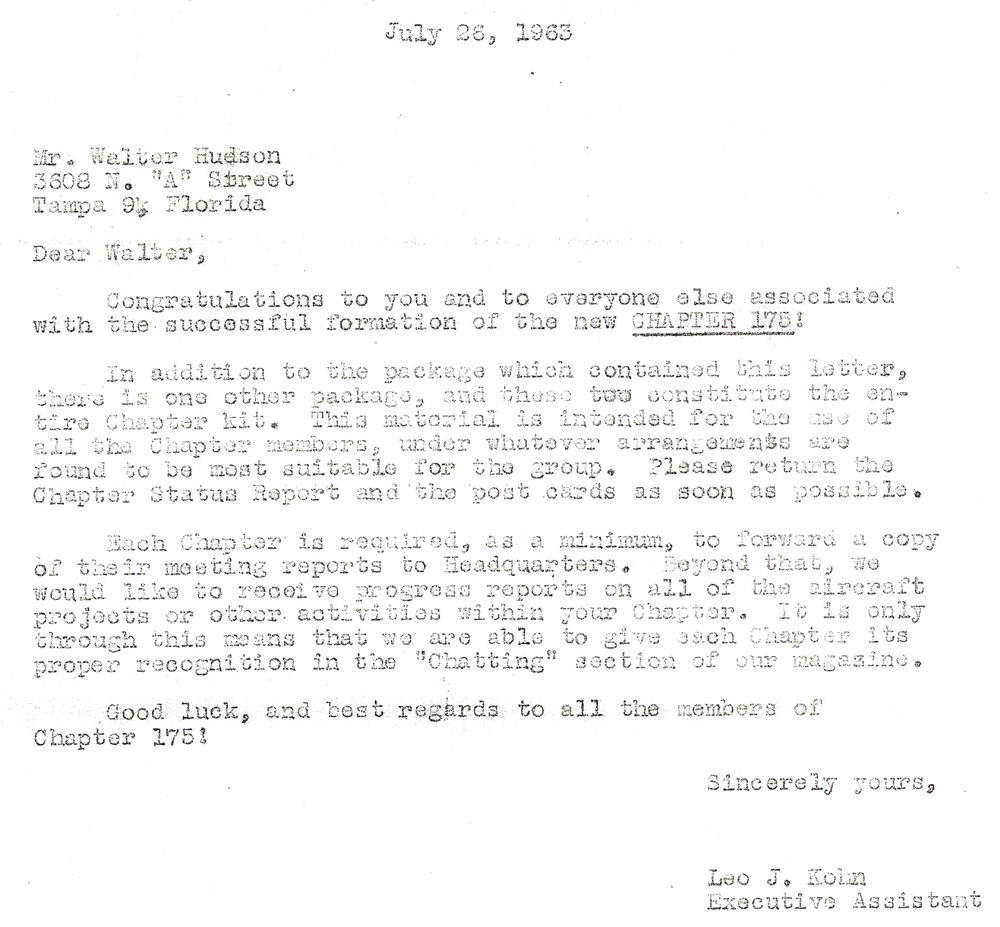 Letter from National EAA of congratulations of the formation of Chapter 175, dated July 26, 1963.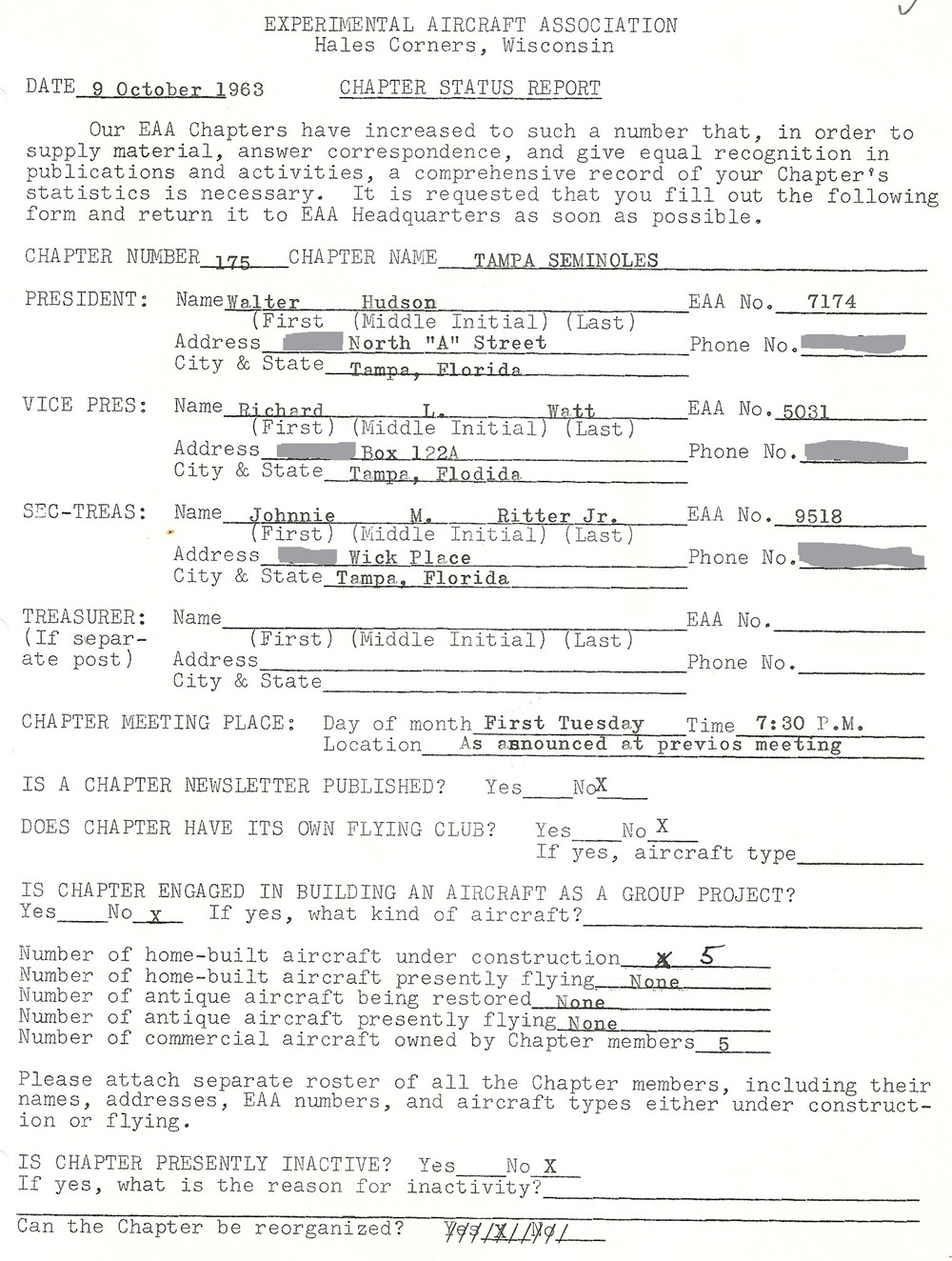 Chapter Status Report from National EAA, dated October 9, 1963 with the first officers of the Chapter.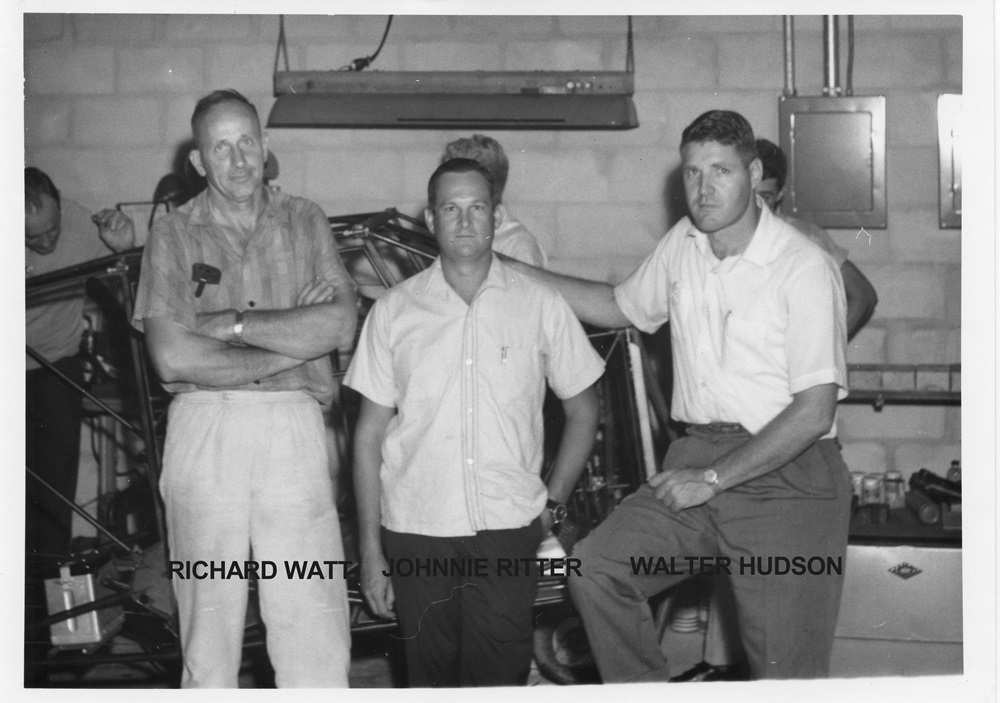 The First Officers of EAA Chapter 175, standing front of chapter very first experimental
aircraft - the Baby Ace.