---
Tampa Executive Airport (KVDF), Tampa FL
We are a group of aviation enthusiasts who want to share our passion with you. Whether you are interested in antique or classic aircraft, building an aircraft from a kit or from scratch, ultralight aircraft, drones, flying, or dreaming of aviation you will find a home in EAA Chapter 175.
Come visit us during one of our monthly meetings, drop us an email at lynn.vanvleck@gmail.com, or call Chapter President Lynn VanVleck at (734) 883-4459 for more information. We look forward to meeting you and sharing our love for aviation and the people who make our sport so great. See YOU soon!
---
The Chapter Educational Center has been taken protective measures against the COVID-19 by separation, positive airflow , access to disinfecting wipes and no contact open door .
---
Monthly meetings are usually on the Third Saturday of each month.
Check the event calendar link for any changes on dates for meetings.
Breakfast at 08:00 followed by meeting and an aviation event at 09:00.
Anyone interested in aviation, families included, are welcome to join us at
9334 Vandenberg Airport Rd, Tampa, FL 33610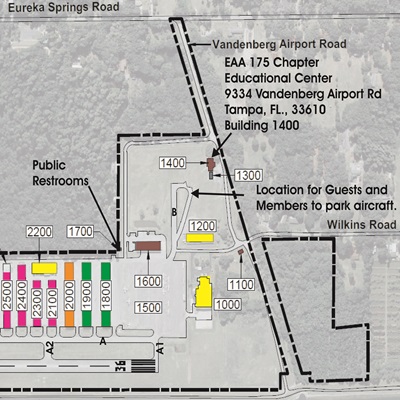 You can download PDF file of FAA Airport Diagram at link below.
AIRPORT DIAGRAM_TAMPA EXECUTIVE_VDF
---
Aircraft Projects that Members and EAA Chapter 175 are working on.
---
EAA Chapter 175, Inc. is Now 501 (C) (3) Non-Profit Organization EIN is 84-4749924.
SO CHECK OUT THE NEW WEBSITE LINK ONFund Raising with AmazonSmile

---
THE AUGUST 20 MONTHLY MEETING WILL BE AT EAA CHAPTER 175 EDUCATIONAL CENTER AND THE MAIN EVENT WILL BE HOSTED BY RYAN McKEON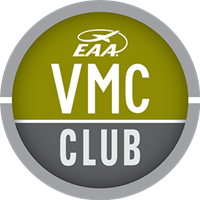 The meeting of EAA chapter 175 on August 20th will feature a VMC club session. This is a long-standing program run by EAA, which uses scenarios and case studies as the basis for open discussion about aviation and safe and proficient piloting (the scenarios are chosen so that there's never just one possible answer). It's also a good excuse to swap flying stories with each other!
The August 20th session will test our stick-and-rudder skills, as well as our decision-making. We'll take a look at two scenarios in which our approach to landing is not as smooth and trouble-free as we'd like. Do we go around or try to salvage the landing? Time permitting, we'll take a look at a case study which highlights some complexities with flight into class Bravo airspace.
Bring your iPad with Foreflight (or other favorite resource) and your pilot brain along to the session and let's see how much we can learn from each other.
Regards,
Ryan
The fund raising breakfast starts at 8:00am. At 9:00am a chapter meeting will start and afterwards the main event will start. Anyone interested in aviation, families included, are welcome to join us at EAA Chapter 175 CEC (Chapter Educational Center) at 9334 Vandenberg Airport Rd., Tampa, FL., 33610
---
Please visit our Facebook page for more information: EAA Chapter 175 page
See our Calendar of Events for more information
---
Chapter 175 Annual Dues are ONLY $36 per year and $48 for family membership ! Please make checks payable to EAA Chapter 175 Inc. in the amount of $36 or $ 48 for family membership. Remember that you need to have paid your EAA national dues too.