---
Tampa Executive Airport (KVDF), Tampa FL
We are a group of aviation enthusiasts who want to share our passion with you. Whether you are interested in antique or classic aircraft, building an aircraft from a kit or from scratch, ultralight aircraft, drones, flying, or dreaming of aviation you will find a home in EAA Chapter 175.
Come visit us during one of our monthly meetings, drop us an email at eaachapter175@gmail.com, or text Chapter Treasurer Mike Newman at (813) 965-8998 for more information. We look forward to meeting you and sharing our love for aviation and the people who make our sport so great. See YOU soon!
---
The Chapter Educational Center has been taken protective measures against the COVID-19 by separation, positive airflow , access to disinfecting wipes and no contact open door .
---
Monthly meetings are usually on the Third Saturday of each month.
Check the event calendar link for any changes on dates for meetings.
Breakfast at 08:00am followed by aviation event at 09:00am and chapter meeting at the end of the event.
Anyone interested in aviation, families included, are welcome to join us at
9334 Vandenberg Airport Rd, Tampa, FL 33610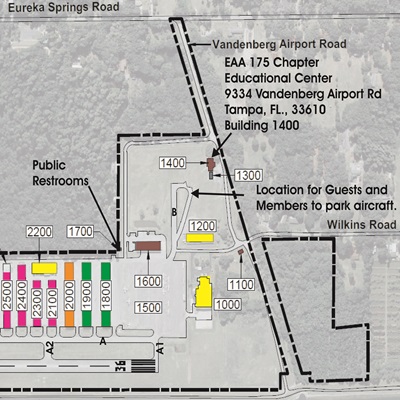 You can download PDF file of FAA Airport Diagram at link below.
AIRPORT DIAGRAM_TAMPA EXECUTIVE_VDF
---
Aircraft Projects that Members and EAA Chapter 175 are working on.
---
EAA Chapter 175, Inc. is Now a 501 (C) (3) Non-Profit Organization EIN is 84-4749924.
SO CHECK OUT THE NEW WEBSITE LINK ONFund Raising with AmazonSmile

---

Here is link to PDF form for sign up sheet and course outline on Autodesk Fusion 360. Once chapter has enough students, then time and date of course will be decided .
Sign up and Course outline for 90min 360
Click on this line for Online Sign Up Sheet for course.
---
March 18, 2023 Event will be at EAA 175 CEC and will feature topics on the future coming up events and projects in the works. Also will be handling out needed items for attending the Sun & Fun volunteer program.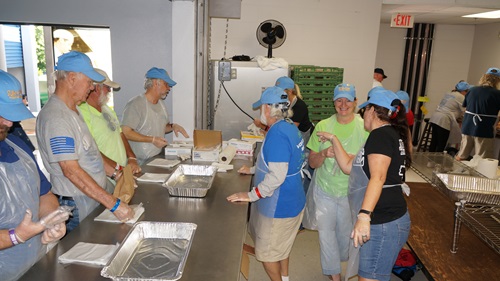 Sun 'n Fun 2023 is around the corner
EAA 175 March 18, 2023 Meeting Agenda
Opening remarks:
Thank the cooks.
Introduce Topic. Sun 'n Fun 2023 Volunteer Kitchen but first:
Quickly cover the Topics:
Short summary of the Treasurers Report
Short cover of changes to the minutes:
Old Business Review:
1. Europa Bill of Sale returned for lack of signature. I'm handling that.
2. Programs:
Fusion 360 Class. I've been doing some on line, but with CRS it is difficult without a classroom instructor and a dedicated syllabus. It can be done at home but it is hours. I need a checklist.
Mike on progress of getting folks signed up and what to watch for.
3. Flying Start Program / Buddy Fly Program.
Working up a game plan for starting builders flying. I did a flight at Plant City as a work up on a pilot that was a bit rusty on instruments and we worked our flight to cover both VFR practice maneuvers, and a couple IFR practice approaches. Plant City is ready to schedule Light Sport or private pilot introductory flights. Discounted flight is being worked out.
A powerpoint is available and I will try to dovetail that into the FAAST Presentation with Ryan.
3a. EAA Flying Start program consists of an EAA-prepared PowerPoint presentation and video that give the attendees information about learning to fly, with topics ranging from what is involved in flight
training and which certificate would be best suited for each individual, to how much it will cost
in both time and money.
3b. The hosting chapter is encouraged to customize this experience with information about their
local chapter and flight training options.
3c. Following the presentation, attendees will have the opportunity to take a complimentary Eagle
Flight provided by an EAA volunteer pilot. Participants will also receive a free six-month EAA
membership after EAA receives the completed Eagle Flights registration form in the mail.
3d. Through Flying Start, participating individuals will have a pathway to get involved with their
local EAA chapter, the information and guidance to pursue their interest in flying, and the
opportunity to forge new friendships based on a shared passion for aviation with the potential
goal of becoming a pilot.
4. Garage/House Repairs and Refurbishment.
Things have been superseded by the repair to the AC. Mike and CAP are working the issues.
4b. Garage Refurbish:
Treasury has $1223 allocated for repair to the garage eaves, doors, trim and window repair/replacement.
To reduce costs we can use Military discounts and get 10% off for sure to save some money.
To get donations for cash or tools look at donations from Harbor Freight, Lowes, Home Depot…
New Business:
1. Chapter 175 60th anniversary planning is still in the ideas stage right now:
1a. We may do an outdoor event and fly-in at the house. Tented and perhaps catered.
1b. May have a dinner celebration at an event center like Sun 'n Fun in the museum., St. Pete Aviation Museum. Also looking at Fantasy of Flight perhaps.
2. Introduce Rich Denton Sun 'n Fun Chairman
Work schedule by day.
Volunteer shortfalls.
Handing out passes and parking.
3. Depart for Sun 'n Fun Campus.
Also reminder that Chapter 175 annual membership dues of $36 and family membership of $48 payments are needed for 2023 . Cash or check written out to " EAA Chapter 175 Inc.". Or check can be sent through the mail to " EAA Chapter 175 Inc, Attn to Mike Newman - Treasurer, 5601 Half Moon Lake Rd., Tampa FL., 33625 ".
Breakfast at 08:00am followed by aviation event at 09:00am and chapter meeting at the end of the event.
Anyone interested in aviation, families included, are welcome to join us at

EAA Chapter 175 CEC (Chapter Educational Center) at 9334 Vandenberg Airport Rd., Tampa, FL., 33610
---
Please visit our Facebook page for more information: EAA Chapter 175 page
See our Calendar of Events for more information
---
Chapter 175 Annual Dues are ONLY $36 per year and $48 for family membership ! Please make checks payable to EAA Chapter 175 Inc. in the amount of $36 or $ 48 for family membership. Remember that you need to have paid your EAA national dues too.