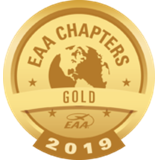 Whether you fly, build, restore or simply enjoy airplanes and aviation, you are welcome to attend our events or join our chapter. We are a group of aviation enthusiasts, aircraft builders, and pilots who get together with like minded people to share ideas, exchange information, encourage safety, serve the local aviation community and have a lot of fun doing so. Please come to our next meeting or event as our guest.
When:
Normally the 2nd Saturday of each month at 10 a.m. (For special meetings, the day or time may change, check newsletter for details)
Note: The Saturday 8 August Chapter meeting will follow CDC protocols. There will be an out-of-doors project hangar meeting (10am) followed by a "Burger & Beer" lunch (11:15am). All members. family and friends are welcome to "Meet and Eat"
Where:
Riverview Airport (08C)
805 Taylor Street
Jenison MI 49428-9560
For more information, contact our president by sidebar formation.