The Chapter has selected Jacob Garvey for the 2022 Ray Scholarship.
Congratulations Jacob Garvey Ray Scholar 2022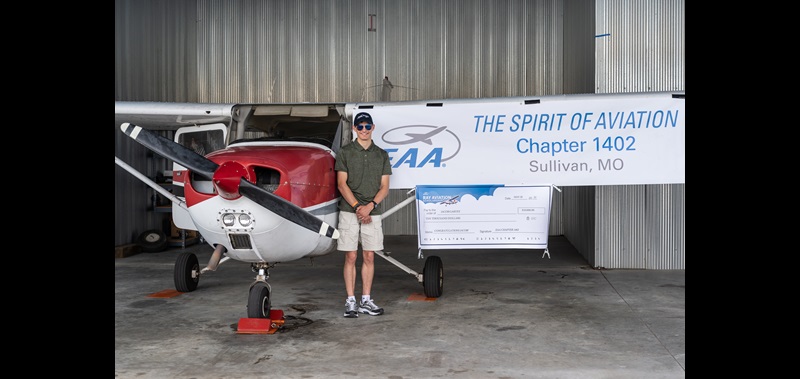 Scholar Eligibility and Requirements
Ray Aviation Scholarship Fund applicants will be the most engaged, excited, and motivated aspiring pilots the chapter has had the pleasure of meeting. It will be incumbent upon the chapter to vet local youths to help bring forward the most deserving candidate in their local area.
Local candidates must meet the following criteria:
Minimum of age 15 for glider training. (Not Available through EAA Chapter 1402)
Age 16-19 for powered flight training.
Possession of a student pilot certificate. (Help will be given by the Instructor if selected)
Possession of FAA medical certificate. (private pilot students must obtain own medical)
Be able to begin their flight training within 60 days of receiving the award.
Must have flexible schedule after school and weekends and commit time for successful completion of Private Pilot Certificate
Consideration will be given to candidates who are former Young Eagles, EAA student members, and actively participating in the EAA Flight Plan. Candidates are encouraged to attend monthly meetings and specifically complete the Sporty's Learn to Fly Course (Preferably before they start flight training) offered with their Young Eagles Logbook at no cost to them. A $200 value and 1 free hour of Flight Training after successful completion of the course.
Once selected by the chapter, the youth will also be screened by EAA through an application process, which will require approval from the local chapter. If approved by EAA, the scholarship recipient will have to comply with the following requirements.
Partake in two hours of chapter volunteer service per month, such as:

Must be able to drive and have drivers license
Young Eagles Rally volunteering.
Pancake breakfast/fly-in volunteering.
Chapter gathering participation.

Submit regular progress reports, signed off by local chapter and CFI.
Reach flight training milestones, as outlined by EAA's training timeline.
Note: Funding is dependent upon completion of progress reports and meeting training milestones in a timely manner.
The EAA chapter will play a critical role to ensure the Ray Aviation Scholarship recipient is staying on track to earn their pilot certificate.
EAA Chapter 1402 2023 Ray Scholarship Application:
EAA Chapter 1402 Ray Aviation Scholarship Application