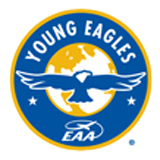 Founded in 1992, the Young Eagles program is dedicated to giving youth ages 8–17, an opportunity to go flying in a general aviation airplane. These flights are offered free of charge and are made possible through the generosity of EAA member volunteers.
It's the only program of its kind, with the sole mission to introduce and inspire kids in the world of aviation.
Today, the Young Eagles program has flown over 2 million kids.
For more information from EAA headquarters about the Young Eagles program, visit www.youngeagles.org
News Post 03/02/2021
In 2019 we accumulated some Young Eagle dollars that had to be used by the end of 2020. We purchased four Young Eagle Workshop Kits with some of those funds for use with our planned STEM activities. The kits will support projects for 40 students and provide us with a structured means to introduce youth to aviation. The kits are complete with a Program Guide for a number of projects, and instructions for planning workshop events. The workshop programs are structured for kids from 11 to 18 and range from basic aircraft aerodynamics principles to building projects with hand tools. We are in discussions with local High School STEM programs to develop an aviation themed curriculum for their students interested in aviation. Stay tuned for opportunities to volunteer at these workshops.